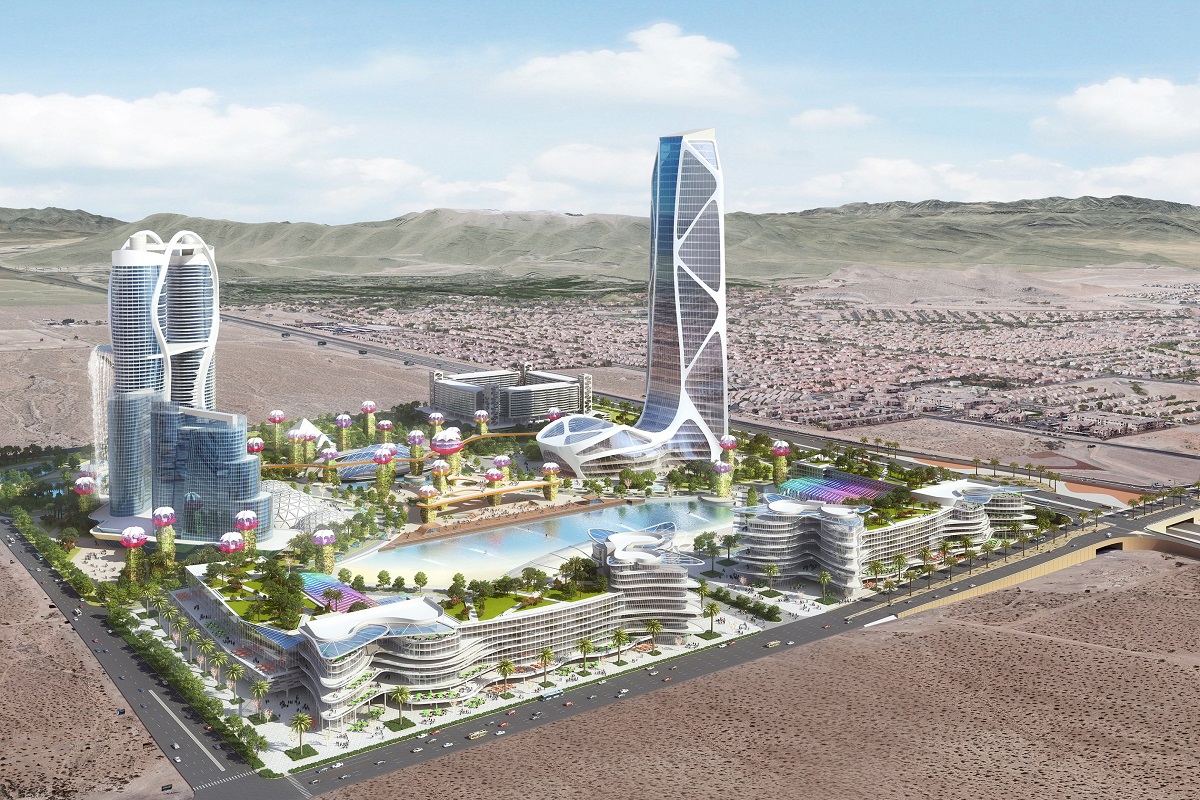 Artist's impression of Bleutech Park
The developers of the $7.5 billion Bleutech Park project have reached a deal to secure a 210-acre piece of land at the south end of the Las Vegas Strip on Cactus Avenue and Las Vegas Boulevard.
The planned development will feature net-zero buildings with automated multi-functional designs, renewable energy, autonomous vehicles, artificial intelligence (AI), augmented reality, Internet of Things (IoT), robotics, 'super-trees' and self-healing concrete structures.
The land is being bought from Seven Valleys Realty and Construction, owned by Larry Canarelli and Khusrow K. Roohani.
"I will always remember I was part of this land – home to this very innovative and special Bleutech Park project," said Canarelli.
"After many years working together, I'm honoured to see Bleutech Park finally set flag in 210 acres of the best location - South Las Vegas Blvd," added Roohani.
The first-of-its-kind "digital infrastructure city" is expected to take six years to construct but some have expressed doubts about whether the proposal will become a reality. The developer told SmartCitiesWorld that a ceremonial ground-breaking event is planned for December 7.
Technology showcase
Bleutech Park Las Vegas is backed by Bleutech Park Properties, Inc., a Real-Estate Investment Trust (REIT). Project partners listed on the development's website include construction contractor Martin-Harris Construction, Onyx Solar, Pavegen and PatriotOne Technologies. In the original press release announcing the initiative, technology company Cisco was also highlighted as a partner.
A spokesperson for Bleutech Park told SmartCitiesWorld: "We have multiple partnerships and will continue to add more as the project develops, like Siemens and Tesla, bringing forth the best in class for IoT on this project."
Super-trees and self-healing concrete
Bleutech Park is pegged to feature 100 per cent "off-the-grid," ultra-luxury residential space, a futuristic 3,000-person hotel, and a pool with guaranteed waves.
According to a press release: "Net-zero buildings will be equipped with new, self-healing concrete, energy-generating and breathable materials, catapulting Las Vegas forward as the archetype of sustainability on the world stage."
"We have multiple partnerships and will continue to add more as the project develops, like Siemens and Tesla, bringing forth the best in class for IoT on this project."
Other planned innovations include flooring systems that will capture and reuse kinetic energy. Resources for heating, cooling, lighting and electricity will be harvested on-site and 33 'super-trees' will be used for vertical gardening. Photovoltaic glass will be standard in all structures to capture solar energy.
Unmanned aerial systems will be used in the construction of the park and wearable technology and robotics will also be used by workers. Biometrics are planned as a security measure.
Future of infrastructure?
The developer also says the project will work to tackle the affordable housing challenge, particularly for key workers such as nurses, police officers, teachers and fire officers.
Bleutech Park Properties estimates that the project will create over 25,000 jobs.
"Bolstered by pioneering partners and leaders in the technology and construction industries, Bleutech Park aims to redefine the future of infrastructure. It will serve as a haven of future-forward inspiration for established and emerging technologies, harvesting the power of IoT, renewable energies and robotics unlike any existing project in the world," the release said.
You might also like: