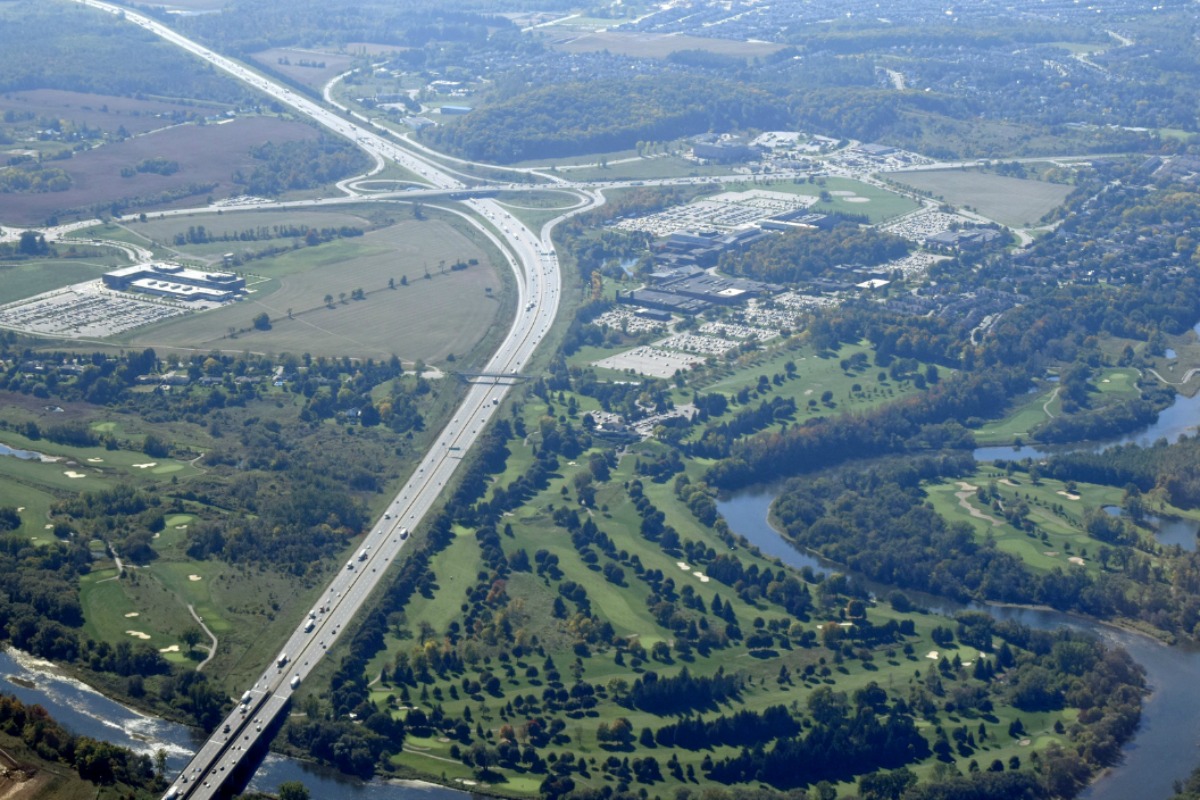 Aerial shot of Kitchener Waterloo region of Canada already served by the network
Canadian network operator eleven-x has introduced what it claims is the country's first carrier-grade low power wide area network for Internet of Things (IoT).
At the same time, it has announced membership of the LoRa Alliance, an open global standard for secure, carrier-grade Low Power IoT connectivity. eleven-x's low power WAN network is deployed with the LoRaWAN protocol, based on Semtech's LoRa wireless RF technology.
Unlike IoT services provided by traditional Canadian carriers with networks built to address voice and data, eleven-x's said its network is "purpose-built for IoT", offering a lower cost and lower power option, with up to 20 years' battery life.
This means the network is ideally suited to business, manufacturing, and municipal applications where low power consumption and cost are important factors.
The eleven-x IoT network enables real return on investment (ROI) in areas such as remote and on-premises-based asset tracking, lighting control (streets and buildings), water flow monitoring and metering, health monitoring, environmental monitoring, and soil moisture and nutrient monitoring.
The eleven-x IoT network currently serves the cities of Kitchener, Waterloo and Cambridge as well as the region of Waterloo. The company intends to roll out a national network providing coverage in all major Canadian cities.
"The Canadian market is ripe for innovation with respect to the adoption of IoT for businesses and government," said Dan Mathers, chairman and co-founder, eleven-x. "Our network, the first of its kind in Canada, is purpose-built for IoT and will enable businesses and municipalities to accelerate the applications and business processes that will allow them to offer new products and services and to operate more efficiently."
"From smart metering and lighting, to traffic monitoring, to more efficient services, greater IoT connectivity holds great promise for improving life in Canadian communities. To fully realise the potential of this opportunity, Canada needs a low power, low cost network that can serve as the foundation for machine-to-machine communication," added Mike Murray, chief administrative officer, Regional Municipality of Waterloo.
"We are excited to see companies from Waterloo Region such as eleven-x stepping forward to provide the critical innovation and infrastructure required to deliver on this promise."
If you like this, you might be interested in reading the following:
Smart lighting and snow sensors for Montreal
Telematics Wireless set to provide lighting management in the city to control operation of 132,500 street lights
smartcitiesworld.net/news/news/smart-lighting-and-snow-sensors-for-montreal-868
Mobiliya joins the LoRa Alliance
Company plans to extend its niche end-to-end capabilities by integrating LoRaWAN-based devices in the IoT ecosystem within the cloud
smartcitiesworld.net/connectivity/connectivity/mobiliya-joins-the-lora-alliance
Orange joins LoRa Alliance Board
LoRaWAN takes another step forward in its drive to become a worldwide standard
smartcitiesworld.net/news/news/orange-joins-lora-alliance-board--543