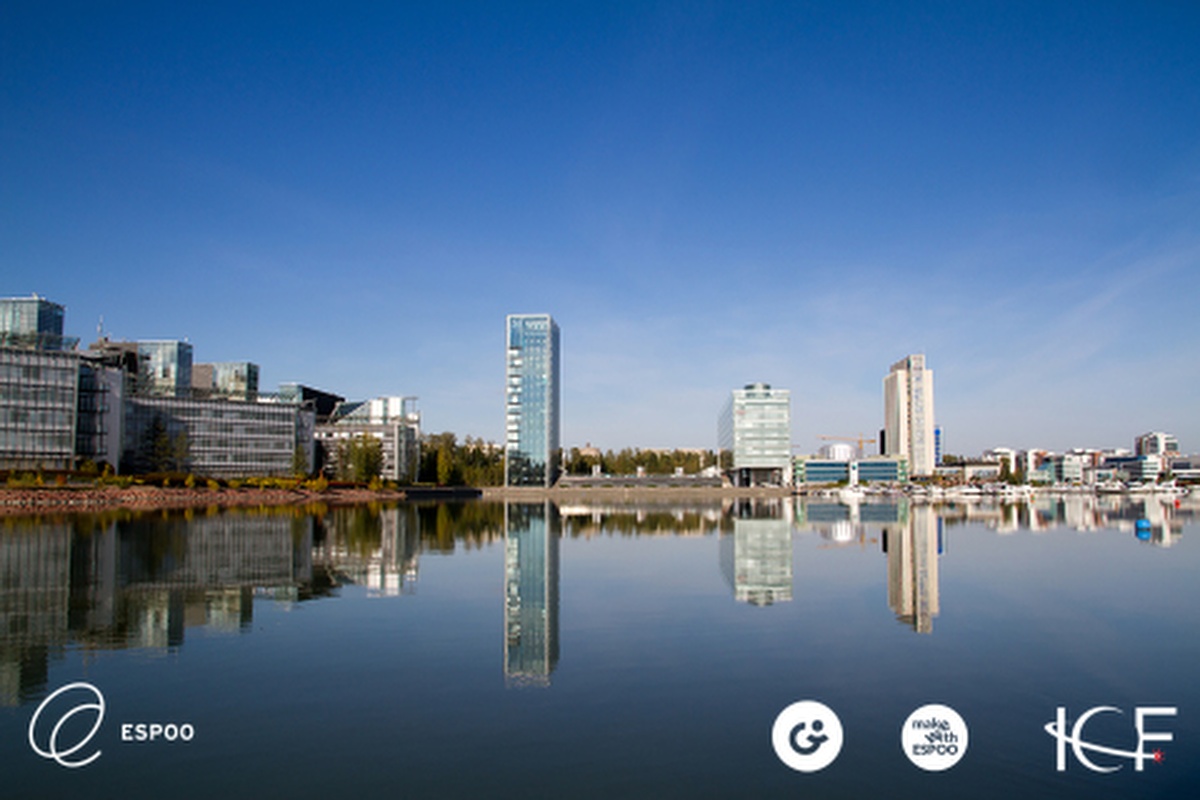 Espoo: first Scandinavian country to claim top spot since 2009. Photograph: Ilpo Musto
The city of Espoo in Finland has been named the 2018 Intelligent Community of the Year by the Intelligent Community Forum (ICF) at its global summit in London.
Espoo is the first Scandinavian city named as Intelligent Community of the Year since Stockholm in 2009, and the first European Intelligent Community of the Year since Eindhoven, Netherlands in 2011. Last year's winner was Melbourne.
"It is very unusual for a community to be named Intelligent Community of the Year the first time they enter our programme," said ICF co-founder Lou Zacharilla. "ICF is about process improvement over time. But Espoo's holistic philosophy of humanising every aspect of its technology and teaching innovation as a way of life was extremely impressive.
"Espoo's citizen engagement rates are extremely high, which democracies need, and its economic output speaks for itself. The city is a hidden gem in Finland. Now they have been 'found out!'"
Espoo was selected as the 2018 Intelligent Community of the Year after a year-long evaluation that included a quantitative analysis of extensive data, site inspections by the ICF and votes from an international jury made up of experts from around the world. Communities in the Awards programme are evaluated based on six Intelligent Community Indicators -- broadband, knowledge workforce, innovation, digital equality, sustainability and advocacy -- and in the context of ICF's annual theme, which this year is 'humanising data'.
The City of Espoo is developing its services in cooperation with residents, companies, educational institutions, universities, communities and other cities. Espoo Innovation Garden is the largest innovation community in the Nordic countries. Internationally, it is a highly competitive platform.
Espoo is the home of Aalto University, universities of applied sciences, VTT Technical Research Centre of Finland and other research institutions, and companies such as Nokia, Kone, Tieto, Neste and Fortum. Hundreds of start-ups are founded in Espoo every year. Companies such as Supercell and Rovio, known for Angry Birds series, hail from Espoo Innovation Garden.
"By cooperating with our innovation networks, we will ensure high-quality services for our residents and guarantee that our growth is economically, ecologically, socially and culturally sustainable also in the future," says Jukka Mäkelä, Mayor of Espoo.
Examples of Espoo's activities and achievements include:
digital applications that encourage the residents to adopt greener modes of transport, for example by switching from private car use to public transport, car-pooling or cycling
the use of artificial intelligence (AI) in customer service, targeting proactive support measures at residents who belong to risk groups, or any other routine work
public service centres: a model of placing various public services under one roof next to commercial services, easily accessible by public transport. Customer surveys suggest that the Iso Omena Service Centre has found its role: making residents' everyday life smoother. The Service Centre is also an innovation platform, a place of collaborative development where companies, communities and residents can all participate.
All practical experiments that use smart solutions, no matter how small, are connected to the overall objectives of the Espoo Story: healthiness, sustainability, participation and being dynamic.
The Intelligent Community Forum is a global network with a think-tank at its centre. It connects hundreds of cities and regions on five continents for collaboration on economic development and for exchange of expertise and information that drives progress.
If you like this, you might be interested in reading the following:
From smart city to intelligent community
Taiwan and Canada lead the way in intelligent communities, according to the Intelligent Community Forum
Melbourne wins intelligent community award
Communities in the awards programme are evaluated based on six intelligent community indicators
Espoo opts renewable diesel
The Finnish city introduces Neste MY Renewable Diesel to take a step closer to becoming carbon-neutral
VVO Group signs up to Digita IoT network
The rental apartment and housing service provider will use an IoT-based solution to measure temperature and humidity