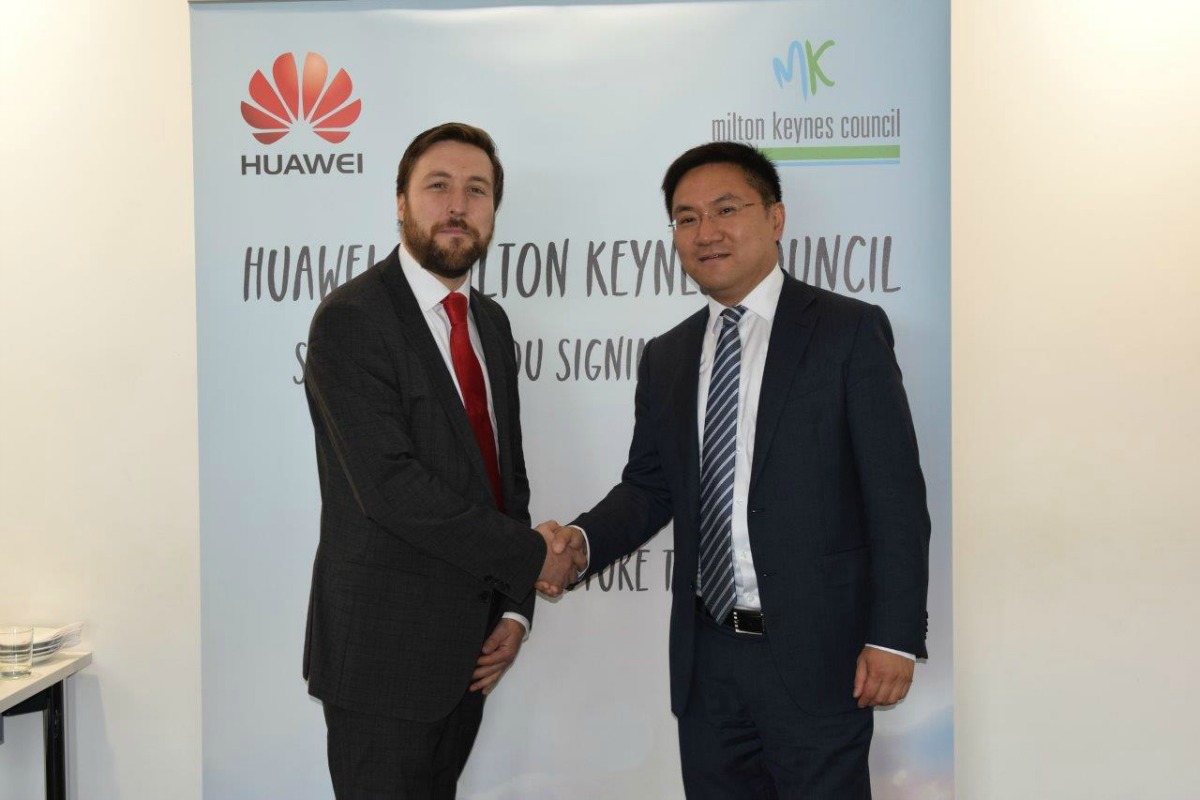 MKC leader, Pete Marland, and Gordon Luo, CEO of Huawei, sign the agreement
Global information and communications technology (ICT) solution provider, Huawei, has signed a memorandum of understanding with Milton Keynes Council (MKC) to design and build innovative ICT concepts for smart cities, together with other partners in the region.
The parties will enter into discussions regarding a strategic relationship to align and strengthen the approach and methodologies used for smart cities.
The council is a key member of the MK:Smart consortium, a collaborative initiative, partly funded by the Higher Education Funding Council for England and led by the Open University, to develop solutions to support economic growth in Milton Keynes.
Last year, Milton Keynes was named one of the UK's top smart cities in the Huawei UK Smart City Index, conducted by Navigant Consulting, and it was one of the first UK cities to make a strong commitment to develop and promote smart city technology.
The city is establishing itself as a primary location to trial and test new technologies and is successfully attracting investment from Internet of Things (IoT) companies and other innovators looking to exploit this emerging market.
"We believe that innovative technologies are key to addressing the various city challenges that we face and help us better serve our citizens," said Milton Keynes Council leader, Pete Marland.
"Milton Keynes has the ambition to develop the core assets of our city into an overarching concept as a smart city, including a well-developed ecosystem of companies and citizen engagement that supports this ambition."
Gordon Luo, CEO of Huawei UK said: "Cities may have different priorities, but the ultimate goal is the same: to improve local quality of life. We are pleased to have signed this MOU with Milton Keynes Council, which will see both parties collaboratively develop smart city solutions that leverage Huawei's global expertise in smart city deployments. "
If you like this, you might be interested to read the following:
Milton Keynes goes for LoRa IoT network
MK:Smart claims it reinforces the UK's city's position as a global pioneer of smart cities
smartcitiesworld.net/connectivity/connectivity/milton-keynes-goes-for-lora-iot-network
MK:Smart launches the MK Data Hub
The hub aims to make it easier for local start-ups and SMEs to develop smart applications for the city
smartcitiesworld.net/news/news/mksmart-launches-the-mk-data-hub-624
Huawei and University of Edinburgh sign partnership deal
Joint lab for distributed data management and processing to open
smartcitiesworld.net/news/news/huawei-and-university-of-edinburgh-sign-partnership-deal-1790