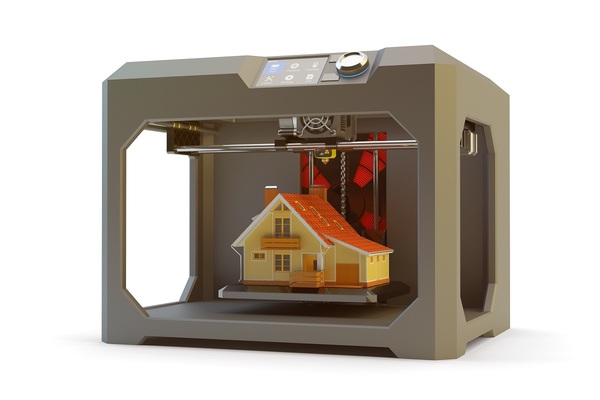 3D-printed houses could be both a cheaper and environmentally friendly means of constructing buildings.
There's no place like home. And up until recently there has been no place that has built via a 3D printer. This week Elize Lutz and Harriet Dekkers got a digital key to their two-bedroom bungalow in the Beatrix canal in the Eindhoven suburb of Bosrijk.
It's not your standard two up, two down; it looks like a bunker, albeit an aesthetically pleasing one built from a material that has been compared to whipped cream in its initial form. It's the first of five of Project Milestone, a partnership between Eindhoven's University of Technology and the Vesteda housing corporation. Eindhoven is not the first city to be host to a 3D-printed house - we recently looked at an as yet uninhabited one in Milan.
It's not without flaws; if you look at the building closely, you can spot where the nozzle head had to be changed in the pattern of the cement. And there are little cosmetic imperfections in the outer walls of the building.
It has been claimed that 3D-printed houses could be both a cheaper and environmentally friendly means of constructing buildings. It's the latter that is critical: buildings are a static yet massive contributor to greenhouse gas emissions. The United Nations' Environment Programme says the built environment accounts for around 40 per cent of global energy use, energy-related greenhouse gas emissions (30 per cent), as well as waste and natural resources. That's a solid share of cities' overall contribution to global greenhouse gases of 60 per cent.
Some commentators have suggested Covid-19 gives us an opportunity to reset where and how we live and work. The shift towards working from home could leave businesses with empty (and expensive) offices. There have been suggestions that inner city areas could be transformed and deliver much needed affordable housing.
As ever I reserve the right to change my mind (an editor's perogative!), but I feel this change will not happen. Governments will likely want to continue to use commercial areas as means of sucking in citizens and having them support the economy through overpriced sandwiches, impulse purchases during a lunchbreak and so on.
So perhaps 3D printing, coupled with ongoing work to make commercial buildings more energy efficient and less polluting, could be a means of generating greener, cheaper houses. Population growth means demand will always be there. Targets to reduce emissions are challenging as is and we need all the help we can get. Maybe we can expect more bunkers.