Solutions Meet Cities Webinar Part 2: Matchmaking for Smart and Sustainable Innovation
Wed 29-Sep-2021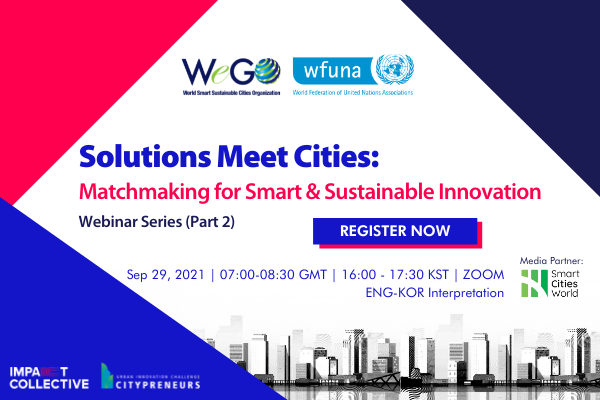 ---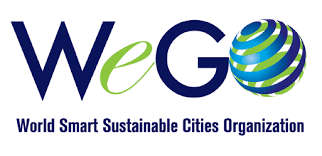 ---
Following the successful 1st edition of the 'Solutions Meet Cities' webinar series in June, the World Smart Sustainable Cities Organization (WeGO) invites interested cities, corporations and smart city stakeholders in the "Solutions Meet Cities: Online Matchmaking Webinar Part 2", co-hosted by WeGO and WFUNA, on September 29, 2021.
The webinar will showcase WeGO's flagship program for smart city project implementation, the Smart City Driver, as well as selected WeGO member cities' project proposals, including explanation of their urban challenges and desired outcomes, and solutions provided by WeGO corporate members and innovative startups for sustainability from WFUNA's network and the Citypreneurs platform. The event will include a live discussion between the main speakers and the audience, with online matchmaking opportunities facilitated by WeGO and WFUNA.
Join us for two insightful sessions and a lively discussion among the webinar speakers and the audience to find out more about:
How can cities solve their urban challenges through sustainable innovation?
What are some important factors to consider when engaging in international smart city projects?
What are the opportunities and challenges in international smart city collaboration?


Register now for the 2nd edition of the webinar series where Solutions Meet Cities to learn how you can connect with smart city project partners, and how to use various project implementation opportunities to achieve your smart city goals.
*WeGO's flagship program for smart city project implementation, the Smart City Driver, helps cities plan, finance, and deploy their smart city projects by inviting cities to design solution packages - a combination of multidimensional solutions that incorporate hardware, software, capacity building and governance, depending on the city's context and available resources - and connect with strategic partners that can assist in realizing the solution packages through matchmaking.