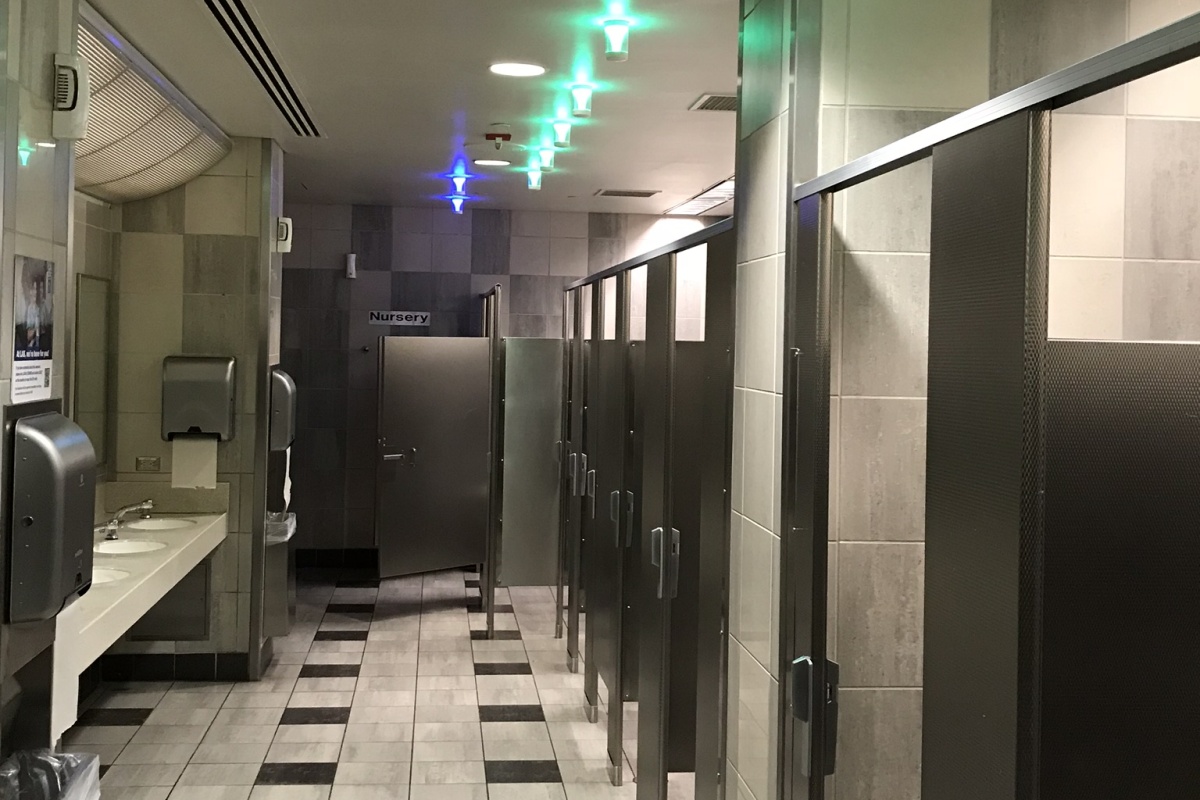 The technology helps light the way for passengers in Terminal 4
Los Angeles International Airport (LAX) is piloting a smart restroom progamme in one of its terminal buildings.
The airport will be the first in the world to install a Tooshlights restroom traffic management system to help improve the cleanliness, flow of passenger movement and efficiency of public restrooms. The patented technology will initially be deployed in American Airlines' Terminal 4.
LAX is also partnering with Infax, a data-driven provider of IT solutions for airports and other public venues, which works in conjunction with Tooshlights where it provides Infax with real-time venue-specific data that allows airport officials to track the occupancy usage of restroom stalls.
"We're incredibly excited to try out this new technology, which should help improve our guest experience and allow us to better monitor and service our restrooms," said Barbara Yamamoto, chief experience officer at Los Angeles World Airports (LAWA) which owns LAX.
"The desire for clean and available restrooms is consistently in the top ranks of what guests want at an airport, and this will help us provide a higher level of service to the traveling public and allow us to better meet our strategic goal of delivering facilities and guest experiences that are exceptional."
According to an Airport Council International (ACI) airport service quality survey, the availability of washrooms/toilets is one of the top 10 most important items to all LAX guests in 2017.
The LAX smart restroom pilot programme of the Tooshlights system includes more than 20 smart restroom stalls, which will work similarly to parking garage lights. Each unit consists of a smart latch and indicator light. When the stall is available, the light is green. When the stall is occupied, and the smart latch activated, the light turns red. There are also blue indicator lights for ambulatory stalls.
"The real-time data that we will be receiving through our new smart restroom technology will help us to respond quicker when issues occur, and gain baseline data for daily and weekly restroom usage, so we can better plan and deploy our resources, including custodians, and maintenance workers," added Michael Christensen, deputy executive director of the facilities and maintenance group at LAWA.
"Just like a physical traffic management system, these smart restrooms will allow us to do our job better and more efficiently."
If the smart restroom pilot is successful, LAX expects to expand the use of smart restrooms in Terminal 4 as well as throughout the airport.
If you like this, you might be interested in reading the following:
Munich Airport enters digital future agreement
Joint development plans include improving the energy efficiency of airport buildings and logistics of the baggage handling system
Auckland Airport eases passenger flow from city to gate
Blip Systems' technology provides a seamless picture of traffic flow information between the airport and Auckland's central business district
Billund Airport increases passenger visibility
The airport handles an average of more than three million passengers a year and is Scandinavia's tenth busiest airport