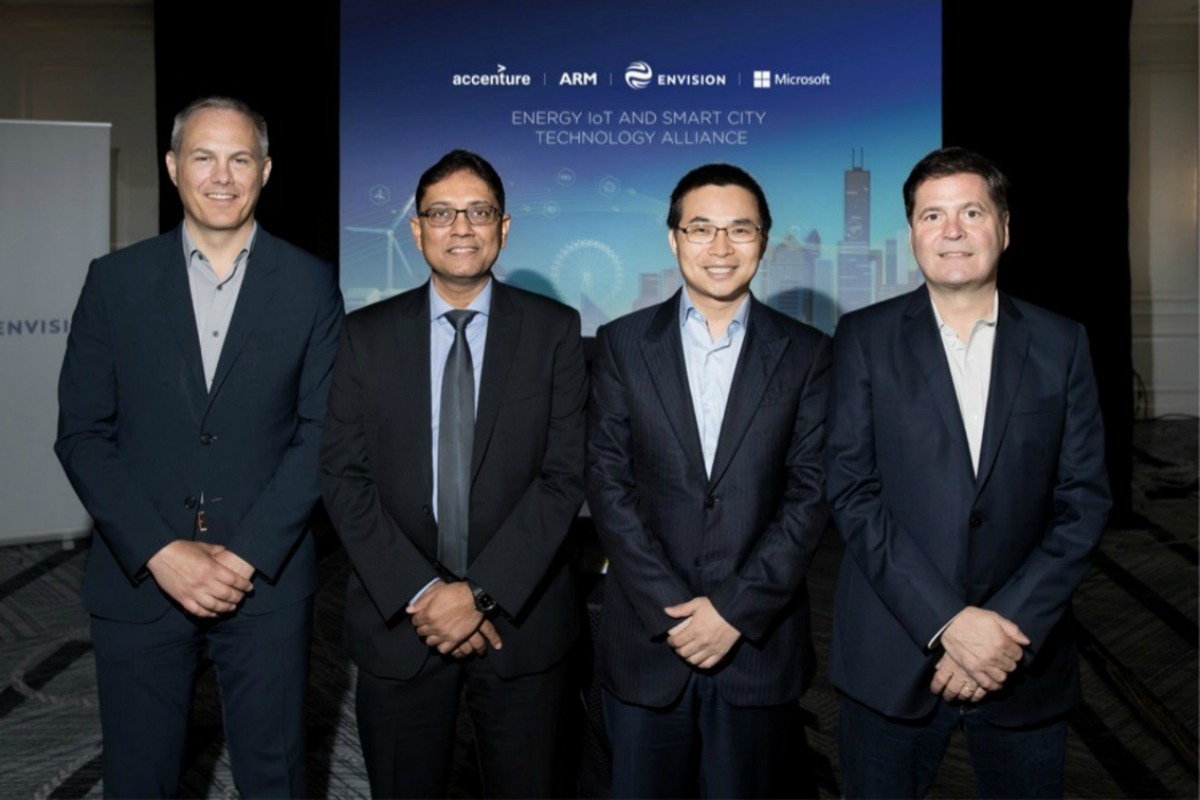 Envision, Microsoft, Accenture and ARM launch the Energy IoT and Smart City Technology Alliance
Smart energy solution provider, Envision Energy, has announced the Energy IoT and Smart City Technology Alliance with US partners, Microsoft and Accenture.
The open-platform alliance aims to connect energy pioneers and technology innovators to help accelerate the clean energy transition through digitalisation and others are expected to join.
The alliance, initiated by Envision with its world-leading EnOS Internet of Things platform, aims to unify the distributed and fragmented renewable energy space with innovations that marry digital and energy disciplines. It hopes to improve efficiency, capture more value and accelerate digital transition on a global level.
Each alliance partner brings unique expertise to compliment and empower this partnership. Microsoft's Azure Cloud Platform provides secure and flexible data storage and computing and Accenture's enterprise service expertise ensures a seamless application integration process.
Envision also intends to use ARM mbed to collect intelligence from physical assets to EnOS so as to transform utility sector applications.
The alliance's mission is to integrate and synergise the silos of different energy domains. Its work positions the members at the forefront of the energy transition by seeking more efficient networks that interconnect buildings, industry parks, vehicles, power generation plants, electric distribution, storages and end-user consumptions that help make cities smart.
"The old energy paradigm is breaking down and will be replaced by a new era of energy," said Envision founder and CEO Lei Zhang.
"Envision is leading a global energy technology revolution in an open and collaborative way. The purpose of this alliance is to accelerate the digital transition and solve challenges through great team work. Together we are dedicated to making the new era of beautiful energy a near-term reality."
Alan Crozier, corporate vice president, chairman and CEO of Microsoft Greater China Region, added: "The powerful combination of Microsoft's Cloud and Envision's IoT platform will help millions of enterprises and consumers in hundreds of cities across the world to embrace digital transformation, creating a new benchmark for the entire energy industry."
Going forward, the Energy IoT and Smart City Technology Alliance will focus on enhancing technological and network exchanges and beneficial business practices among its member companies. Those efforts are expected to result in an increase in R&D spending in the US and global as well as the industry standardisation that will bolster transformation of the energy industry.
If you like this, you might be interested in reading the following:
Smart energy market worth $137bn by 2024
The shift towards smart grids is increasingly focused on the ability to effectively manage distributed energy resources within cities
smartcitiesworld.net/news/news/smart-energy-market-worth-137bn-by-2024-735
Accenture enters Winner's Circle for energy operations service
The professional services firm achieves lead execution position in HfS research report
smartcitiesworld.net/news/news/accenture-enters-winners-circle-for-energy-operations-service-821
Accenture to provide advanced metering solution in US southern states
Joint venture with Siemens aims to deliver advanced metering solution to enhance grid reliability and customer service with digital technologies
smartcitiesworld.net/news/news/accenture-to-provide-advanced-metering-solution-in-us-southern-states-1236