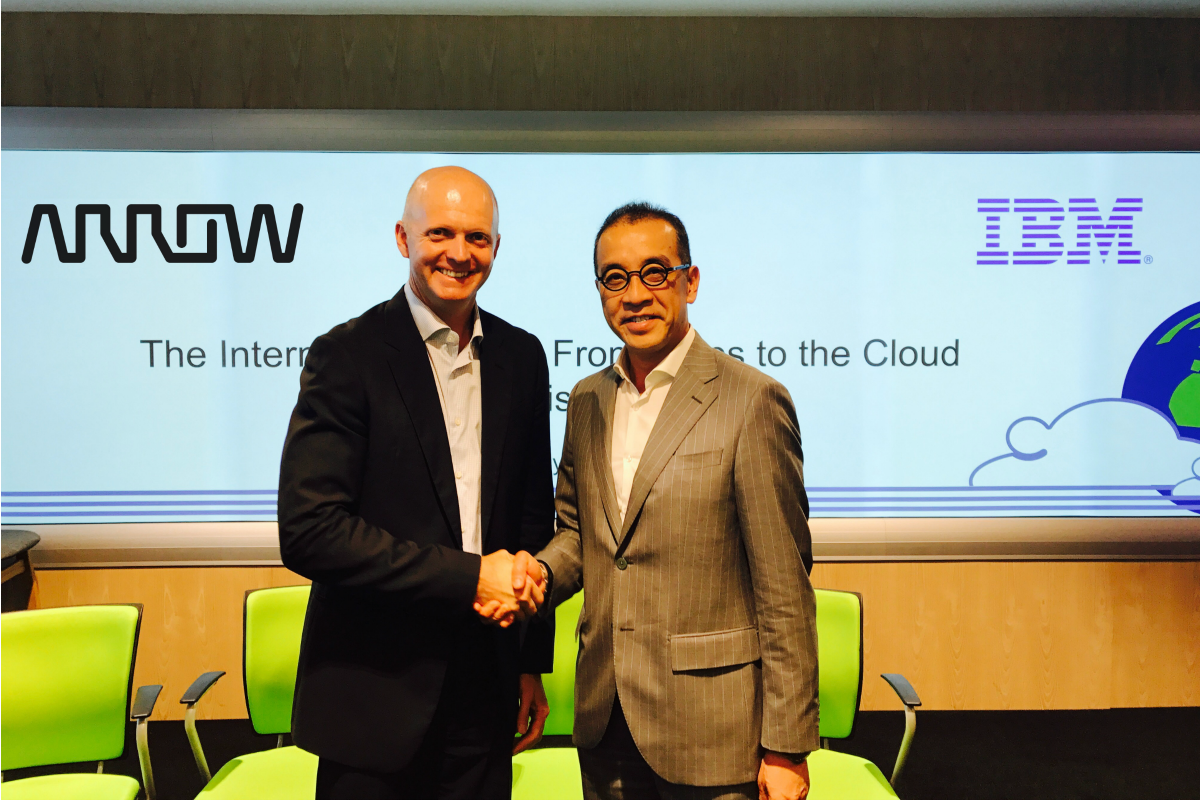 Jason Jameson of IBM APAC (left) and Edmond Wong of Arrow APAC
Arrow Electronics has integrated IBM's Watson Internet of Things (IoT) platform and IBM Cloud services into its 'ideation-to-production' service portfolio to help businesses realise the full potential of IoT innovations.
Arrow's IoT offerings include services specifically designed to help start-ups advance from idea to product, quickly and cost effectively.
Arrow now offers customers in Asia Pacific the IBM Watson IoT platform via IBM Cloud, giving them access to more than 160 industry cloud services to incorporate ready-to-use capabilities, such as artificial intelligence (AI), blockchain, advanced data analytics and cyber security into their latest IoT inventions.
The platform is a fully managed, cloud-hosted service designed to make it simple to derive value from IoT devices and provides capabilities that will help boost the quality and innovativeness of IoT products and help them enter the market quickly.
According to market analyst IDC, Asia Pacific is set to be at the forefront of IoT, with the number of connected devices expected to increase from 3.1 billion to 8.6 billion by 2020, creating a $583bn market opportunity.
A critical driver to this growth will be entrepreneurs and early-stage businesses, but very often while these entrepreneurs are armed with ideas, they usually lack the resources and technical expertise to develop these next-generation IoT innovations and bring them to market, said Arrow.
"Our combined offering can seamlessly help technology innovators and enterprises build IoT solutions from silicon to cloud to application. The ability to capture and connect data points generated from IoT devices enable them to derive insightful business intelligence and then turn them into decisions for value creation," said Esmond Wong, vice president of supplier marketing and semiconductor for Arrow's components business in the Asia-Pacific region.
"Arrow is removing barriers and providing the engineering expertise, resources and services that entrepreneurs need to develop innovative and intelligent connected products."
Cascademic Solutions is an industrial IoT solutions provider specialising in turnkey IoT solutions that will reportedly benefit from Arrow and IBM's joint offerings.
"With IBM's Watson IoT platform and Arrow's ideation-to-production services, we are in a strong position to empower our customers and partners to develop smart city applications with integrated IoT solutions that will help significantly reduce development costs and time-to-market," added Abdullah Khan, president of Cascademic.
If you like this, you might be interested in reading the following:
Arrow teams with AIRmaker to help IoT start-ups
Goal is to help start-ups become more effective and productive in their idea-to-impact product journey
smartcitiesworld.net/connectivity/connectivity/arrow-teams-with-airmaker-to-help-iot-start-ups
Connecting the world
Arrow's framework enables businesses to globally deploy, manage, monitor, analyse and monetise secure connected devices throughout their lifecycle
smartcitiesworld.net/connectivity/connectivity/connecting-the-world-
Quark IOE and Cumulocity team up for IoT enterprise
Partnership aims to develop best of breed IoT solutions environment for China
smartcitiesworld.net/connectivity/connectivity/quark-ioe-and-cumulocity-team-up-for-iot-enterprise