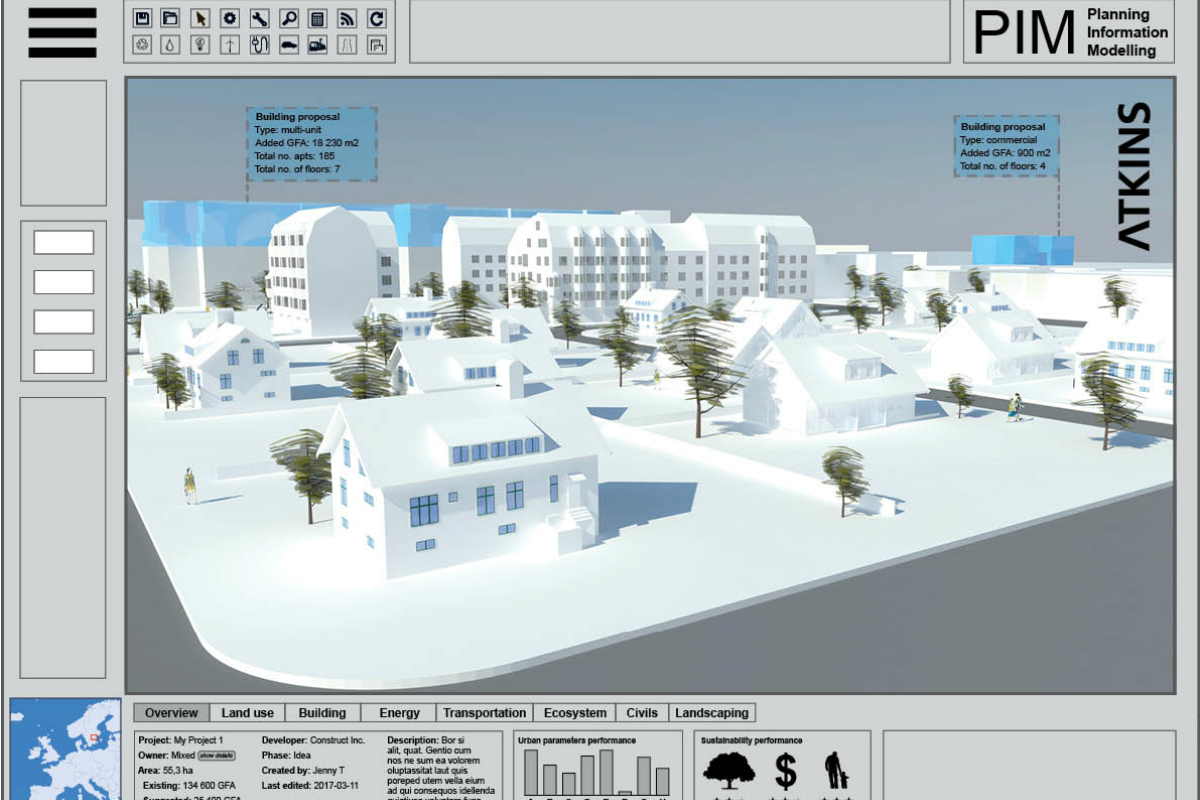 3D layout showing what Atkins' Swedish digital urban planning tool could look like
A new digital tool to help stakeholders collaborate on sustainable urban growth is being developed by design and engineering consultancy Atkins.
The project is funded by the Swedish Environmental Protection Agency as a part of a four-year €7m government programme to support innovations in city planning, and is being worked on by a team based in Stockholm, Sweden.
By using the planning information modelling (PIM) tool, urban planners will have a single platform to engage with stakeholders such as politicians, government departments, consultants and the public.
The shared multidisciplinary platform will enable considered and sustainable solutions for planning and upgrades in public transport, recreational areas, public buildings, water and waste technology and noise pollution, and will significantly speed up and clarify the planning process, the company claims.
"Imagine the collaboration of urban planners with engineers, civil and technical experts, real estate developers and politicians within the same platform," said Elias Prokofiev, urban planning and environment consultant at Atkins.
"Design changes can be immediately reflected on plans and end the need for the exporting, importing, re-calculating and re-sharing of documents. It will create a greater understanding for dependencies between the parameters."
Currently in development, the long-term goal for the integrated PIM platform is to connect various technical, economic and social urban planning disciplines to the 3D base tool.
Any developer will be able to create extensions to the tool within their field of expertise, increasing the number of parameters for users to consider. This allows for more complex operations and high-detail analysis, resulting in viable proposals for the built environment of the future.
The Swedish Environmental Protection Agency has funded 16 projects out of a total of 109 grant applications. According to Atkins, its proposal was assessed as one of the projects with the "highest level of innovation, the highest possibility to be implemented and with significant gains towards sustainable urban development".
The prototype platform is due for completion in the summer of 2018.
If you like this, you might be interested in reading the following:
Meeting the challenges of rapid urbanisation
WEF contends that most cities lack the capacity and resources to ensure that the city develops in a sustainable manner
smartcitiesworld.net/news/news/meeting-the-challenges-of-rapid-urbanisation-1345
Public-private cooperation is the key to a sustainable future
A WEF report says meeting the challenges of urbanisation relies on dialogue and engagement between multi-stakeholders
smartcitiesworld.net/news/news/public-private-cooperation-is-the-key-to-a-sustainable-future-1034
Planning ahead for radical urbanisation
The Prince's Foundation is launching the Planning for Rapid Urbanisation initiative to support those involved in designing towns and cities in the Commonwealth
smartcitiesworld.net/news/news/planning-ahead-for-radical-urbanisation-1097
smartcitiesworld.net/news/news/atkins-calls-for-cities-to-be-cav-ready-1048&title=Atkins%20calls%20for%20cities%20to%20be%20CAV%20ready">