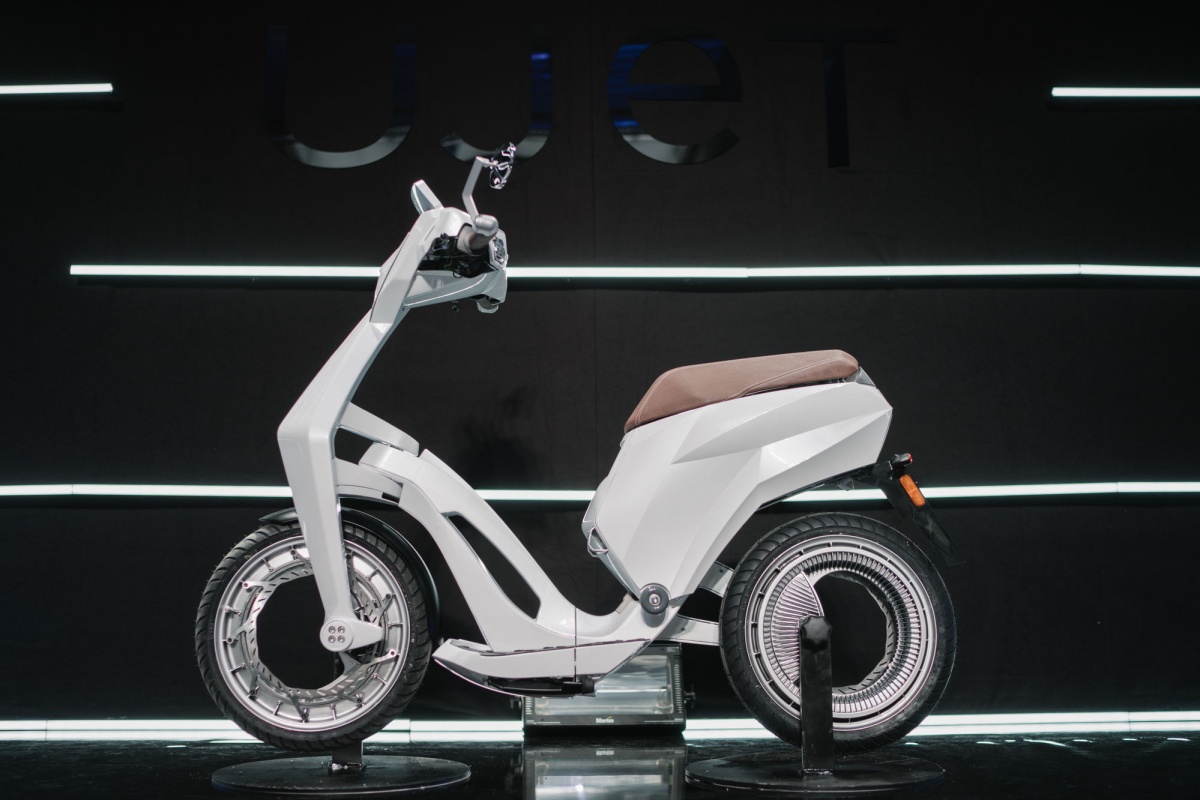 E-scooter aims to contribute a new mobility concept to sustainable cities
Urban mobility solution provider Ujet will preview its new electric scooter at Smart City Expo World Congress, which opens today at Fira de Barcelona's Gran Via venue.
The company's e-scooter, designed for optimum use in cities and for door-to-door mobility, is expected to launch in Barcelona next year.
According to Ujet, its e-scooter, noiseless and with zero tail-pipe emissions, contributes to a healthier, quieter, and cleaner environment, and is key to reducing global greenhouse gas (GHG) emissions and enhancing air quality.
The e-scooter is completely foldable and equipped with a compact, rollable battery, meaning that it requires no dedicated charging infrastructure on-street and can be charged in the comfort of one's own home.
"We want to inspire a new mobility concept which will contribute to more sustainable cities around the world," said Albane Siramy, global corporate affairs and sustainability director of Ujet International.
"Our aim is to launch in 2018 in a few European cities including Barcelona, which, with the highest number of scooters per person in Europe, is also one of the most dynamic cities in terms of e-mobility. Within this context, we aim to provide a new generation of personal mobility solutions to address Barcelona's urban challenges."
"Our mission is to achieve next-level performance and an incomparable urban mobility experience. We believe that the leading-edge technology, connectivity, and innovative design of Ujet electric scooters embody a new world of performance that will ensure an incomparably smooth and safe ride," added Hugues Després, CEO, Ujet international.
Founded in 2015, Ujet Group said it is offering a new generation of urban mobility solutions that empowers the urban communities to create more sustainable cities through the use of smart technologies.
With a design centre in Germany and state-of-the-art assembly plant in Luxembourg, Ujet Group employs 52 professionals from eclectic backgrounds that match the company's vision of being a hi-tech platform and incubator providing game changing solutions and services to the evolving and engaged city dwellers today and tomorrow.
If you like this, you might be interested in reading the following:
Check out the latest news from Smart City Expo World Congress 2017
at our dedicated hub
Smartscooter sharing launches in Japan
Partnership will focus on Gogoro's open battery swapping services and support two-wheel and four-wheel vehicles Read more
Smartscooter developer secures investment
The Gogoro Energy Network provides cities and consumers with an advanced battery-swapping infrastructure
Smartscooters to be deployed in Paris
600 Gogoro Smartscooters will form part of the Coup e-scooter sharing service in the French capital