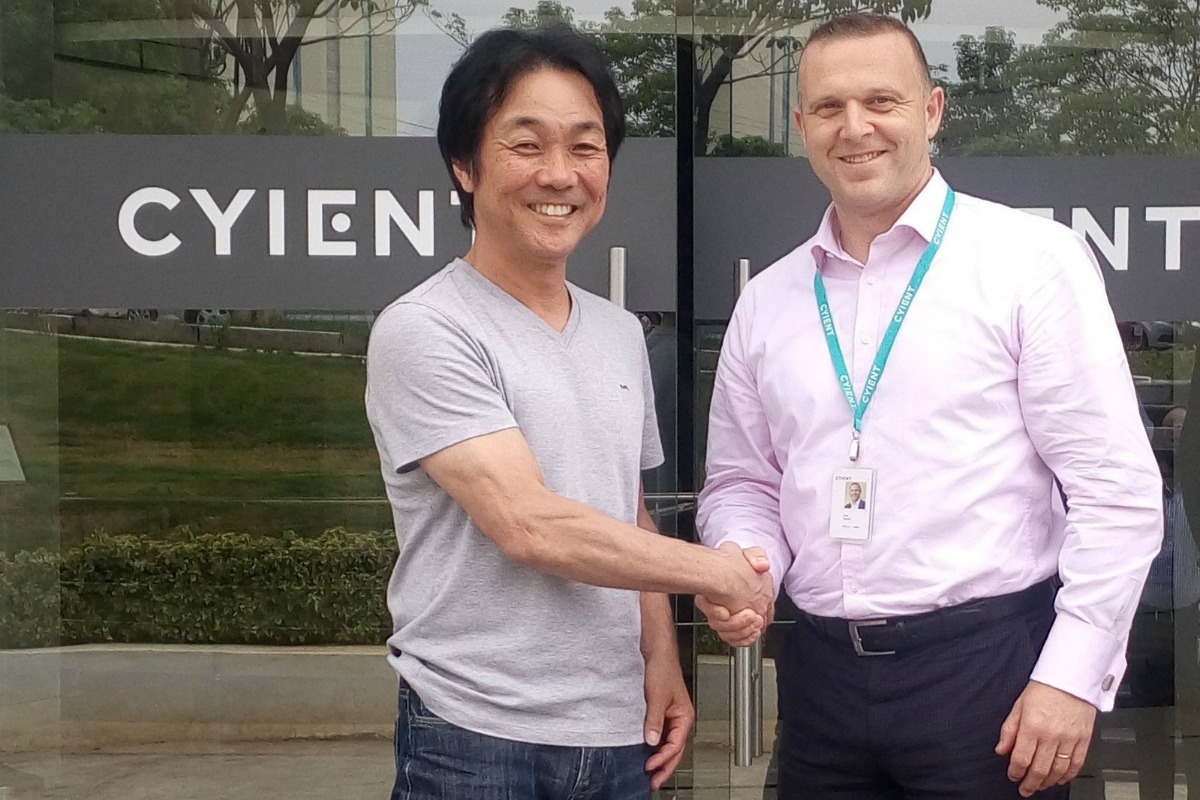 Masanari Arai of the Kii Corporation with Cyient's Paul Barron
Internet of Things (IoT) solutions provider Kii Corporation has joined forces with engineering, and manufacturing firm Cyient to explore, bid and address business opportunities around smart city deployments.
Through this partnership, the companies will jointly pursue business opportunities globally, by leveraging Cyient's domain expertise and geospatial capabilities with Kii's IoT platform to develop connected solutions through smart devices and applications.
"Together, Kii and Cyient will provide a unique offering to optimise smart city asset management systems. I am excited at the opportunities this brings to our customers," said Paul Barron, associate vice president, partners and alliances of Cyient.
Under the terms of the non-exclusive agreement, Cyient will also provide Kii with project delivery and implementation services.
"The combination of our IoT solutions enablement platform and solution accelerators with Cyient's mature engineering design and delivery process presents new opportunities for both companies globally, within smart cities and other IoT segments, such as manufacturing, utilities, healthcare, transportation, and beyond," added Masanari Arai, CEO, Kii Corporation.
Cyient provides engineering, manufacturing, geospatial, network and operations management services to global industry.
With nearly 14,000 employees in 21 countries, Cyient partners with clients to operate as part of their extended team, in ways that best suit the organisation's culture and requirements.
Cyient's industry focus includes aerospace and defence, medical, telecommunications, rail transportation, semiconductor, utilities, industrial, energy and natural resources.
If you enjoyed this, you might like to take a look at the following:
Hamburg embarks on smart port project
Pilot project demonstrates the potential for real-time emission measurement for the port of Hamburg
smartcitiesworld.net/connectivity/connectivity/hamburg-embarks-on-smart-port-project
Increased intelligence for assets
Tego's innovative asset intelligence platform now supports major mobile OS and RF gateway protocols
smartcitiesworld.net/connectivity/connectivity/increased-intelligence-for-assets
Big Data experts in demand
Big Data IT professionals are commanding salary rises three times higher than general forecasted pay increases across the UK
smartcitiesworld.net/news/news/big-data-experts-in-demand-629