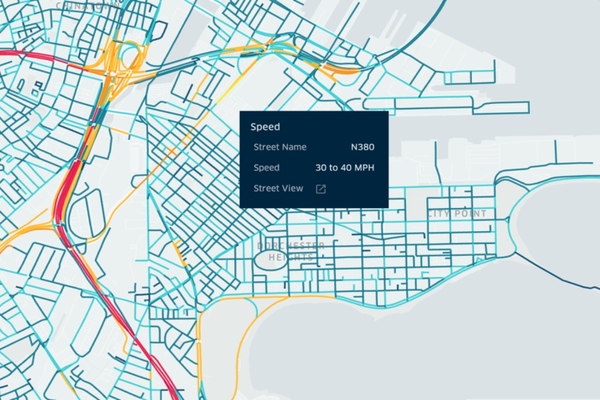 City Insights provides government leaders with a deeper understanding of mobility
Samsara, an Industrial Internet of Things (IIoT) company that makes sensors and software to manage commercial fleets and industrial operations, has released a free data tool designed to help better inform the operations of public sector fleets.
While government leaders are increasingly seeking out smart city technology to better understand the needs of their citizens, according to Samsara, the data generated by existing technology is often siloed. This makes it difficult to attain proper insights to inform initiatives serving citizens, the environment, and public safety.
City traffic patterns
To make this kind of data more accessible to city managers and departments of innovation, Samsara has introduced City Insights for government leaders to explore city traffic patterns and driving behaviour, specifically around harsh events like crashes and speed.
Samsara claims this data tool can give government leaders a deeper understanding of commercial mobility within their jurisdiction and enable data-driven decisions about their own safety initiatives.
City Insights aggregates and anonymises data from more than 15,000 fleets. Meanwhile, the company's IoT platform gathers 1.6 trillion sensor data points from more than 500,000 vehicles on an annual basis (three million data points per minute). This data touches every aspect of its fleets' operations – from vehicle speeds and miles driven to fuel efficiency, engine idling, harsh braking, distracted driving, and more.
Samsara claims this data tool can give government leaders a deeper understanding of commercial mobility within their jurisdiction
City Insights aims to offer city managers flexibility to access data in a variety of ways. Visualisations can be explored directly in a web browser, or raw data can be downloaded to incorporate into their own systems.
Within the browser, city managers can interact with data in two main ways:
Street level: this view helps to identify hotspots for unsafe driving behaviour. Are vehicles traveling at reasonable speeds along arterial highways? Could streets with a high occurrence of harsh braking events benefit from clearer signage? Samsara has linked every segment to Google Street View, so streets of interest can be remotely explored
Neighbourhood: as well as identifying patterns for each street, patterns for each neighbourhood can also be identified. Do certain neighbourhoods have a higher occurrence of harsh events? Businesses in those areas could be good candidates for educational outreach programmes around safe driving best practices.
The City Insights dataset currently encompasses 6 US cities (Atlanta, Boston, Chicago, Houston, Los Angeles, and New York), and Samsara said it plans to add more soon.
You might also like: