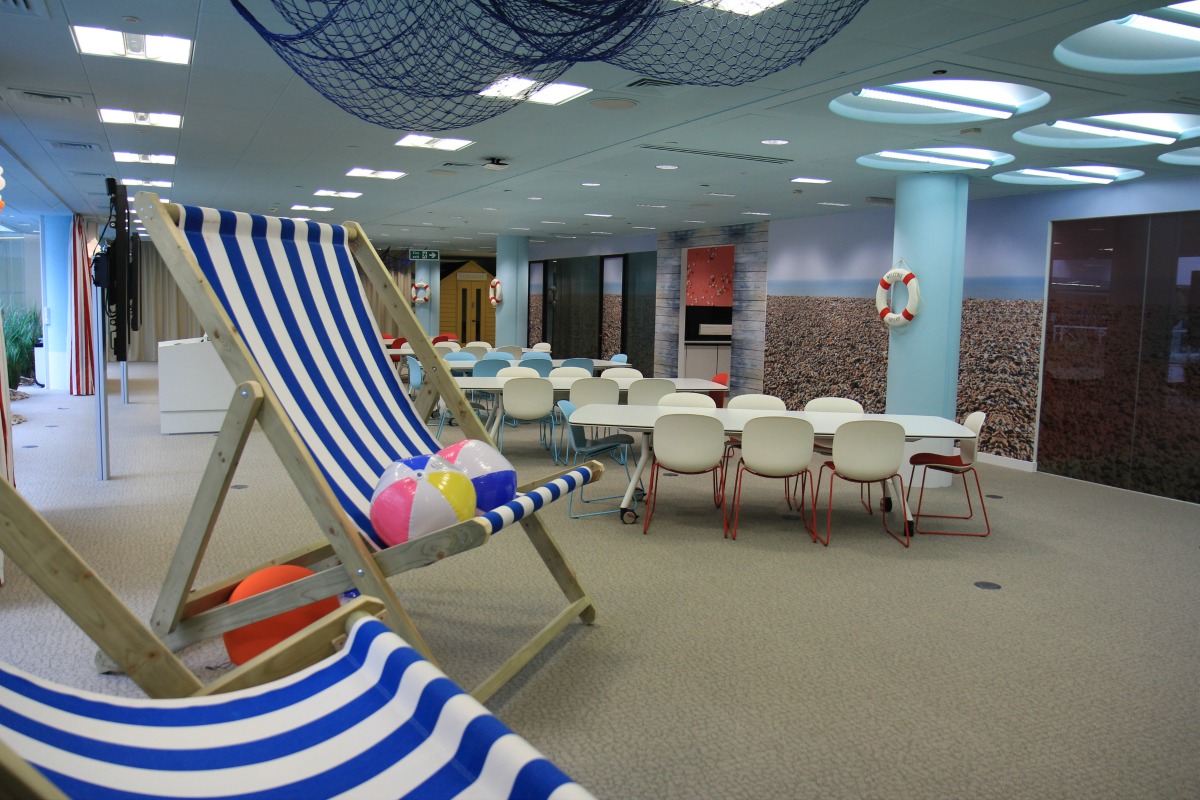 The typically 'Googley' interior of the new Digital Skills Academy in London
Google has opened a digital skills academy in London to coincide with London Tech Week. The 40,000-square foot space in central London aims to educate and inspire everyone from schoolchildren to CEOs in a "uniquely Googley" environment.
The Academy, a "Google Space", demonstrates the company's commitment to both London and the importance of building digital talent and capability across the board. Googlers and external industry experts will be on hand to support the delivery of a wide range of educational and inspirational experiences.
It will also provide a base for capability building events in partnership with everyone from Government to charitable organisations to further drive the digital skills agenda.
The Academy represents the coming together of a wide range of Google teams, including Google Cloud, CS Education, Brandlab, the Zoo, Google Partners, Growth engine, Policy, Android Wear and Developer Relations. Its opening also follows the news that Google will open its new headquarters in London and provide up to 3000 new jobs by 2020.
"London's ambition to grow, harness new technologies, and build the brightest and best companies has been a constant over the last decade," said Ronan Harris, Google UK MD.
He added: "When the tech community with industries ranging from fashion and music to automotives and AI have worked in partnership with government, the Mayor's office and passionate communities supporting start-ups and scale-ups, new jobs have been created and London has shown it can lead the way in a competitive global environment."
The Academy comprises a range of unique retro Brighton themed spaces including an Electric Cinema, Beach and Funfair styled auditoriums and the Cloud promenade, a stripped back collaboration space providing access to the latest workshop technology such as Jamboards.
"Schemes like this perfectly compliment the Mayor's Digital Talent Programme that will nurture the next generation of digital enthusiasts so we can continue to provide all businesses in London with much-needed home-grown digital talent," said Rajesh Agrawal, Deputy Mayor for Business.
The new digital skills hub will open its doors during London Tech Week. Among activities offered during the week are a Get Started in Tech course, run by the Prince's Trust. This programme will see participants receive training on how to use video and technology to create a brand story, culminating in a graduation ceremony at the end of the week.
London Tech Week is a festival of events, taking place across the city until 16 June, representing the entire technology ecosystem. It is organised by founding partners, KNect365, London & Partners and Tech London Advocates, with support from strategic partners Tech City UK, ExCeL London, DIT and techUK.
If you like this, you might be interested in reading the following:
London's ambition to be the smartest city
Plans also include the launch of a clean-tech incubator to tackle the effects of climate change
smartcitiesworld.net/news/londons-ambition-to-be-the-smartest-city-1785
London to get first ever Chief Digital Officer
52, 500 digital technology companies forecast to be operating in London by 2025
smartcitiesworld.net/news/news/london-to-get-first-ever-chief-digital-officer-1709
London chosen for smart pilot
DigitalTown, Digital Greenwich, Dot London Domains and MMX announce strategic partnership for a smart London
smartcitiesworld.net/connectivity/connectivity/london-chosen-for-smart-pilot