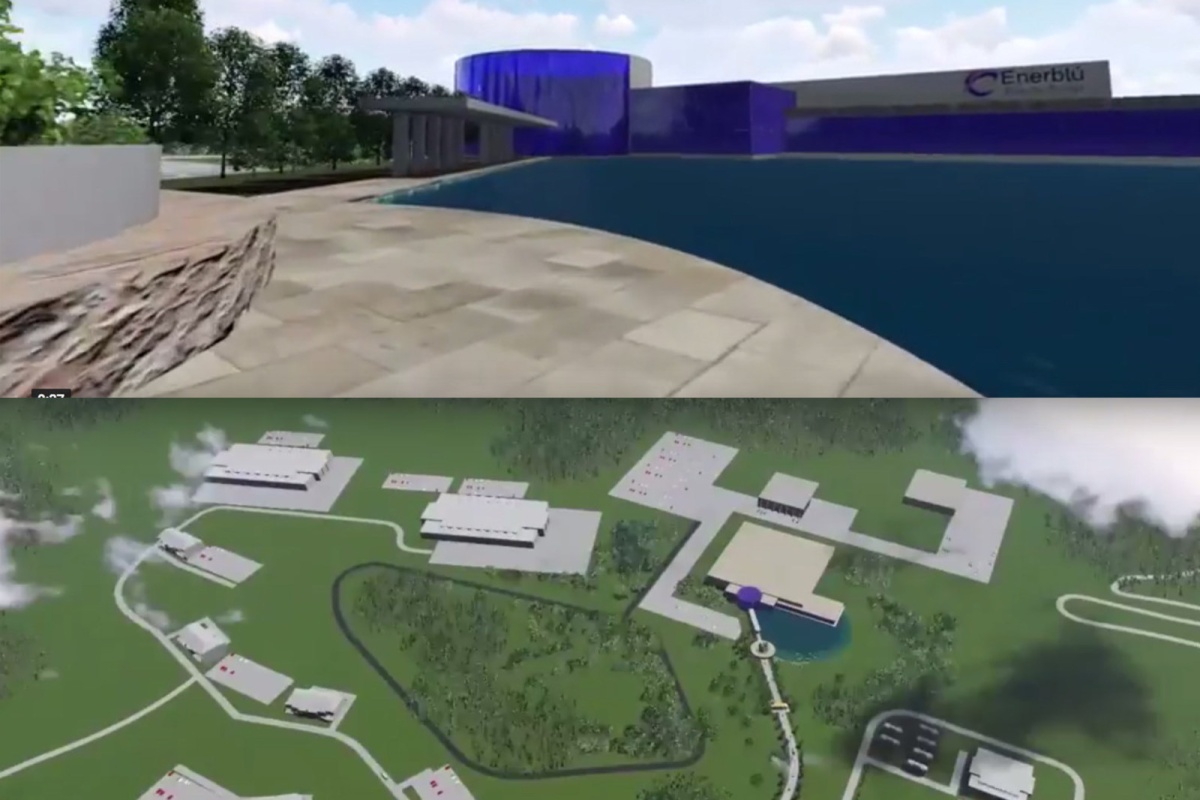 A split-screen rendering of EnerBlu's new manufacturing facility in Pikeville
EnerBlu, the high-power energy-storage solution company that focuses on electric transportation, PV hybrid microgrid, power grid and genset hybridisation, is relocating to Kentucky upon acceptance of a multi-million dollar, multi-year incentive package from the State of Kentucky.
It will service a global market from Kentucky that includes government, commercial and military customers with interest secured in North America, South East Asia, MENA and India.
The company intends to set up a research and development facility as well as the first lithium titanate battery facility in the US. It plans to invest more than $400 million in Kentucky, creating new jobs, and will have locations in both Lexington and Pikeville, cities located in a region historically known as the Energy Capital of the United States.
"EnerBlu will help power our nation's transportation and defence industries, while providing job opportunities that will harness the highly skilled workforce of Eastern Kentucky," said Governor Matt Bevin of Kentucky.
"We are grateful to EnerBlu for locating this incredible project in our state, and congratulate the communities of Pikeville and Lexington for the opportunities this new corporate partnership will create. This project will have a positive impact on Eastern Kentucky and the commonwealth as a whole for many years to come."
The company will also partner with University of Pikeville, University of Kentucky, and other colleges and universities for research, materials science, and to encourage new technology development through incubation.
"Creating a team that is building something meaningful that can benefit both the local and global community is not only exciting, but very meaningful to us," stated Michael Weber, EnerBlu executive chairman. "You cannot imagine how thrilling it is to play a part in helping revitalize a region and put coal miners back to work through retraining and durable jobs.
"It is tremendously gratifying to be more than just a company that sells products, but to also make an impact on people's lives."

The company's Energy Innovation Park manufacturing campus will be built in Pikeville on 154 acres with EnerBlu's buildings initially covering over 1 million square feet. The facilities will include: lithium battery gigafactory for its eLTO batteries; production of the AESU, GO System and other grid-tied products; and, the manufacturing of its eTransport commercial vehicles.
EnerBlu will take the leadership role in this new commercial park that will bring together a diverse group of companies dedicated to the development of 21st Century energy, power and eTransport.
The company's innovative technologies and products create reliable power delivery systems for organisations worldwide that are looking for sustainable energy solutions that deliver economic, social, and environmental benefits. It consists of three divisions:
ePowerProducts-- proprietary eLTO battery technology that meets military standards and provides proven advantages for power packs and hybridisation as well as microgrid deployments.
eGridServices-- teams up with developers, corporations, utilities, and investors globally to develop projects, install equipment, and test and commission microgrid systems, which consist of PV solar, high-density power battery energy storage, solar and back-up hybridised gensets.
eTransport-- produces fully electric commercial vehicles and buses that are both environmentally friendly and greatly reduce the total cost of ownership.
If you like this, you might be interested in reading the following:
Solar-plus-storage project shares insights
Those behind a unique smart energy microgrid project in Peña Station NEXT in Denver want to share their knowledge and experience with others
Solar-powered cities: sunny outlook with patches of cloud
Renewable energy, combined with energy efficiency is central to powering cities of the future. Sarah Wray looks at how solar is a key part of that energy mix
Solar city goes live
Trina Solar's PV modules have begun operations in the 10MW Sustainable City in Dubai, which aims to use only clean energy sources