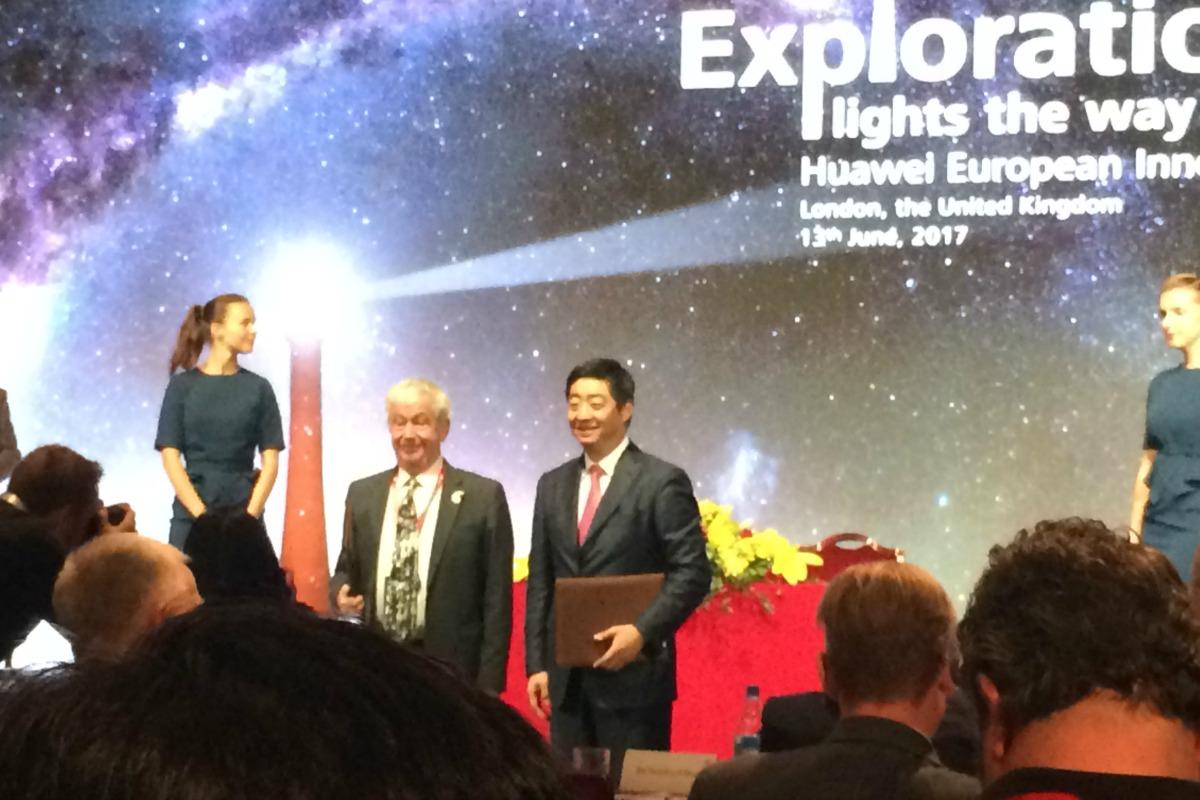 Sir Timothy O'Shea (left) and Ken Hu at the signing of the new partnership
Huawei has further displayed its strong commitment to UK academia with the announcement of a new partnership deal with the University of Edinburgh.
The new three-year deal sees the opening of a new lab for distributed data management and processing that will be based at the University's School of Infomatics.
The announcement was made at Huawei's European Innovation Day in London. At the event, Ken Hu, Deputy Chairman of the Board and Rotating CEO at Huawei, and Professor Sir Timothy O'Shea, Principal of the University of Edinburgh, signed Hthe partnership agreement.
The deal follows on from a long-term collaboration between database experts at the University and Huawei. The new lab will seek to explore challenges in data for academia and industry, with the aim of pushing out solutions for commercial use on a global scale.
Professor Sir Timothy O'Shea, principal of the University of Edinburgh, said: "The University of Edinburgh is delighted to partner with Huawei to perform further research into data science and data management. The creation of this laboratory gives our researchers the opportunity to apply their expertise to large-scale, real world challenges in this very exciting area."
Huawei already works with several UK universities that include the University of Surrey's 5G Innovation Centre, University of Manchester's Graphene Institute, University of Cambridge, University of Southampton, Imperial College and Oxford University.
The new partnership however, sets a new framework for collaboration. Ken Hu, Huawei's Rotating CEO, said: "Huawei is a long-term advocate of open innovation. We work with over 100 leading universities around the world, and the joint lab we are launching with the University of Edinburgh will go a long way in helping the ICT industry further its research into data science and enable digital transformation. The links between industrial and academic communities are strong here, so Europe is an excellent place for collaboration between business and academia."
Huawei has held its European Innovation Day for five consecutive years. The event is designed to promote more integrated collaboration across the ICT ecosystem, including scientists, scholars, opinion leaders, and engineers from partner organisations, in order to more effectively drive Europe's innovation agenda forward.
Huawei is a leading provider of global information and communications technology solutions, and is the world's second largest manufacturer of telecoms network equipment. Back in 2012 the company publically committed to spending £1.3bn in the UK for five years, and as so, is one of China's largest inward investors in the UK.
If you liked this, you may wish to view the following:
Huawei and Oracle form power partnership
Huawei and Oracle have agreed to continued cooperation as they seek to boost global smart grid construction
smartcitiesworld.net/connectivity/connectivity/huawei-and-oracle-form-power-partnership
Huawei and DHL to collaborate on IoT projects
Huawei and Deutsche Post DHL take on US$1.9 trillion connected logistics market with Internet of Things partnership
smartcitiesworld.net/news/news/huawei-and-dhl-to-collaborate-on-iot-projects-1384