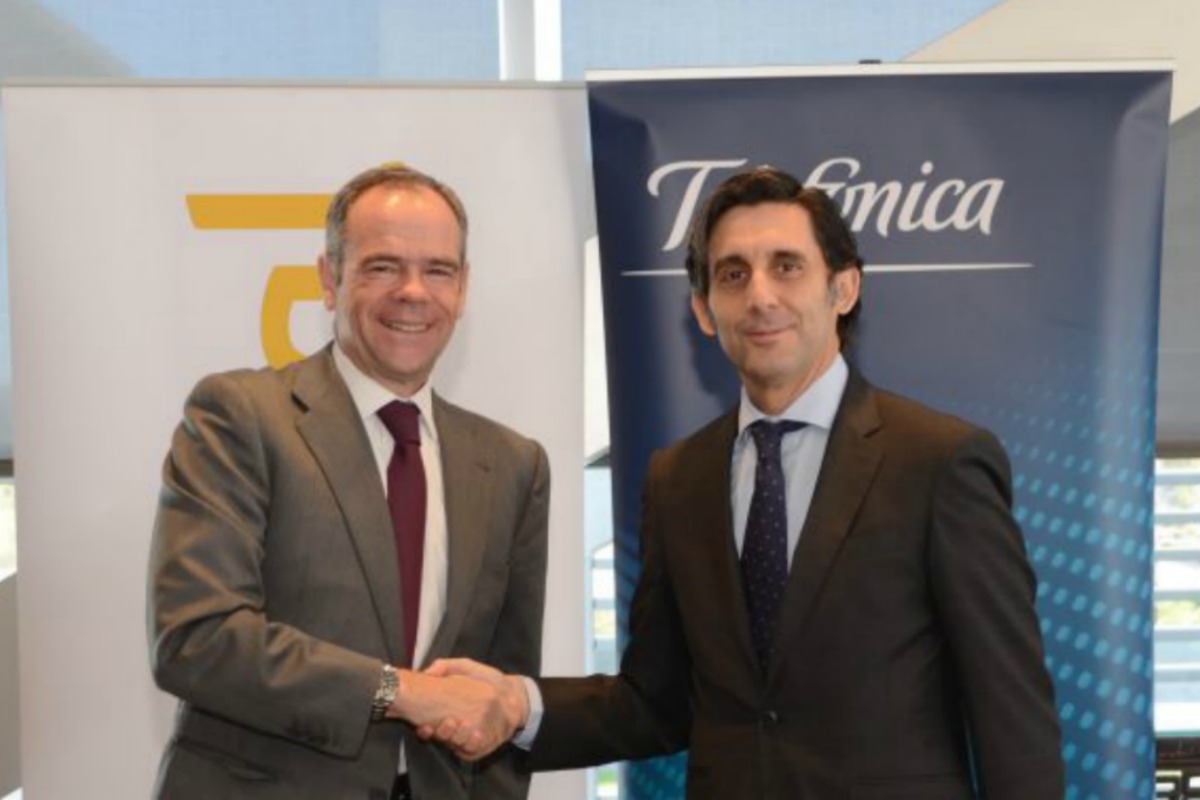 Ferrovial CEO, Íñigo Meirás (left) and Telefónica chairman and CEO, José María Álvarez-Pallete
Infrastructure operator and municipal services company Ferrovial has chosen Telefónica as its communications supplier for the next five years.
Through the agreement, the two companies will work together to develop fixed and mobile technology, collaboration tools, new workplace services and specific security solutions which they claim will entail "a leap forward" in cyber-security and cyber-surveillance.
In addition, both companies will examine the scope for collaboration in the areas of smart cities, big data and the Internet of Things (IoT).
Ferrovial operates in over 20 countries and its main business areas are toll roads, services, construction and airports.
Upon signing the agreement, Íñigo Meirás, CEO of Ferrovial, highlighted that "this global agreement will enable us to pursue our expansion strategy in a very agile, flexible way, providing new services that will support our ongoing digital transformation process."
José María Álvarez-Pallete, chairman of Telefónica, praised the agreement "between two global leaders in their respective industries", and noted that all companies must "transform and adapt to the new digital environment in order to address emerging challenges. This alliance makes both companies more competitive and innovative within the technology and infrastructure fields."
The agreement helps Ferrovial to establish itself as a digital transformation leader. Deployment of a high-availability optical fibre network will form the cornerstone of its cloud infrastructure solution which allows centralised management.
Ferrovial has also created a Digital Hub in order to leverage the opportunities arising from the digitalisation of society.
If you like this, you might be interested in reading the following:
Telefónica co-founds new smart cities group
New initiative to enable open and interoperable smart cities
smartcitiesworld.net/news/news/telefonica-co-founds-new-smart-cities-group-1285
Ensuring Spanish network is fit for the future
Partnership with Telefonica marks an important milestone in Huawei's global metro network reconstruction
smartcitiesworld.net/connectivity/connectivity/ensuring-spanish-network-is-fit-for-the-future
Telefónica on hunt for best worldwide start-ups
Competition is open to innovative projects and start-ups that make use of new technologies from any corner of the globe
smartcitiesworld.net/connectivity/connectivity/telefonica-on-hunt-for-best-worldwide-start-ups