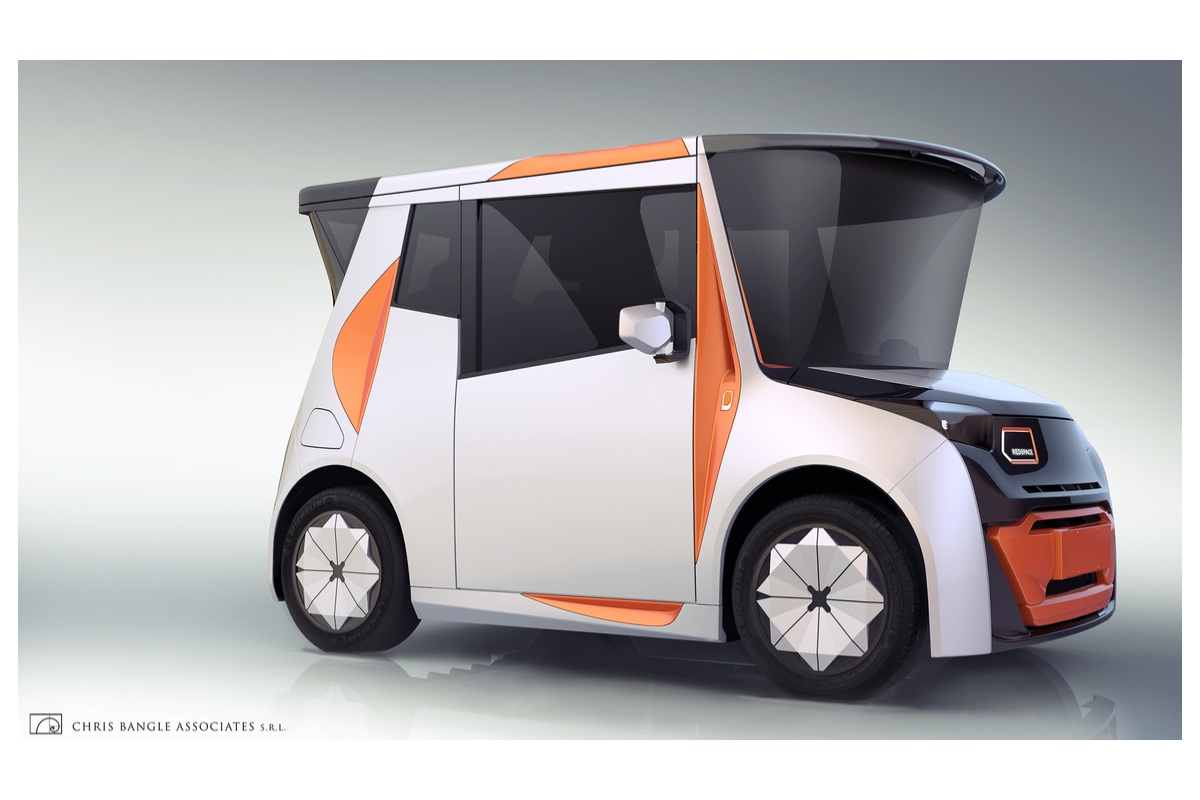 Showing the exterior concept render of Redspace
RedSpace is an alpha prototype of a new kind of electric city car for China. The concept car project has been developed by the former head of BMW design Chris Bangle and his team for China Hi-Tech Group Corporation (CHTC).
The car is described as "a space that became a car". According to Chris Bangle Associates (CBA), it is conceived and crafted to get the most out of life in Chinese mega-cities, where a car is not in movement 90 per cent of the time. The 2.97 metre long vehicle is built around what CBA describes as a "multi-layered, design-led space-use analysis".
This means attaching importance to the dynamic lifestyle opportunities that are possible in this kind of EV, especially when it's stationary.
CBA said key to the success of RedSpace comes from understanding that if an electric vehicle is to function in new ways, it cannot be designed using the visual language of traditional cars.
"RedSpace breaks away from conventions. We are entering a fourth age of car design, but designers are hesitant because of the fear of doing things differently," said Bangle.
"This car is, for me, the demonstration that we can have something that is extremely emotional with immediate appeal, and at the same time highly functional and intellectually engaging."
The complete form of the car reveals a unique figure-eight silhouette, huge side windows, and Cartesian doors that open on a wide internal space.
Slightly longer than a Smart Fortwo, but with a smaller turning radius, it can seat four adults when moving and five when stopped; it has space for one or two suitcases depending on configuration, and has a rotatable driver's seat even with the doors closed. CBA claims it has been engineered to have best-in-class 0-50 km/h acceleration
When parked it becomes a multi-functional, interconnected working space (helped by a drop down table in development); the quiet venue for a meeting or a presentation; or a place to truly relax while enjoying a film with friends on its 17 inch screen, said CBA.
"We've created a new design language that is at once friendly and immediate, but at the same time subtle, ambiguous, and textually layered. This gives RedSpace character, the kind you will enjoy looking at for many years," added Bangle.
If you like this, you might be interested in reading the following:
Helping EVs to energise the city
The company has been participating in the V2G test bed project, conducted by Korea Electronic Power Corporation
New EV car sharing service launched in Japan
The new service further promotes ultra-compact mobility and builds a sustainable business model through public-private cooperation
VW's concept car BUDD-e reaches China
Volkswagen will launch seven new electric and plug-in hybrid models for China by 2020, which will be produced in the country