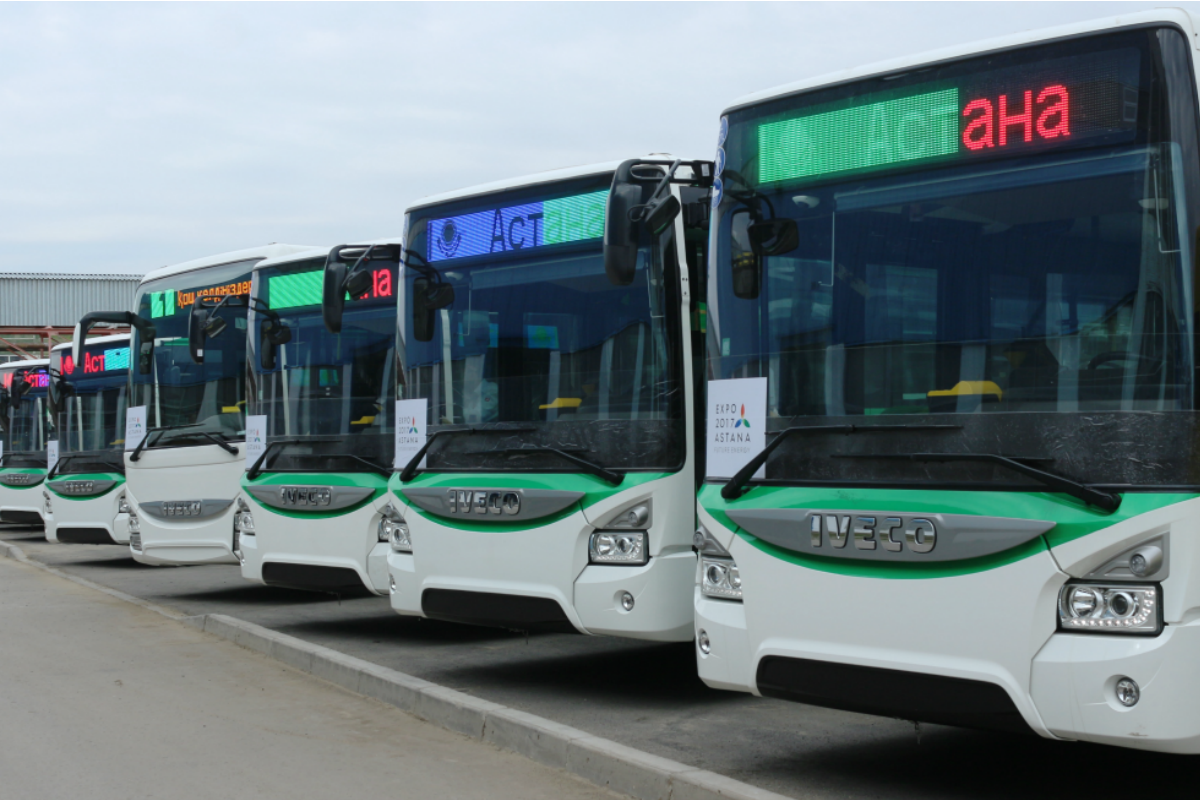 The Urbanway Hybrid buses are lining up for action at Expo in Astana
Iveco Bus has shipped the first batch of Urbanway buses to Expo 2017 host city Astana, Kazakhstan.
This is the first delivery in a contract for the supply of 210 Urbanway Euro VI and Urbanway Hybrid to upgrade the city's transport fleet in preparation for the exposition.
The 210 Urbanway buses will join 358 Iveco Bus Citelis Euro V buses already operating in the city's municipal transport company, Astana LRT's fleet.
The Urbanway Hybrid 12-metre and 18-metre buses use up to 30 per cent less fuel than conventional buses. They reduce CO2 emissions by 33 per cent and nitrogen oxide (NOx) by 40 per cent compared to diesel buses. This means 25 tons less CO2 every year for a standard bus and 37 tons for an articulated bus, the company claims.
The Urbanway buses are the first to feature HI-SCR Euro VI technology, which does not use exhaust gas recirculation, maintaining the vehicles' excellent fuel efficiency. This low-floor city bus integrates the new Tector 7 and Cursor 9 engines on a fully redesigned structure that combines superior resistance and weight reduction.
"This second agreement for the supply of vehicles to the city of Astana's public transport fleet demonstrates our ability to meet the requirements of cities to reduce urban pollution, which has become a key concern for public authorities around the world," said Sylvain Blaise, head of Iveco Bus.
The Urbanway Hybrid buses combine an electric traction system with a Euro VI internal combustion engine and a latest-generation lithium-ion battery pack. A smart power management system optimises fuel consumption and emissions during movement, while excess braking energy is preserved in a storage system.
The benefits of these buses include the "Arrive & Go" function that allows for 100 per cent electric operation when approaching and leaving bus stops. It also temporarily disables the generator, eliminating vibration and reducing noise levels by more than half. The result is a completely silent and emissions-free approach and departure from bus stops, it claims.
The 210 Urbanway buses are manufactured at Annonay, France, while the final assembly is performed locally in Kostanay at facilities belonging to partner and distributor SaryarkaAutoProm.
If you like this, you might be interested in reading the following:
Wi-fi expansion on Barcelona's buses
Barcelona City Council and Barcelona Wi-Fi have teamed up to bring wi-fi connectivity to a fleet of 1,003 buses
smartcitiesworld.net/news/news/wi-fi-expansion-on-barcelonas-buses-1586
ABB powers more electric buses in Luxembourg
The Volvo buses mark another step in the City of Luxembourg's aim to cut overall carbon dioxide emissions by at least one fifth by 2020
smartcitiesworld.net/news/news/abb-powers-more-electric-buses-in-luxembourg-595
Bus charging interoperability premieres in Hamburg
Siemens electric bus charging technology allows buses from different manufacturers to be charged by the same station
smartcitiesworld.net/news/news/bus-charging-interoperability-premieres-in-hamburg--846