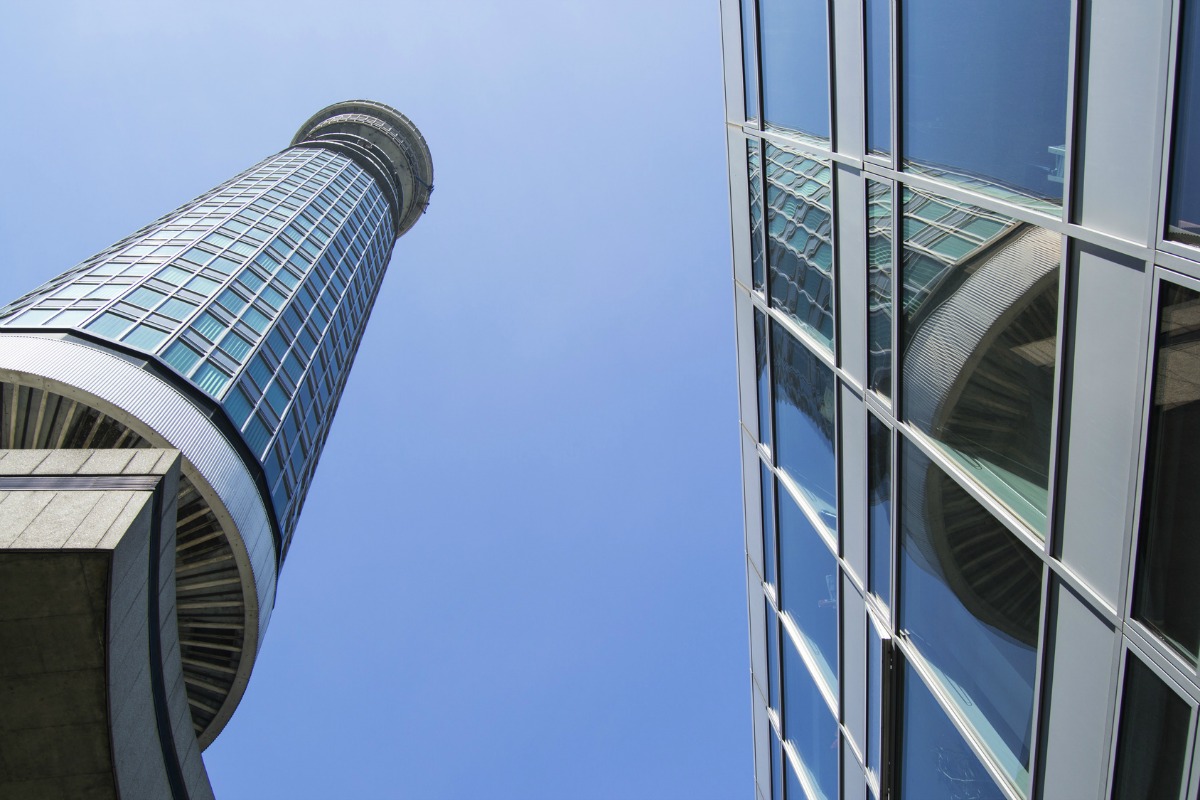 The BT Tower is the highest IoT base station in the world
London's BT Tower has laid claim to hosting the highest Internet of Things (IoT) base station in the world, at a height of 180 metres.
BT has partnered with Digital Catapult and Everynet to help deliver the LoRaWAN network and is supplying 25 of the 50 low power radio access base stations to the landmark building.
Eighteen base stations are in place and the rest will be installed this financial year. LoRaWAN allows internet enabled devices to use very low power resulting in long battery life and a long range, low cost solution ideal for delivering IoT applications.
Things Connected will be an open IoT testbed, free of charge for registered users across London. The network will be switched on in early 2017.
"Installing the IoT base station at a record height on BT Tower will ensure the local area becomes a critical part of the Things Connected network," said Chris Sims, managing director, strategy, marketing and mobile, BT Wholesale & Ventures. "The network will be instrumental in bringing about London's transformation as a truly smart city, advancing its position as one of the best places in the world to live, work and do business."
Digital Catapult plans to extend the network across the rest of London with low power wide area network (LPWAN) technologies. It also intends to create similar networks in other parts of the UK.
"We're delighted that the BT Tower will be one of the base stations for Things Connected, as we look to drive open innovation across the capital," added Dr Jeremy Silver, CEO, Digital Catapult. "Things Connected will allow us to drive IoT experimentation in areas such as traffic and transport services, energy management and environmental sensing.
He continued: "We are excited to create a blueprint for the use of LPWAN which can be used in cities across the UK to drive the adoption of IoT for businesses."
Businesses and innovators interested in finding out how they can test their IoT innovations with Things Connected once the full network goes live can do so by visiting
www.digitalcatapultcentre.org.uk/open-calls/things-connected/
If you like this, you might be interested to read the following:
Cities share data hub knowledge
A data hub similar to that used in Milton Keynes' smart city project is to provide a central piece of infrastructure for the Manchester CityVerve initiative
smartcitiesworld.net/connectivity/connectivity/cities-share-data-hub-knowledge
BT achieves record data transmission speeds
The live core network link spanning more than 700km provided an example of what the super highway of the internet can achieve
smartcitiesworld.net/connectivity/connectivity/bt-achieves-record-data-transmission-speeds
Digital Catapult launches IoT network across London
hings Connected will initially provide 50 LoRaWAN base stations located across London to establish the UK's largest IoT LoRaWAN network
smartcitiesworld.net/news/news/digital-catapult-launches-iot-network-across-london-945