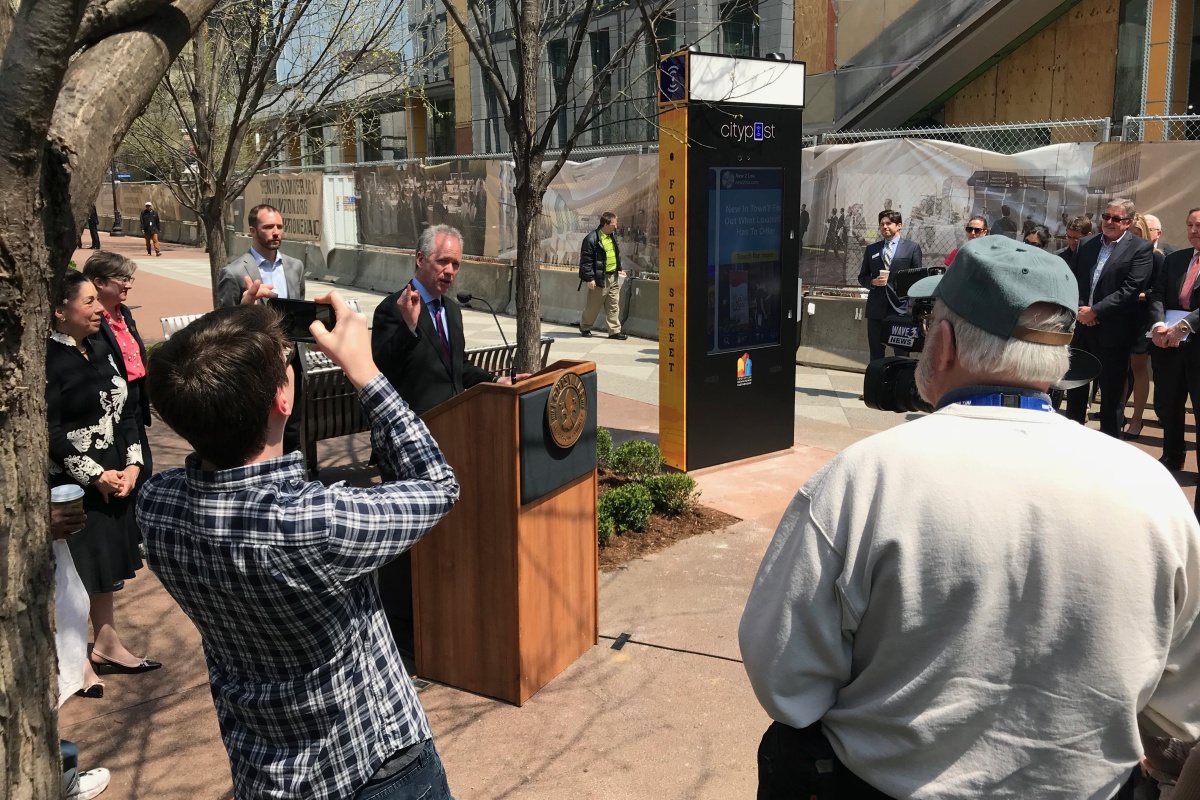 Mayor Fischer: to grow as a city you have to be "inclusive, global and innovative"
Smart City Media, an Internet-of-Things (IoT) powered media company, has entered a strategic partnership with Duke Energy One, to deploy outdoor digital technology that aims to help people better connect with their community.
Duke Energy One, is a subsidiary of energy holding company Duke Energy.
The focus of the partnership is to deliver a digital ecosystem by providing local content, real-time information, and connectivity that elevates experiences for people and businesses through outdoor digital banners and kiosks.
The partnership leverages smart infrastructure, including connected devices, sensors, and data analytics, to improve quality of life for residents, enhance economic growth, and address urban challenges.
The Louisville deployment is the first of more than 10 municipal contracts the Smart City Media and Duke Energy One team plan to install this year in the US.
"Cities are living, breathing hubs with a wide variety of place making needs as well as diverse constituencies," said Tom Touchet, CEO, Smart City Media. "We want to make discovery easy for all the distinct individual neighbourhoods that make up the city's lifeblood."
Phase one of the Louisville CityPost rollout focuses on Downtown, where Louisville is already undergoing major transformation.
"Our downtown is booming, and I'm thrilled with this innovative effort to keep our workers, residents and visitors informed about all of the great places and events to enjoy here," said Louisville mayor Greg Fischer.
"To grow as a city, you have to be inclusive, you have to be global and you have to be innovative. And, that is all happening here. CityPost has been working hard with the cities and the mayors across America. They are the richest in terms of content and you can really see that when you use the kiosk."
Louisville CityPost is a communication network that broadcasts content-rich, real-time, location-based information. "No one needs to search a directory, or yellow pages on a busy street. We want to make discovery easy for you. If we can save you five minutes on a commute or five bucks on a lunch special then we've done our job," added Touchet.
The CityPost kiosks are best-in-class machines built by Nanov Displays, a contract manufacturer specialising in exterior/interior digital signage and kiosks, and integrated by VisionTech Solutions, a global supply chain and product sourcing company.
Louisville CityPost is a wholly owned subsidiary of Smart City Media. To help foster local engagement, its company leadership will work with Louisville Downtown Partnership, Louisville Public Media, and others, to develop local partnerships and build sustainable, strong ecosystems needed to manage and monetise a successful smart media channel.
If you like this, you might be interested in reading the following:
US mayors' pressing city issues
Survey reveals that US mayors increasingly feel on the hook for addressing major policy and funding issues
And the smart winners are…
The US Smart Cities Council has announced the 2018 Readiness Challenge Grant winners
Muscovites meet their neighbours online
The Moscow government has launched a digital communication service that allows neighbours to hold online meetings and polls via blockchain