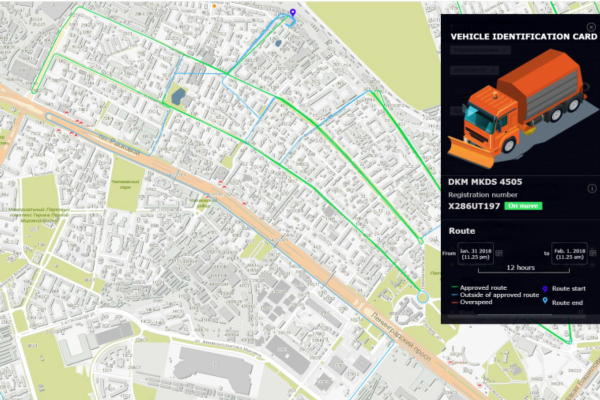 AI calculates the daily scope of work from each vehicle as well as the route
Moscow has completed deployment of a unified Internet of Things (IoT) platform for monitoring and controlling its fleet of municipal vehicles.
Some 22,000 vehicles, including road sweepers, snowploughs, waste trucks and water carts, have been fitted with special sensors which allow the city authorities to track routes as well as control speed, fuel consumption and operation mode.
Russia's capital city recently experienced an unprecedented month's worth of snowfall (47cm, 17 inches) in just a few days which the authorities said turned into a real "crash-test" for the newly implemented system.
More than 15,500 vehicles controlled by the IoT platform were successfully involved in the removal of 1.2 million cubic metres of snow. Despite extremal weather conditions no public transport breakdowns were recorded, the authorities report.
Artificial intelligence (AI) generates a daily scope of work for each vehicle based on the weather forecast. The system automatically indicates the period of work and calculates the optimal route.
The GLONASS system enables identification of a precise location of the vehicle and thus plan the route for it in the most efficient way, while special fuel sensors contribute to reducing fuel consumption.
The IoT platform provides access to the data according to the position and level of the requesting official. For instance, the Mayor of Moscow and the executives of the Department of Housing and Communal Services and Improvement of Moscow have full access to the database, while the access of the municipal authorities and services' providers is limited. They receive only the data on the districts which fall under their responsibility.
Monthly savings amounted to 9.1 million rubles ($162,000) equivalent to the cost of two brand-new snowplough trucks.
"Navigation and telemetric data accumulated via the unified IoT platform allows profile departments of Moscow government to monitor and control activities of communal vehicles operating in Moscow. Thus we have a full online access and 24/7 real-time control of each of the 22,000 vehicles," said Artem Ermolaev, CIO of Moscow.
"[The] first days of February brought record-breaking snowfalls to Russia's capital, however thanks to coordinated work of the city authorities and use of the unified IoT platform we could react quickly and resolved the crisis."
If you enjoyed this, you might wish to view the following:
Moscow introduces blockchain e-voting
Muscovites will be able to count the votes and verify the authenticity of results in real-time
Moscow transformed
My Street project based on Big Data approach has attracted $1.6 billion investment in city transformation to create a better place to live
Read more
SmartCitiesWorld City Profile – Moscow (full report)
Welcome to the second in our series of SmartCitiesWorld City Profiles, our editorial channel that explores the world's leading cities and their strategies to achieve smart living