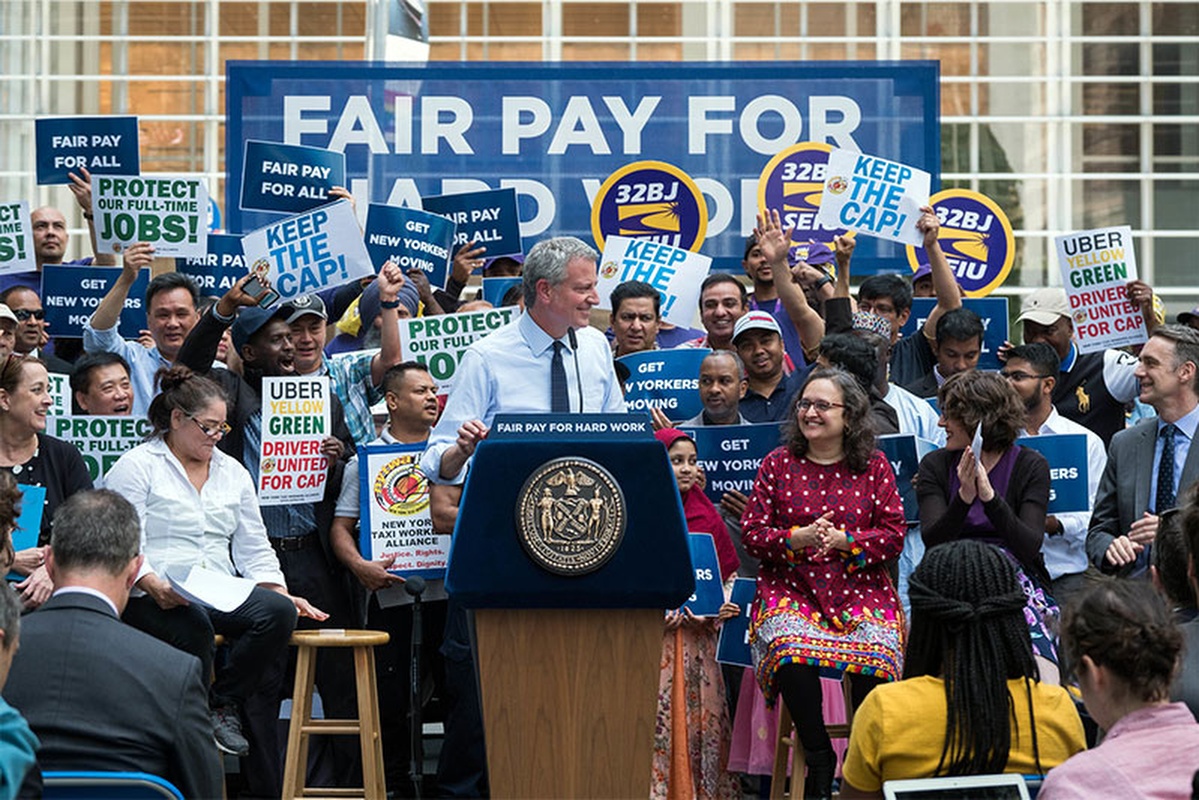 Mayor de Blasio hopes the measures will cut congestion and increase driver earnings
New York City's Taxi and Limousine Commission (TLC) will extend the cap on for-hire vehicle (FHV) licences announced last year, and create a second cap on how long FHV companies can let their vehicles cruise empty without passengers in the Manhattan core, below 96th Street.
Mayor Bill de Blasio hopes the combined measures will cut congestion, increasing speeds in the evening rush hour by up to 10 per cent. As companies reduce the time drivers cruise without a passenger, these policies also have the potential to increase net driver hourly pay as much as 20 per cent during the busiest times.
Increased earning realised
This comes after last year's driver pay standard, which increased earnings at the four major high-volume FHV companies: Uber, Lyft, Via and Juno. The standard, which went into effect earlier this February, guarantees drivers a per-trip amount that will net at least $17.22 an hour, and if they make less on any give trip, the app companies must pay the difference.

After the rule took effect, between February 1 and May 19 drivers earned an additional $172 million, based on per-trip pay earned before and after the rules took effect. Before the standard went into effect, drivers only made the minimum pay standard on four per cent of trips, now they make that or more on 100 per cent of trips, equivalent to an annual pay increase of $10,000. More than 80,000 FHV drivers are now benefiting from increased wages.

"For too long, app companies have taken advantage of hardworking drivers, choking our streets with congestion and driving workers into poverty," said Mayor de Blasio. "That era will come to an end in New York City. Last year we took the first step, and this year we're going further with new restrictions on how many empty cars these companies can have on our streets. That means higher wages for drivers and less congested streets for our city."
The initial cap on FHV licenses was temporary and set to run out in August 2019. Now, TLC will pursue rule-making to extend this cap, with vigilant monitoring to ensure outer borough services remains fast and reliable.
"Last year we took the first step, and this year we're going further with new restrictions on how many empty cars these companies can have on our streets"
The cap will exclude wheelchair accessible vehicles and all-electric vehicles, to accelerate the creation of a greener, more accessible FHV fleet. Rules extending the cap will be noticed in June so it can take effect before the temporary cap expires in August.
Cruising cap
TLC will create a new rule that limits the amount of time an app company's drivers can cruise in the core without passengers. Currently they cruise 41 per cent of the time without passengers, increasing congestion. This cap would require companies to reduce cruising to just 31 per cent of the time vehicles are on the road. Strict penalties will ensure compliance, and TLC retains the right to suspend or revoke a company's licence to operate in New York City if they fail to comply.
This cap will be in effect weekdays 6am to 11pm and weekends 8am to 11pm. Companies will be required to decrease cruising to 36 per cent by February 2020, and reach the 31 per cent target by August 2020 in order to avoid sanction.

"The Mayor's announcement today is welcome news for everyone who has ever sat in Midtown traffic in a bus, cab or car," said DOT commissioner Polly Trottenberg. "Having over 40 per cent of FHVs in peak hours cruising empty on the city's most congested streets is simply unsustainable.
"Along with other ambitious solutions like the Better Buses plan and congestion pricing, we look forward to working with TLC on implementing these new common-sense rules for FHVs that will help get our City moving again."
You might also like: