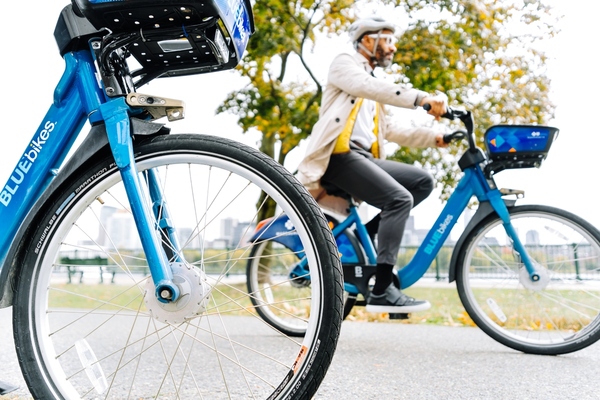 The designated areas are served by Boston's Bluebikes. Photo courtesy: Bluebikes
The City of Boston is piloting a programme offering $60 of public transit credits for workers in five Main Street districts.
They are being offered to 1,000 employees who work in Three Squares in Jamaica Plain, Mission Hill, Nubian Square, East Boston, and Fields Corner, which are all served by the MBTA subway or Bluebike bike-share stations.
Return to work
The programme aims to incentivise employees returning to work and workers who currently drive to work to use public transit. With an expected increase in post-Covid-19 traffic, the City of Boston is piloting this incentive programme to help alleviate small business districts of congestion and free up kerb space for local neighbourhood customers. The pilot project also seeks to lessen vehicular traffic to help reduce its environmental impact.
"Since the beginning of the Covid-19 pandemic, many essential workers have continued to utilise public transportation because they have been unable to work from home," said Kim Janey, mayor of Boston. "I'm proud to launch this pilot programme with the MBTA and Bluebikes to learn more about the impacts on commuter patterns when the cost of public transit is covered. And as more workers begin to return to workplaces, making transit more accessible is critical to our equitable recovery from the pandemic."
The programme, which will be managed by the City of Boston Transportation Department, is structured to measure how financial incentives for public transit impact commuting behaviour and will be phased over the next two months. Of the 1,000 qualified workers, some individuals will be randomly selected to get an MBTA pass with the full $60 credit loaded, and the remainder of the individuals will receive smaller stipends over time, which will end up totalling $60.
Bluebikes pass-holders will be able to take unlimited trips during the two-month period. Bluebikes trips must be completed within 45 minutes to avoid usage charges. There is no obligation to continue paying for the Bluebikes' pass once the two months are over.
"And as more workers begin to return to workplaces, making transit more accessible is critical to our equitable recovery from the pandemic"
"We are excited to partner with our local Main Street districts to pilot free public transit options for those working in Boston's neighborhoods," said transportation commissioner Greg Rooney. "Creating incentives to use public transit or bike to work options helps our economy, our environment and our local businesses. As more workers plan on restarting their commute, the Boston Transportation Department is committed to exploring creative ways to reduce traffic, carbon emissions and support Boston's workers."
Results from the pilot programme will be used to inform the City of Boston's long-term transportation demand management strategy. The pilot is run through a partnership between the Boston Transportation Department, including its Bluebikes programme, Boston Main Street organisations, the MBTA and the American Cities Climate Challenge.
The City of Boston has been committed to making transit, pedestrian, and bicycle improvements that promote the health, equity, and future of Boston's communities. This includes installation of new bus lanes on high-ridership corridors and over seven miles of a connected network of protected bike lanes through the Healthy Streets programme, which was developed as part of the City's Covid-19 recovery efforts.
Reducing congestion is aligned with the goals of Go Boston 2030 to reduce drive-alone rates in the city and increase the use of public transportation.
You might also like: