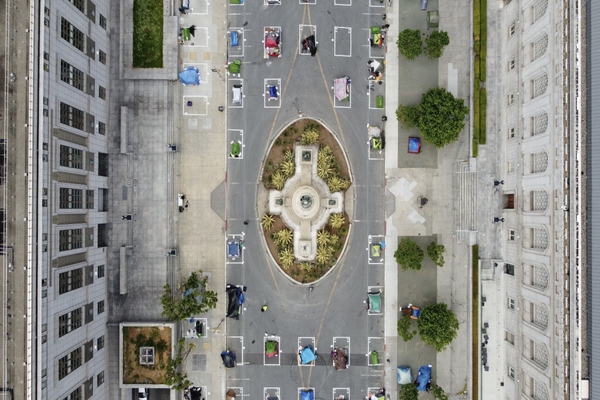 Aerial view of a homeless camp on Fulton Street in San Francisco
California has launched a homeless data warehouse that should help policymakers develop more effective approaches to addressing homelessness.
The Homeless Data Integration System (HDIS) was developed by the Homeless Coordinating and Financing Council (HCFC) in partnership with the state's 44 Continuums of Care (CoCs).
Homelessness crisis
This is the first time that data has been collected at state level and will provide a sharper focus on statewide efforts to respond to California's homelessness crisis, according to HCFC.
"You can't fix what you can't measure and having a statewide data system will help us determine what's working and what isn't, important insight we can use to create accountability and strengthen our response going forward," said Gavin Newsom, California governor.
"From this data, we see some bright spots – providing permanent housing to almost 100,000 homeless Californians every year and more than doubling our efforts to prevent people from becoming homeless in the first place – but we know there is more work to do."
By gathering homelessness data into a single repository, HDIS offers a comprehensive picture of efforts to address homelessness statewide, allowing the state and CoCs to answer key questions including about what services are being provided, who is accessing those services, and what interventions are proving to be most effective, HCFC reports.
"With the HDIS we will have an ongoing and holistic picture of how we can assess and improve services for those experiencing homelessness"
It will also facilitate coordination across the state by identifying patterns of homelessness, service usage across geographic regions, and support efforts to identify and address racial and other inequalities among people experiencing homelessness.
HDIS has given the state insight into several metrics that were unavailable until its development. In 2020, for example, 91,626 people exited homelessness and moved into permanent housing. And from 2017 to 2020, the number of people served through homelessness prevention services increased just over 131 per cent.
"HDIS provides a foundational piece of the state's data infrastructure," said Joy Bonaguro, chief data officer, California Government Operations Agency.
"Before the HDIS, we had at best an infrequent and piecemeal snapshot of the homeless challenges in California. With the HDIS we will have an ongoing and holistic picture of how we can assess and improve services for those experiencing homelessness."
Plante Moran was the vendor selected in 2020 to develop HDIS. HDIS was developed on time, on budget for $1.2m, and was produced in 15 weeks.
It has been built with the capability to eventually integrate other state-level data to better understand other social benefits and services being accessed by people experiencing homelessness, such as the public assistance programme 'CalWorks' or food programme 'CalFresh'.
You might also like: