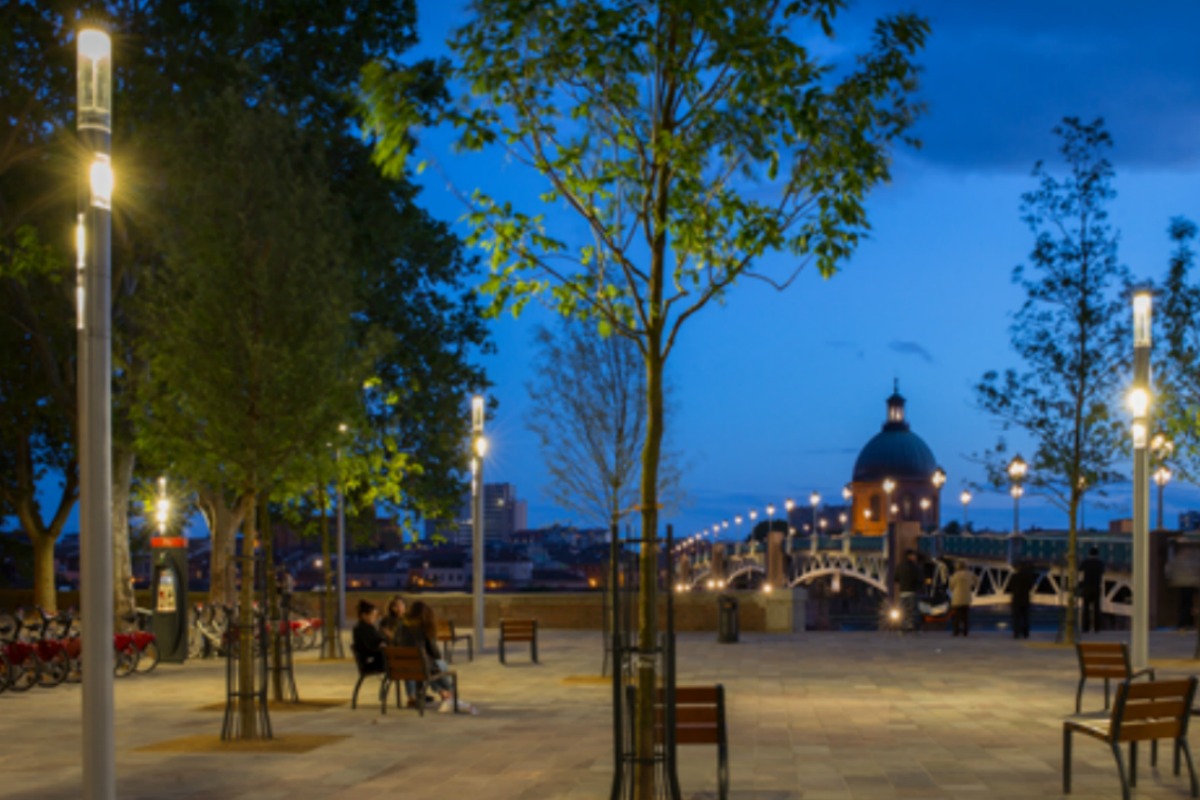 Shuffle by Schréder is helping to transform this square in Toulouse
Global electronics corporation, Panasonic, and LED lighting solutions provider, Schréder, are joining forces to co-develop new solutions that will accelerate the transformation to smart cities.
They will share their expertise and knowledge to develop digital solutions and transform existing lighting infrastructure into an integrated smart city platform.
Schréder's solutions incorporate LED technology and control systems that help towns and cities manage lighting networks in a more efficient and effective way. In 2015, it launched Shuffle by Schréder, which is an interactive lighting column combining state-of-the-art LED technology with multiple connected services including cameras, speakers, internet connectivity and a range of charging applications.
The new partnership agreement will see Schréder integrating sensors, cameras, and software applications from Panasonic into its luminaires.

"Smart Cities are looking for infrastructure that will support the move towards a more sustainable model of urban society while meeting environmental targets and improving the quality of life for their residents," said Nicolas Keutgen, chief innovation officer of the Schréder Group.
He added: "This partnership brings two international technology brands together to deliver connected lighting systems that will enable towns and cities to not only save energy and reduce costs, but to reinvest these economies to provide a secure environment with a range of services that will make life better for their citizens."
Earlier this month, Shuffle by Schréder was awarded product of the year' at the Highway Electrical Association (HEA) Awards 2016.
The product is also playing a key part in Toulouse's regeneration plan which aims to revitalise the emblematic areas of its city centre.
Twelve Shuffle columns with four lighting modules have been installed to help Saint Pierre Square ensure that the entire square benefits from a warm, uniform light at night that creates a welcoming nocturnal ambiance.
Certain Shuffle columns are also fitted with security cameras to ensure a complete sense of safety at all times while others are equipped with wi-fi modules to enable residents, especially the numerous students who gather there, to stay connected at all times.
If you like this, you might be interested in reading the following:
Is this the future of smart power?
Totem's intelligent platform combines solar energy, energy storage, electric vehicle charging, wi-fi, 4G and more
smartcitiesworld.net/news/news/is-this-the-future-of-smart-power-1123
Shining stars of urban lighting
The City of Aalborg has won first prize in the 14th City.People.Light award from Philips Lighting and LUCI
smartcitiesworld.net/news/news/shining-stars-of-urban-lighting-1102
Philips' light-as-a-service offering
The company's new Pacific LED service model is its first luminaire to be based on the principles of the circular economy
smartcitiesworld.net/news/news/philips-light-as-a-service-offering-1137