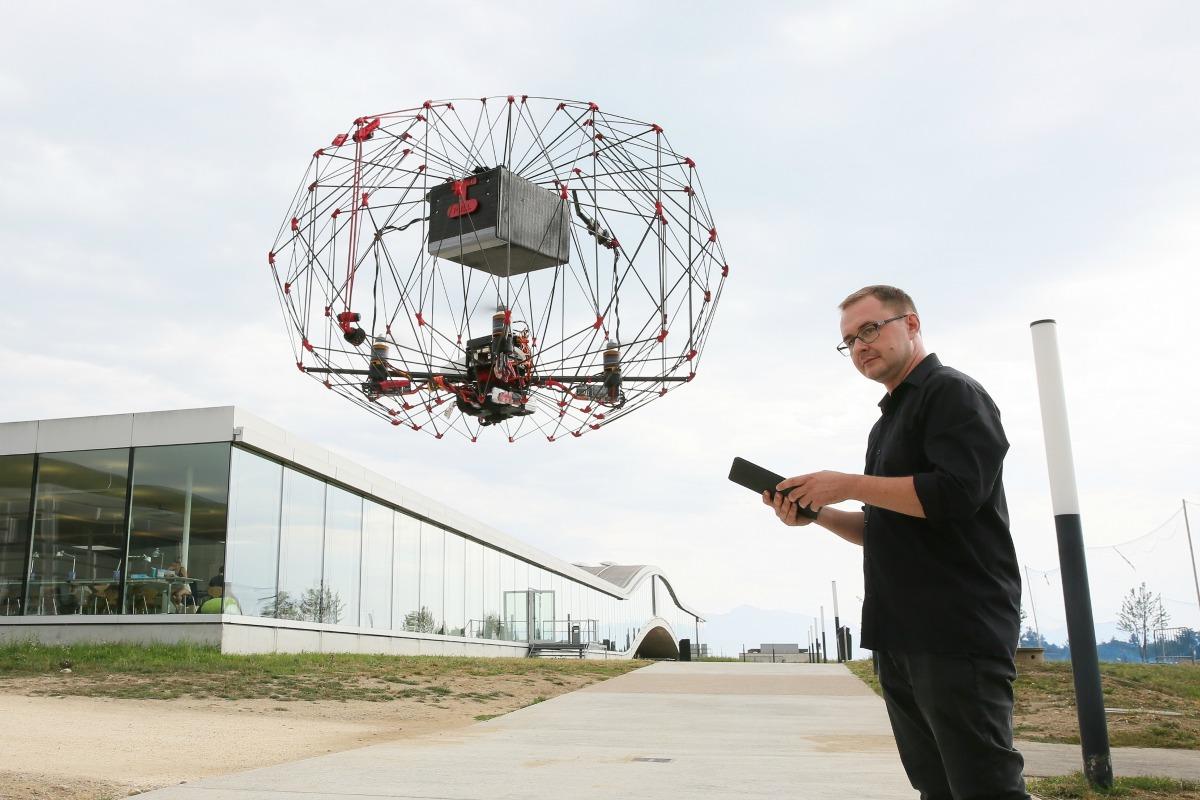 Przemyslaw Kornatowski from EPFL with his foldable, self-flying drone
A team from the Swiss Federal Institute of Technology (EPFL) have developed an origami-inspired folding drone which could be used to deliver first aid supplies and emergency medical relief in hard to reach destinations.
The multicopter drone, which has been designed in EPFL's Laboratory of Intelligent Systems (LIS) with funding from NCCR Robotics, can deliver parcels weighing up to 500g over distances of up to 2km.
According to EPFL, letters, medicine, first-aid supplies and food can be delivered quickly, cheaply and autonomously without having to worry about traffic, blocked roads or even a lack of roads and can reach destinations on steep or uneven terrain.
It's programmed to avoid obstacles and can take off and land vertically which enhances its accuracy.
The design means that the frame can be folded and unfolded in a single movement, making it easy to transport in a backpack to a location closer to its delivery destination.
The innovative idea behind this drone is that it "becomes the package" that wraps around the cargo before flight, just like a mail package.
The foldable carbon-fibre cage protects the drone and the cargo in case of a collision or fall. The cage also means the recipient can catch the drone midflight without being injured by the propellers, which are located within the structure, EPFL claims. An inbuilt safety system also means the propellers stop when the cage is opened.
The drone contains specially designed self-flying software to program the delivery. A flight plan is created to ensure it avoids obstacles such as trees and buildings. The drone can then be tracked in real time on a tablet or smartphone. And once the package has been delivered, the drone makes its way back on its own.
The device also has a safety system to prevent it from being hacked and will have a parachute to increase its safety in the event of a breakdown.
"This project is a work in progress. In addition to strengthening its ability to detect and avoid objects, we are exploring possibilities to increase the drone's payload capacity and enhance its autonomy," said Przemyslaw Kornatowski a student from LIS who developed the drone.
"Throughout the summer, we tested our human-friendly, drone-delivery system on the EPFL campus, delivering items to people over 150 test flights."
If you like this, you might be interested in reading the following:
Underwater drone uses RTI connectivity platform
Systems are connected automatically, enabling multiple streams to run at once without manual configuration
Smart city drone best practice
Cloud Security Alliance and Securing Smart Cities have published guidelines for establishing a safe and secure municipal drone programme
Watson's bird's eye view
Pairing drones and Watson will enable the inspection and analysis of unexpected traffic patterns or how a train is performing in transit