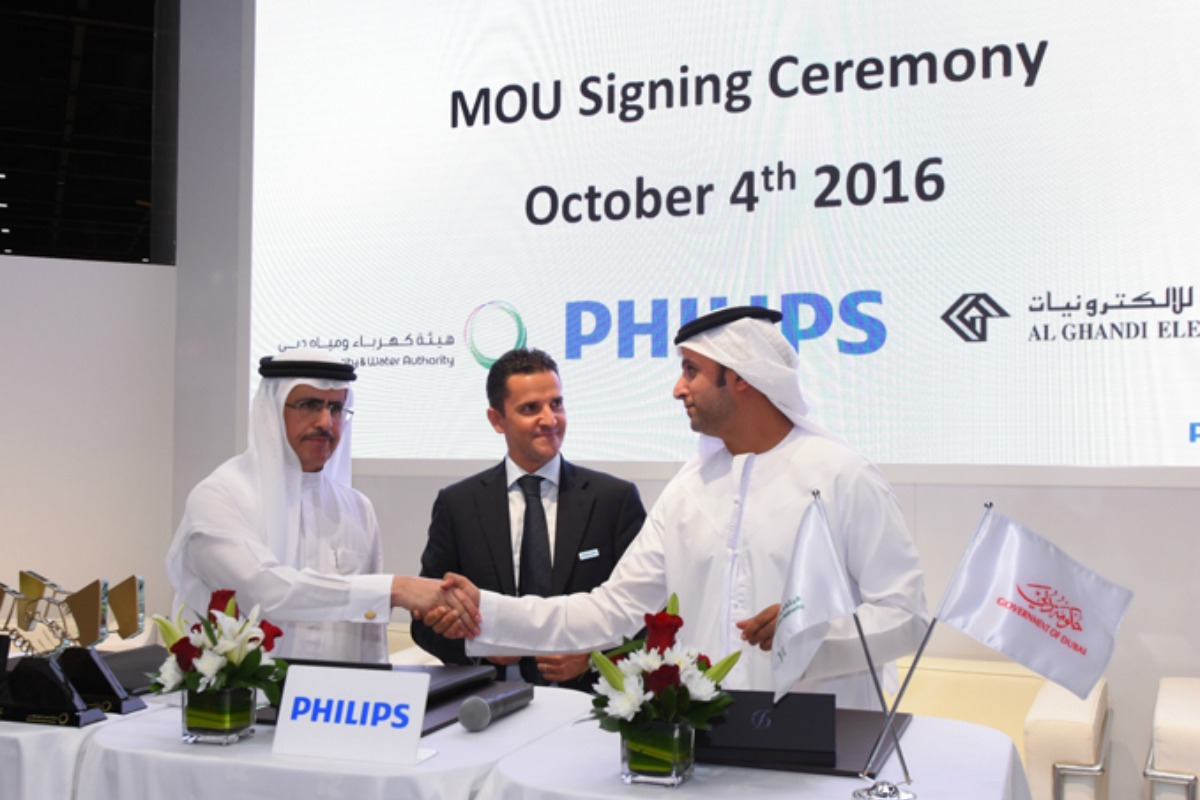 The agreement between DEWA and Philips Lighting is signed at WETEX in Dubai
Dubai Electricity and Water Authority (DEWA) has signed a Memorandum of Understanding with Philips Lighting, which will help provide a framework to enhance cooperation and exchange skills and knowledge about the latest connected lighting systems and services for buildings, in addition to reducing energy consumption. It is part of DEWA's efforts to enhance innovation and support green development in Dubai.
DEWA works to achieve the vision of HH Sheikh Mohammed bin Rashid Al Maktoum, vice president and Prime Minister of the UAE and Ruler of Dubai, to transform Dubai into a global hub for green economy and renewable energy. This supports its efforts to achieve the Dubai Clean Energy Strategy 2050.
The strategy, launched by HH Sheikh Mohammed bin Rashid Al Maktoum, shapes the energy sector in Dubai over the next three decades and provides a sustainable model for energy conservation, which aims to support economic growth without damaging the environment or its natural resources.
This will help in Dubai's aim to transform itself into the city with the lowest carbon footprint in the world by 2050. It is also working to achieve the Dubai Integrated Energy Strategy 2030, launched by the Dubai Supreme Council of Energy. The strategy aims to reduce energy demand by 30 per cent by 2030.
The agreement was signed by HE Saeed Mohammed Al Tayer, MD & CEO of DEWA, and Paolo Cervini, president of Philips Lighting, Middle East and Turkey, during the Water Technology, Energy and Environment Exhibition (WETEX 2016) held in Dubai.
"This agreement held by DEWA with Philips Lighting demonstrates our commitment to ensure environmental sustainability and strengthen the Emirate's shift towards a green economy. We are also involved in disseminating green practices to rationalise the consumption of electricity and water in Dubai to become part of people's lifestyles. We are glad to cooperate with Philips Lighting, one of the leading organisations committed to instilling a culture of sustainability," said Al Tayer.
This agreement comes at a time when DEWA has made significant advances in adopting the latest renewable and clean energy systems, smart grids and spreading sustainability and the principles and concepts of the smart city.
"For a sustainable future we, as a society, need to address the issues related to climate change. The more we can collaborate with like-minded partners to develop and implement the latest innovations in technology, the more solutions we can find to our planet's most pressing issues. In collaboration with DEWA, Philips's innovations will support Dubai in its transformation towards a smart city that is sustainable, livable, and connected," said Cervini.
"Lighting is one area where we know we can make a difference, and our work with DEWA across its Jebel Ali and Al Aweer power plants has been a shining example of the gains to be made with energy-efficient LED solutions for buildings, where a saving of 75 per cent has been achieved. We look forward to unveiling further announcements and projects as we work towards our shared goals, particularly in the field of connected lighting."
If you liked this, you might be interested in reading the following:
A lighter and brighter Los Angeles
The city of Los Angeles and Philips Lighting embark on a pilot project to expand its smart city capabilities beyond lighting
smartcitiesworld.net/news/news/a-lighter-and-brighter-los-angeles-952
Public lighting projects implemented by Philips Lighting to improve city infrastructure ahead of the Rio 2016 Olympic Games will provide lasting benefits
smartcitiesworld.net/news/news/rios-lighting-legacy-866
Nokia is the smart choice for Dubai
Government wants to use the IoT to create smart and safe city
smartcitiesworld.net/connectivity/connectivity/nokia-is-the-smart-choice-for-dubai--