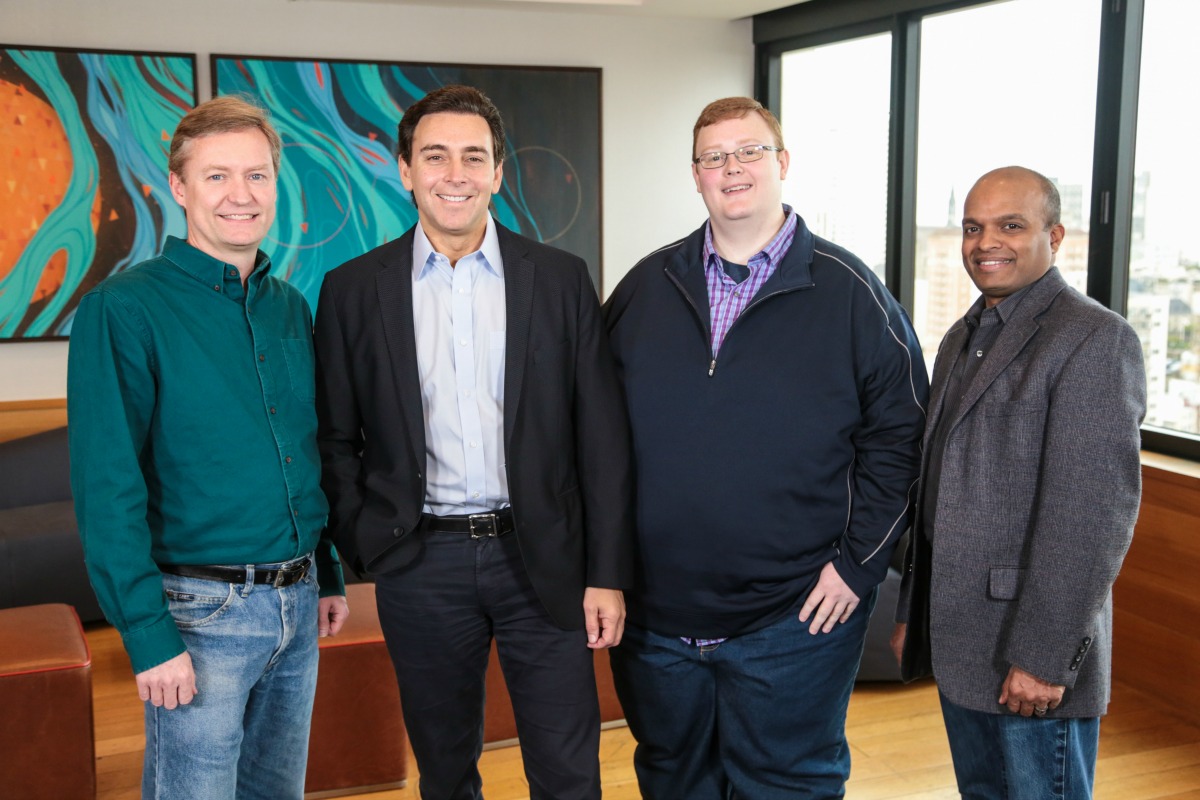 Rander, Argo AI COO; Fields, Ford president and CEO; Salesky, Argo AI CEO; and Nair, Ford exec VP
Ford Motor Company is investing $1 billion during the next five years in Argo AI, an artificial intelligence company, to develop a virtual driver system for the automaker's autonomous vehicle coming in 2021. It may also license the system to other companies.
Founded by former Google and Uber leaders, Argo AI is bringing together some of the most experienced roboticists and engineers working in autonomy from inside and outside of Ford.
The team of experts in robotics and artificial intelligence is led by Argo AI founders Bryan Salesky, company CEO, and Peter Rander, company COO. Both are alumni of Carnegie Mellon National Robotics Engineering Center and former leaders on the self-driving car teams of Google and Uber, respectively.
"The next decade will be defined by the automation of the automobile, and autonomous vehicles will have as significant an impact on society as Ford's moving assembly line did 100 years ago," said Ford President and CEO Mark Fields.
He added: "As Ford expands to be an auto and a mobility company, we believe that investing in Argo AI will create significant value for our shareholders by strengthening Ford's leadership in bringing self-driving vehicles to market in the near term and by creating technology that could be licensed to others in the future."
The current team developing Ford's virtual driver system – the machine-learning software that acts as the brain of autonomous vehicles – will be combined with the robotics talent and expertise of Argo AI.
This innovative partnership will work to deliver the virtual driver system for Ford's SAE level 4 self-driving vehicles.
Ford will continue to lead on development of its purpose-built autonomous vehicle hardware platform, as well as on systems integration, manufacturing, exterior and interior design, and regulatory policy management. Argo AI will join forces with Ford's autonomous vehicle software development effort to strengthen the commercialisation of self-driving vehicles.
Argo AI's agility and Ford's scale uniquely combine the benefits of a technology start-up with the experience and discipline of the automaker's industry-leading autonomous vehicle development programme.
"We are at an inflection point in using artificial intelligence in a wide range of applications, and the successful deployment of self-driving cars will fundamentally change how people and goods move," said Salesky.
"We are energised by Ford's commitment and vision for the future of mobility, and we believe this partnership will enable self-driving cars to be commercialised and deployed at scale to extend affordable mobility to all."
The collaboration supports Ford's intent to have a fully autonomous, SAE level 4-capable vehicle for commercial application in mobility services in 2021.
"Working together with Argo AI gives Ford a distinct competitive advantage at the intersection of the automotive and technology industries," said Raj Nair, Ford executive vice president, global product development, and chief technical officer. "This open collaboration is unlike any other partnership – allowing us to benefit from combining the speed of a start-up with Ford's strengths in scaling technology, systems integration and vehicle design."
Also complementing the relationship will be Ford Smart Mobility LLC, which will lead on the commercialisation strategy for Ford's self-driving vehicles. This includes choices for using autonomous vehicles to move goods and people, such as ride-sharing, ride-hailing or package delivery fleets.
If you like this, you might be interested in reading the following:
Ford aims to introduce fully driverless car for ride-sharing in 2021
The carmaker is joining forces with four start-ups to enhance its autonomous vehicle development
Ford expands to tackle cities' transportation challenges
The company is acquiring San Francisco-based shuttle service Chariot and collaborating with bike-sharing provider Motivate
Ford takes the hassle out of parking with smart app
The FordPass platform allows users to locate, book and pay for parking in 160 cities across the US