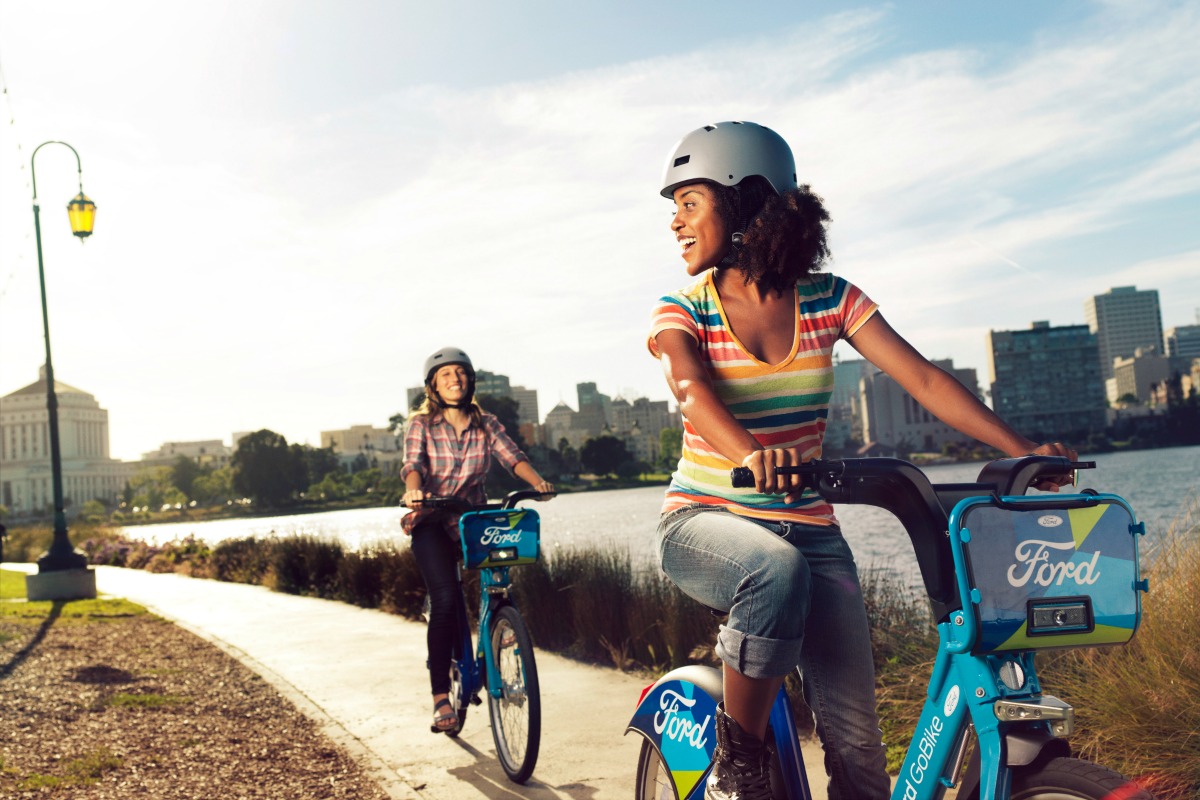 Ford and Motivate make it easier to get about on a bike in San Francisco
Ford GoBike has announced it is widening its existing bike-share programme to San Francisco Bay Area.
The expanded scheme, run in collaboration with bike-share technology firm, Motivate, will see a phased increase of the total number of bikes to 7,000 and 546 stations which will serve San Francisco, San Jose and East Bay areas.
"At Ford, we understand it takes working together with cities to address their unique set of transportation challenges to help reduce congestion," said John Kwant, vice president, city solutions, Ford Smart Mobility.
"Ford GoBike represents a strong collaboration between Motivate and the communities in the Bay Area, as all parties reinforce their commitment to help the city thrive with more sustainable mobility options like Ford GoBike."
According to the San Francisco Municipal Transportation Agency, bicycles are the fastest-growing mode of transportation in the region with usage surging by 184 percent between 2006 and 2015. Figures from the US Census Bureau also show the number of people in the city commuting to work on bikes has also nearly doubled.
Last September, Ford announced its commitment to develop public-private partnerships with cities around the world to combat the growing strain on transportation infrastructure as populations increase. Ford created City Solutions, a team dedicated to working with cities to help address traffic congestion issues and help people move more easily.
Along with bikes and other transportation options such as the crowd-sourced shuttle service Chariot, Ford is expanding the types of solutions it offers to make it easier for residents and visitors to get around the city.
Ford and Motivate worked with local officials, community groups, civic associations and others to determine GoBike specifications and station locations for the Bay Area.
A GoBike is designed to more easily navigate the hills of San Francisco. Ford said its sturdy aluminum frame offers a stable ride, while the adjustable, padded saddle seat is intended to provide comfort for any rider and is rain-resistant, as is the brake system contained within the frame.
The bikes also feature a continuous variable hub providing a wide gear range, allowing riders to choose the right level of resistance from the Mission Flats to the Oakland Hills and everywhere in between.
Puncture-resistant tyres will remain inflated, and multiple motion-activated lights make riders visible at night.
By the end of this summer there will be 3,500 of these bikes available throughout San Francisco, East Bay and San Jose – and by the end of 2018 it is anticipated the region will have 546 stations and 7,000 bikes.
If you like this, you might be interested in reading the following:
Ford expands to tackle cities' transportation challenges
The company is acquiring San Francisco-based shuttle service Chariot and collaborating with bike-sharing provider Motivate
smartcitiesworld.net/news/news/ford-expands-to-tackle-cities-transportation-challenges-916
Spin gears up for dockless bikesharing in US
The San Francisco-based start-up claims its approach to bikeshare is unique in that it requires no public funding
smartcitiesworld.net/news/news/spin-gears-up-for-dockless-bikesharing-in-us-1733
Ford takes the hassle out of parking with smart app
The FordPass platform allows users to locate, book and pay for parking in 160 cities across the US
smartcitiesworld.net/news/news/ford-takes-the-hassle-out-of-parking-with-smart-app--874