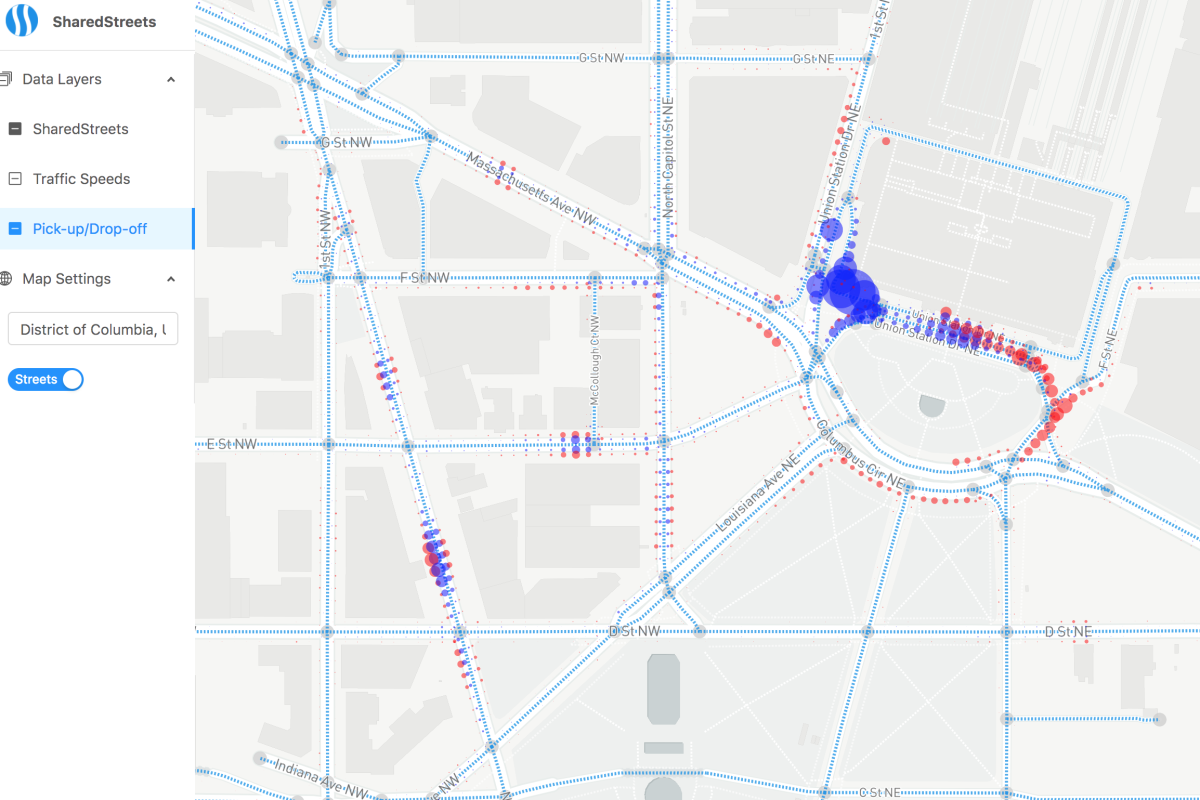 Taxi pick-up/drop-off volume in Washington, DC. Data: DC Department of For Hire Vehicles
Ford Motor Company, Uber and Lyft have agreed to share data through a new platform that aims to make it easier for the private sector to work with cities around the world and leverage data to improve urban mobility.
The public-private partnership, described as groundbreaking, is the result of a collaboration with the National Association of City Transportation Officials (NACTO), the Open Transport Partnership and Bloomberg Philanthropies, the consortium behind the innovative SharedStreets data platform.
The commitment to the SharedStreets data platform by the companies seeks to give cities and mobility firms new tools to manage congestion, cut greenhouse gases and reduce crashes as well as to ensure the digital transportation revolution supports sustainable, inclusive mobility.
Managing kerb space
The datasets pledged by the companies will provide the public and private sectors with tools to help manage kerb space in order to reduce congestion and emissions that cause climate change; improve the efficiency of city streets by making it easier for everyone to get around; and save lives by preventing traffic crashes.
"This is a once in a lifetime opportunity for business and government to work together to rethink transportation," said Jim Hackett, president and CEO, Ford Motor Company.
"Collaborating through initiatives such as SharedStreets will enable us to use vehicles, road systems and data together to create a new roadmap for mobility. We are working toward a future where all cities are smart and curb space is actively managed, increasing efficiency and safety, while reducing driver stress and pollution."
The agreement also fills a long-missing link for mobility companies, providing a common standard for sharing data across all cities, where local requirements currently vary widely.
Launched earlier this year with funding from Bloomberg Philanthropies, SharedStreets is a universal data language for sharing information about city streets and a launching pad for public-private collaboration to manage streets, reduce traffic deaths, and prepare cities for the unprecedented technological advancement emerging in cities.
"Code is the new concrete for 21st century cities and we need a digital infrastructure to share data and create safer and more sustainable streets"
Already operating in more than 30 cities around the world, the SharedStreets platform and this new partnership will provide city leaders with far-reaching new instruments for managing transportation networks. The agreement includes:
In partnership with Ford, developing a universal data standard for real-time curb demand and availability. With this tool, cities will be able to responsibly price and manage kerb space in real-time, for the first time. It will provide a down payment on a global, comprehensive roadway pricing mechanism that cities and companies can use to encourage sustainable transportation choices, reallocate road space, and reduce carbon emissions.
In partnership with Uber, producing the first-ever freely available global dataset of vehicle driving speeds. Building on one of the first features developed by SharedStreets, Uber will release vehicle speed data from cities around the world. With this critical data, cities can identify where exactly on their streets people are speeding or otherwise driving dangerously, so that they can redesign streets and save lives. Uber will include this speed in an update of its open-source Kepler.gl tool, providing cities everywhere with new tools for data visualisation and information sharing. Lyft will follow with a release of its own city speed dataset.
Lyft will join SharedStreets and Uber to produce a universal framework for sharing kerbside pick-up/drop-off counts. Building on an early SharedStreets feature first announced with Uber, Lyft will also collaborate on a model for providing anonymised, aggregated kerb usage data to leading cities everywhere. With this model, city leaders can understand where for-hire vehicle trips are in the greatest demand, so that they can reduce congestion, make kerbsides more innovative and efficient and better serve everyone on foot, on a bike or behind the wheel.
"Code is the new concrete for 21st century cities and we need a digital infrastructure to share data and create safer and more sustainable streets," added Janette Sadik-Khan, former commissioner of the New York City Department of Transportation and a world leading authority on urban transportation policy.
"The SharedStreets platform offers cities and private sector players a powerful new data-sharing tool to make that future possible."
If you like this, you might be interested in reading the following:
NYC opens up more datasets
Some 400 new datasets will be added to the Open Data Plan for future release
Cities must drive autonomous and connected strategies
Report finds Amsterdam has successfully introduced MaaS while San Francisco and Singapore are putting CAV at the heart of their mass transit future
New emobility calculator for city infrastructure
Tool from Siemens is intended to map a clear pathway of how a city can shape its mobility networks to achieve long-term sustainability