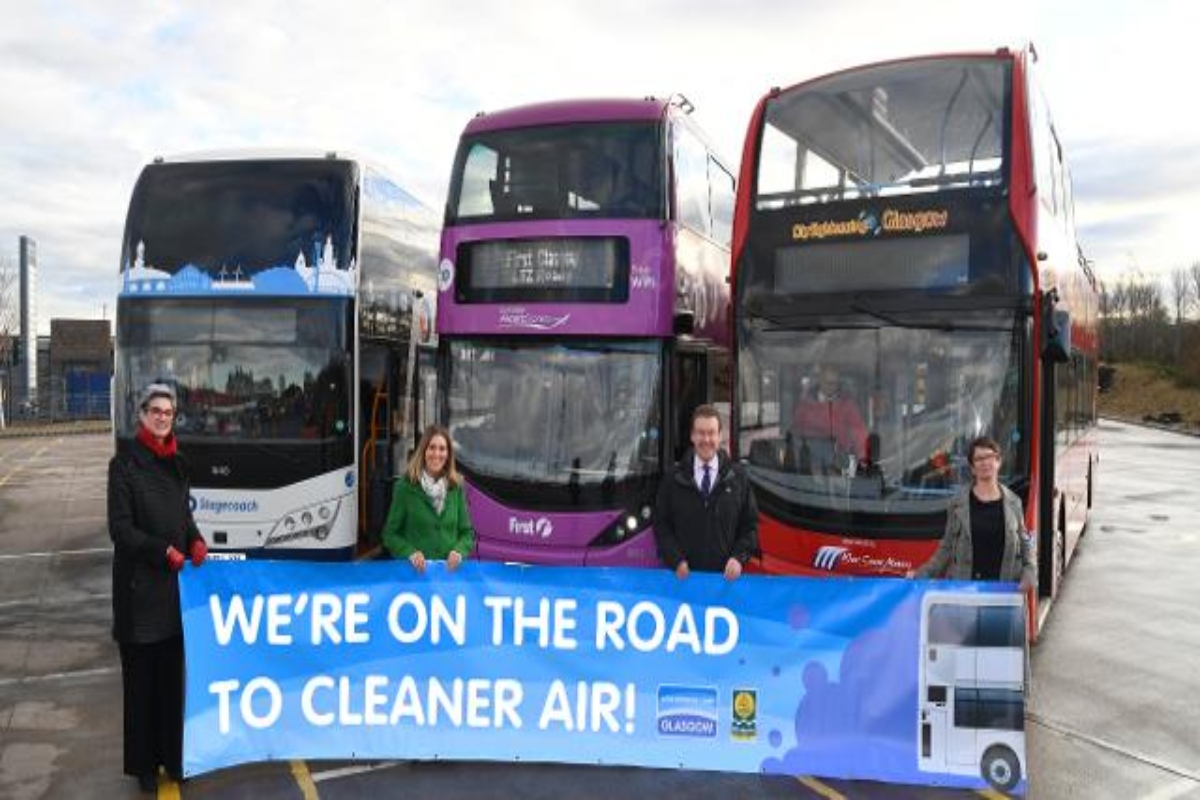 Bus operators mark the start of year two of Glasgow's low emission zone
At least 40 per cent of bus journeys through Glasgow city centre will now be made by buses that meet the city's low-emission standards.
It marks the start of year two of Glasgow's Low Emission Zone (LEZ) for local bus services and follows significant investment by operators into their fleet.
Introduced in December 2018 to reduce emissions and protect public health, Glasgow's LEZ is Scotland's first, and is modelled to reduce levels of harmful air pollution from road traffic that particularly impacts upon the very young, the elderly and those with existing respiratory and cardiovascular conditions.
Phased approach
This latest investment by the main city operators follows on from the initial year-one LEZ requirement that a minimum of 20 per cent of bus journeys through the city centre are made by low-emission vehicles.
By the end of 2022, 100 per cent of buses travelling through Glasgow city centre are expected to meet LEZ emission standards, at which time the LEZ will broaden in scope and become applicable to all other vehicle types, including taxis and private cars.
The Scottish Government has pledged to introduce low-emission zones into Scotland's four biggest cities, Glasgow, Edinburgh, Aberdeen and Dundee, by 2020.
"We've introduced a range of measures to tackle city centre congestion – for example, new bus gates that encourage a shift towards alternative travel options such as bus, offering it up as a convenient and sustainable alternative to the car," said Councillor Anna Richardson, convener for sustainability and carbon reduction.
"The council has worked very closely with bus operators to phase in the LEZ and we'll continue to work in partnership to improve services that are vital to the lives of Glaswegians."
Paul White, director of the Confederation of Passenger Transport (CPT) Scotland, explained that with one bus able to replace 75 cars, buses are an enabler of better air quality in the city.
"We've introduced a range of measures to tackle city centre congestion, for example new bus gates, that encourage a shift towards alternative travel options."
"Operators have accelerated fleet investment to further improve the environmental credentials of Glasgow's bus network. In turn, the sector hopes to see the council continue to invest in bus infrastructure and limit car use in line with the objectives of the National Transport Strategy," he said.
"Closer partnership working, supported by the Government's £500 million Bus Partnership Fund, will not only improve air quality, but deliver a quicker, more reliable, more comprehensive bus network for Glasgow. Thereby making modal shift from the private car to more sustainable modes not only viable but appealing."
The Transport (Scotland) Bill was introduced in June 2018 and will enable the creation and civil enforcement of LEZs by local authorities. It was passed on 10 October 2019 and will become law in Scotland in due course.
You might also like: