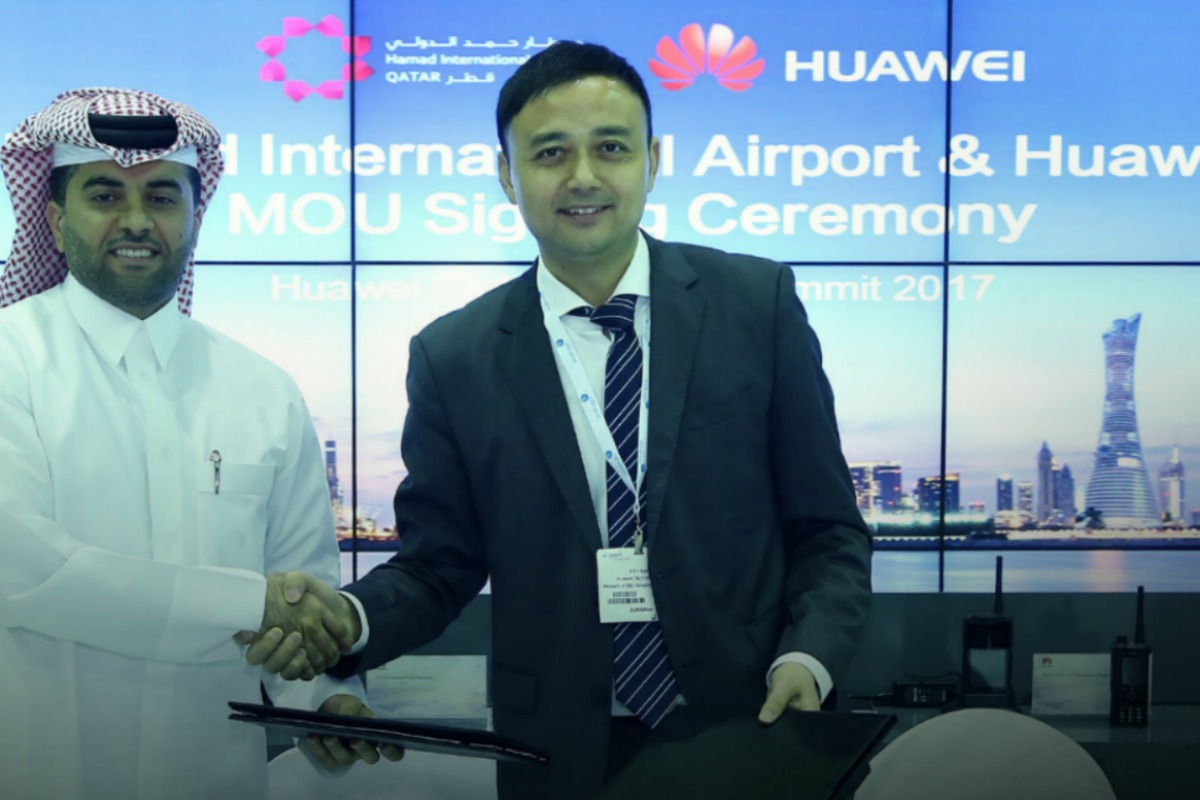 Eng Badr Mohammed Al Meer (left) and Xilin Yuan of Huawei sign the MoU
Hamad International Airport (HIA) has entered an agreement with Huawei to progress the Qatari airport's digital transformation.
The memorandum of understanding (MoU), signed at the Dubai Airport Show, provides a broad framework for collaboration between HIA and the Chinese ICT solutions provider for co-creation of innovative concepts, prototypes and solutions using cutting-edge technologies.
A particular focus for the strategic partnership will be in the area of Internet of Things (IoT) as well as autonomous machines, to address real business challenges and opportunities.
Through this cooperation, HIA aims to improve the passenger experience, enhance security and communication, and increase operational efficiency.
"Innovative technology will continue to drive digital transformation at Hamad International Airport, said Eng Badr Mohammed Al Meer, chief operating officer at HIA.
"Through this strategic alliance with Huawei, which also provides access to its ecosystem of niche partners, we aim to accelerate our journey and to demonstrate our commitment to the industry by sharing viable concepts and solutions that may be developed through this partnership."
"It is a great pleasure for Huawei to collaborate with Hamad International Airport to enable a smart airport that can meet the future demands of passenger flows as well as the needs of digital-savvy customers," added Xilin Yuan, president of the transportation sector of Huawei's enterprise business group.
"By placing digital transformation at the heart of its commercial strategy, HIA will deliver a user-centric connected experience to continue delighting its customers."
Huawei said it has provided a wide range of ICT solutions for airports, airlines, and air traffic control authorities across the world, enabling them to achieve digital transformation and improve their service capabilities, operational efficiency, and revenue growth.
These solutions include indoor-outdoor modular data centres, servers and storage devices, converged cloud platforms, big data analytics platforms, and integrated wired/wireless communications solutions.
By the end of 2016, Huawei claims to provided ICT products, solutions, and services for more than 40 airports, airlines, and air traffic control authorities worldwide.
If you like this, you might be interested in reading the following:
Huawei has the IoT covered
Things Coverage is a methodology for network planning that provides quantitative standards which serve as reference for the entire IoT ecosystem
smartcitiesworld.net/connectivity/connectivity/huawei-has-the-iot-covered
Open equals smart and vibrant, believes Huawei
The ICT provider showcases new solutions and strategies for smart city transformation at Barcelona's Expo
smartcitiesworld.net/connectivity/connectivity/open-equals-smart-and-vibrant-believes-huawei-
Huawei and DHL to collaborate on IoT projects
Huawei and Deutsche Post DHL take on US$1.9 trillion connected logistics market with Internet of Things partnership
smartcitiesworld.net/news/news/huawei-and-dhl-to-collaborate-on-iot-projects-1384