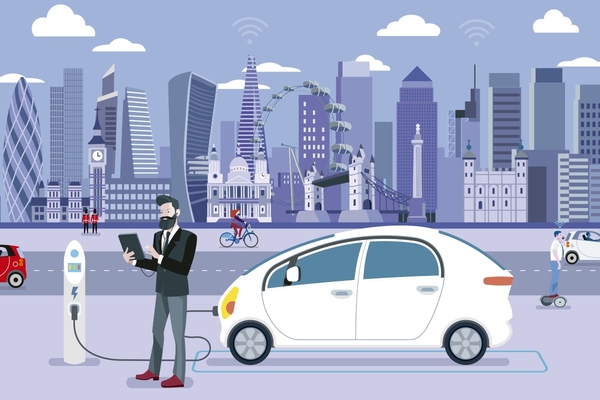 Electric charging is a key part of London's commitment to tackling pollution
London has hit its target of delivering 300 more electric vehicle (EV) rapid charging points across the UK capital before the end of 2020, bringing the total to around 600.
Working with BP Pulse and ESB Energy as charging point operators, Transport for London (TfL) met its target, despite works being paused from April to June 2020 due to the Covid-19 pandemic.
Charging hubs
London now has more than 500 rapid charge points and over 5,500 residential charge points, with some points dedicated exclusively for almost 4,000 electric taxis operating in the capital.
This includes the first rapid charging hub in London at Stratford International car park with six charging points. Two further hubs are planned at Baynard House, City of London, which will have six rapid charge points and at Glass Yard, Greenwich, with eight rapid charge points.

Rapid chargers are mostly used by commercial vehicles such as taxi, delivery and courier drivers and are designed to be used for around 30 minutes for a quick charge. London boroughs have also delivered more than 2,000 on-street residential charge points, through the Go Ultra Low City Scheme, with more than 3,000 forecast to be delivered by spring this year.
Both projects, as well as a grant scheme to help taxi drivers switch to electric vehicles, are funded by the Government's Office for Zero Emission Vehicles (OZEV).
"We need to go even further and even faster which is why in October this year I am expanding the Ultra Low Emission Zone up to the North and South Circular roads"
While the charging infrastructure installed meets demand for now, a huge rise in demand is expected over the next few years as the take up of EVs increases. The Mayor's Electric Vehicle Infrastructure Delivery Plan estimates that by 2025, London may need up to 4,000 rapid charging points and up to 48,000 residential chargers as more and more people and businesses move to electric vehicles.
City Hall is working with TfL, the Department for Transport, London Councils and boroughs to  agree a plan for future installations. This includes reviewing available public land for installing EV charge points, reviewing TfL's own EV procurement strategy, and a recent reconvening of the EV Infrastructure Taskforce to discuss how to tackle challenges to delivering London's future charge point needs. It supports the mayor's overarching goal to achieve a zero pollution and zero carbon city by 2030.
"We need to go even further and even faster which is why in October this year I am expanding the Ultra Low Emission Zone up to the North and South Circular roads," said mayor of London, Sadiq Khan. "This year the UK is hosting COP 26 the climate conference and it's more important than ever that the public and private sector work together to speed up the transition to zero emission vehicles."
You might also like: