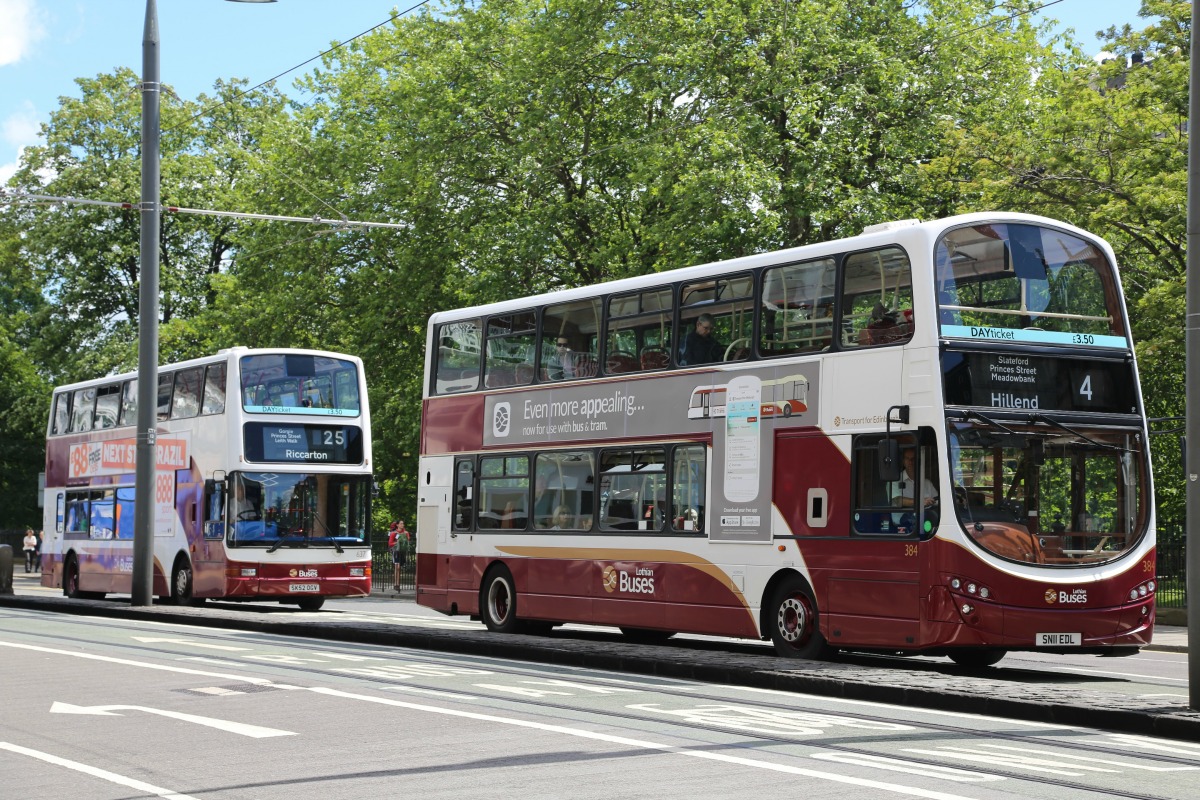 Lothian Buses in Edinburgh is introducing Nevis' smart ticketing system later this year
Lothian Buses, the UK's largest publicly owned bus company, has chosen Nevis Technologies as its smart ticketing partner. Lothian is the largest bus operator in Edinburgh and the only municipal bus company in Scotland.
Nevis Technologies is a joint venture company between Rambus, a leader in smart technology for transportation, and Strathclyde Partnership for Transport (SPT), Scotland's largest regional transport partnership.
It serves as a delivery agent for smart integrated ticketing in Scotland and Lothian Buses will utilise the same solution used by the Glasgow Subway, Abellio ScotRail and McGill's, which is based on ITSO, the UK national open standard for smart ticketing.
Nevis will deliver a platform of interoperable ticketing products that can be integrated with Lothian Buses' existing infrastructure to provide a foundation that enables new ticketing technologies for its passengers. This allows Lothian Buses to offer smart card ticketing which could also be used across other modes of transport, including rail, subway and ferry.
"Lothian Buses has long been a pioneer of smart ticketing, launching Scotland's first transport smart card product back in 2001," said Nigel Serafini, commercial director at Lothian Buses.
He added: "Our partnership with Nevis Technologies will enable us to develop a ticketing platform that will ultimately deliver more convenient ticketing options for our customers moving forward.
"They have successfully delivered for rail, ferry and bus operators in Scotland and, as a key technical innovator in the smart ticketing market, are well placed to support our technical roadmap requirements both now and in the future."
David Braddock, director of Nevis Technologies explained that the implementation of interoperable ticketing offers a seamless multi-model travel experience for the public. "And the adoption of our solutions by Lothian Buses takes us a step closer to making this possible across Scotland," he said "Our mission is to deliver more value-added services to the transport ecosystem and all its users."
Deployment of the new system is expected to begin this year.
Rambus' smart ticketing products include a suite of ITSO compliant solutions, host card emulation (HCE), account based ticketing (ABT), near field communication (NFC) mobile apps and data analytics, underpinned by robust security.
If you like this, you might be interested in reading the following:
£45m public transport ticketing investment in Northern Ireland
Parkeon to design and deliver new ticketing system set to transform travel
smartcitiesworld.net/news/news/45m-public-transport-ticketing-investment-in-northern-ireland-907
LocoMobi announces smart transportation apps
ParkingPaid and RideRefund mobile apps connect customers that are "ready to buy" with local merchants
smartcitiesworld.net/connectivity/connectivity/locomobi-announces-smart-transportation-apps
Holistic smart transport system launched
Cubic Transportation Systems and Microsoft launch their multi-modal transport management system for smart cities at ITS World
smartcitiesworld.net/news/news/holistic-smart-transport-system-launched-1006