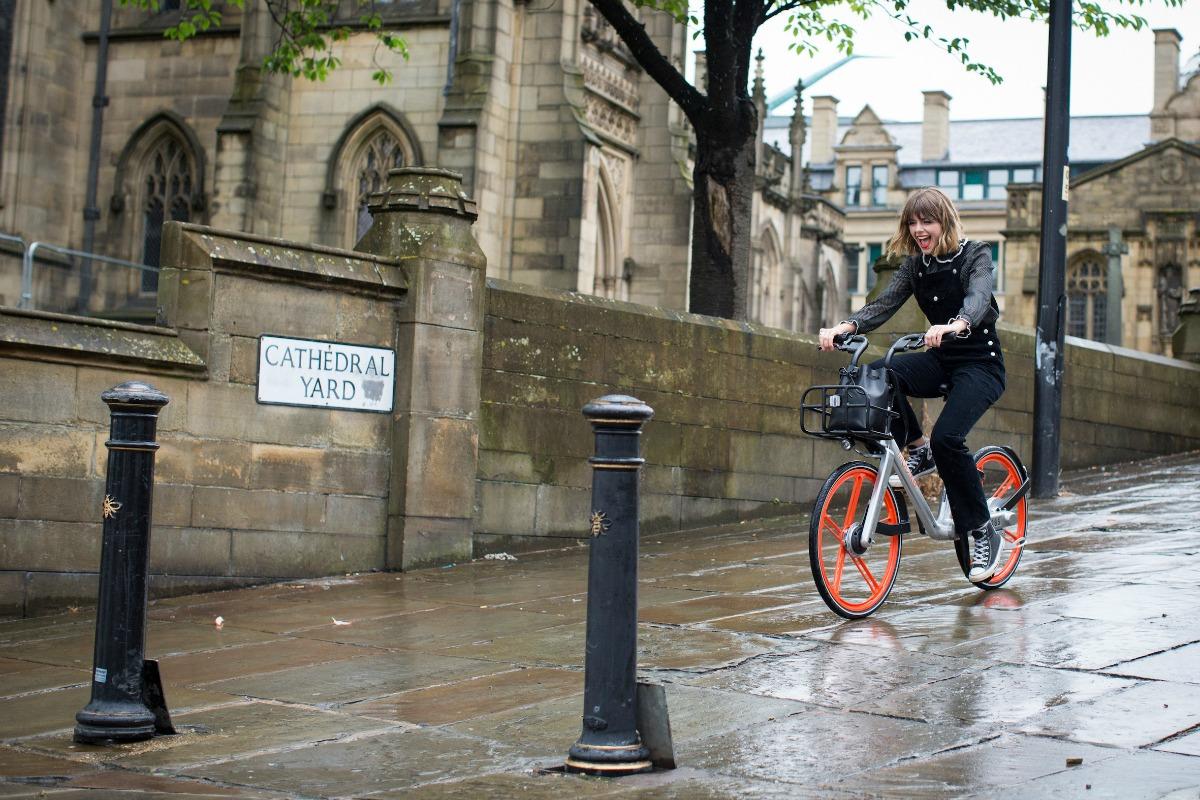 To celebrate the launch, Mobike showcased the bikes in New Cathedral Street
Manchester and Salford are the first European cities to host Mobike, the world's first dockless smart bike-sharing scheme, with the cooperation of local businesses including Transport for Greater Manchester (TfGM).
The Chinese start-up said it is committed to helping local communities develop into "smart, car-lite, tech-optimised", cities as collaboratively as possible. The scheme is entirely funded by the company and it hopes that the bikes will soon become part of the city's main transport network.
Mobike has already established strategic partnerships with a range of business including: real estate developers, (such as MediaCityUK and Exchange Quay); biking groups and think tanks (BikeRight!); universities (Manchester Metropolitan University and Salford University); entertainment and leisure organisations (Great Northern Warehouse); and the Oxford Road Corridor initiative stakeholders -TfGM, Manchester Science Partnerships.
The bikes have been sited at key locations jointly decided between Mobike, TfGM, and Manchester and Salford City councils.
Mobike said it will be working closely with developers and councils to optimise the service and to identify the most suitable locations to expand the scheme – to maximise cycle usage and complement the existing transport landscape.
Initially, a strong focus has been put on the areas that are most convenient for locals – near major train stations (Piccadilly, Victoria, Salford Central), and major throughways (Oxford Road, Deansgate), as well as vibrant destinations for food, retail, leisure, and entertainment (Northern Quarter, Great Northern Warehouse, Piccadilly Gardens, among others).
"We are working closely with Mobike to ensure the scheme can be effortlessly accessed by our staff and students," said Andrew Taylor, travel plan manager at Manchester Metropolitan University.
"The scheme will potentially mean that cycling becomes a more convenient and affordable way to travel, and we are optimistic that Mobike will support the greater uptake of cycling in the city."
Mobike is also working with a local logistics company and a Manchester-familiar operations team, in charge of redistributing bikes to key points of high-demand, while ensuring the bikes are kept in top condition.
"Mobike is a great example of how companies can use Azure to improve the lives of millions of people," added Alex Montgomery, business lead for Azure IOT & AI at Microsoft UK.
"The cornerstone of Mobike's offering is customer convenience. No matter where you are in Manchester, the intelligence built into our cloud platform will help you find the nearest Mobike, so you can get to where you need to go, quickly and easily."
If you like this, you might be interested in reading the following:
Ford launches bike-sharing in the Bay
The regional bike-share network is designed to enhance sustainable transportation in the San Francisco Bay Area
smartcitiesworld.net/news/news/ford-launches-bike-sharing-in-the-bay-1843
Qualcomm first to field test LTE multimode
Trials with China Mobile Research Institute and Mobike will further expand the applications for LTE
smartcitiesworld.net/news/news/qualcomm-first-to-field-test-lte-multimode-1719
Bike-share programme enters China
Baicycle allows users to locate, rent and unlock their bicycles via a GPS enabled smartphone app that helps riders navigate their city
smartcitiesworld.net/news/news/bike-share-programme-enters-china--1495