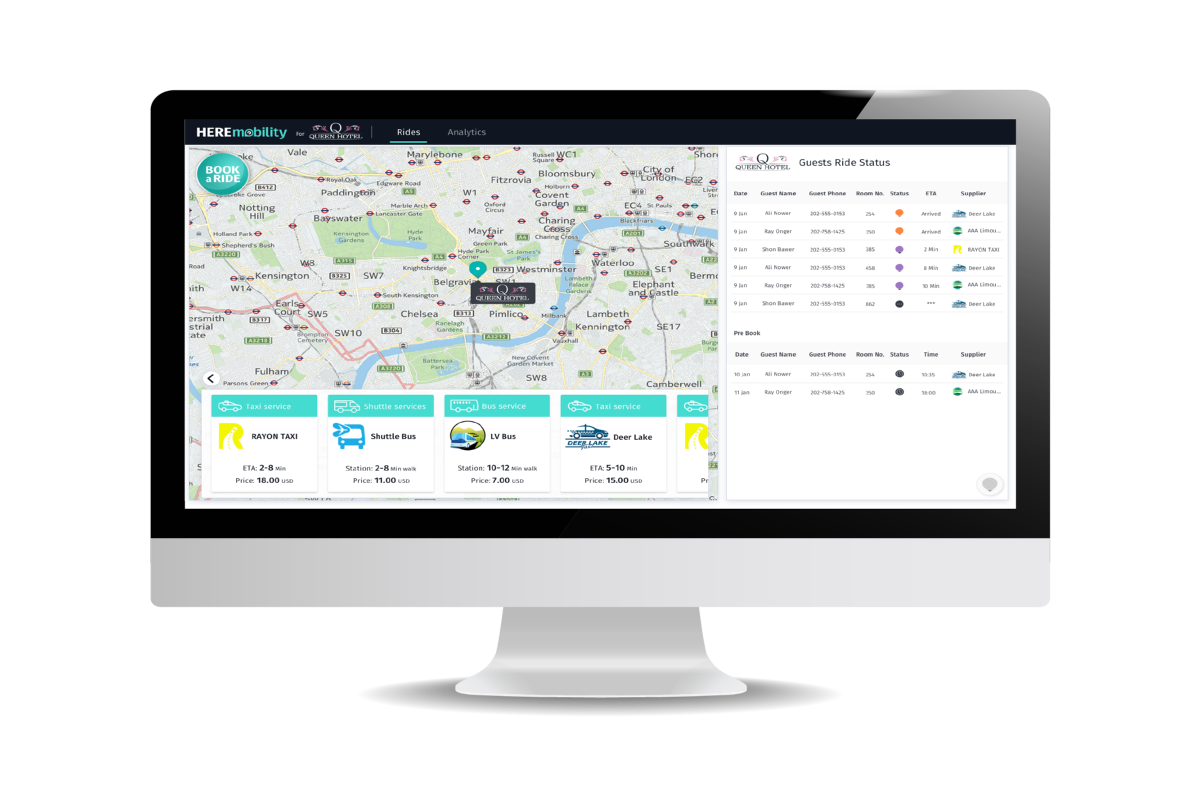 HERE's Mobility Marketplace will provide live schedule updates and pricing comparisons
HERE Mobility has launched its Mobility Marketplace in London, which sets out to merge all transportation services on one platform and provides users with live schedule updates, pricing comparisons and booking options.
As well as democratise the mobility space for consumers, it also enables businesses that want to integrate mobility-as-a-service as part of their offering to connect customers to urban transit options available across the city.
"On the one hand, the new era of mobility is very exciting especially for the end user as it promises so much. But this is not what is happening in reality as the mobility space is getting more and more monopolised with big global players," said Liad Itzhak, senior vice president head of mobility at HERE. "We are already seeing signs of how the market will look if monopolies remain and in some cases, such as New York, it is making cities more congested."
HERE Mobility is taking a holistic approach by providing an open mobility system that updates in real-time as new transit suppliers emerge. "We want to build a different future and our mission is to turn the mobility space into a competitive and democratised market that brings everyone into the game and builds a much healthier future," said Itzhak.
The HERE Mobility Marketplace aims to alleviate congested transit systems by providing a single point of access where all riders and all mobility suppliers are connected. The platform offers cities and transit planners insight into smart routing options to avoid congestion, addressing mobility challenges, improving quality of life, and helping businesses understand and meet customers' mobility needs, while providing mobility suppliers access to the widest market possible.
Itzhak added: "This type of platform has the power to help cities facing rapid population growth understand what transit resources exist and what gaps remain to be filled."
The platform is being launched in London Tech Week where it will debut as a physical kiosk at the conference, enabling attendees to connect directly to the marketplace and book their travel.
Among those to partner with HERE Mobility in London is CityFleet Networks, which owns and operates Comcab and recently acquired Dialacab. This means the marketplace will have access to London's largest licensed taxi circuit. Comcab also operates taxis in Liverpool and Aberdeen. It has also partnered with Green Tomato Cars, London's largest ultra-low emission car service and the first company to operate with a hybrid fleet.
Since HERE Mobility's launch in January 2018, transportation suppliers from over 120 cities in Europe, the US, and Latin America have joined the marketplace.
In addition to debuting its Mobility Marketplace kiosk at London Tech Week, HERE Mobility will host a live smart city demo showing how the platform can help cities optimise transit planning and ride efficiency.
Liad Itzhak will speak at the TechXLR keynote panel, Innovation in Transportation: The Ecosystem Earthquake at 11:00 on June 13 at ExCel, London alongside panellists from InMotion ventures and Meridian Mobility.
If you like this, you might be interested in reading the following:
The changing face of mobility
The growing disinclination to own a vehicle is one of the major factors driving the changes
Shining a light on mobility behaviour
StreetLight Data is on a mission to use big data to highlight real-world traffic patterns and make cities better places to live and work, by Sue Weekes
Smart mobility testbeds announced
The two sides want to enable a shared automated and sustainable mobility ecosystem with the highest level of safety and security