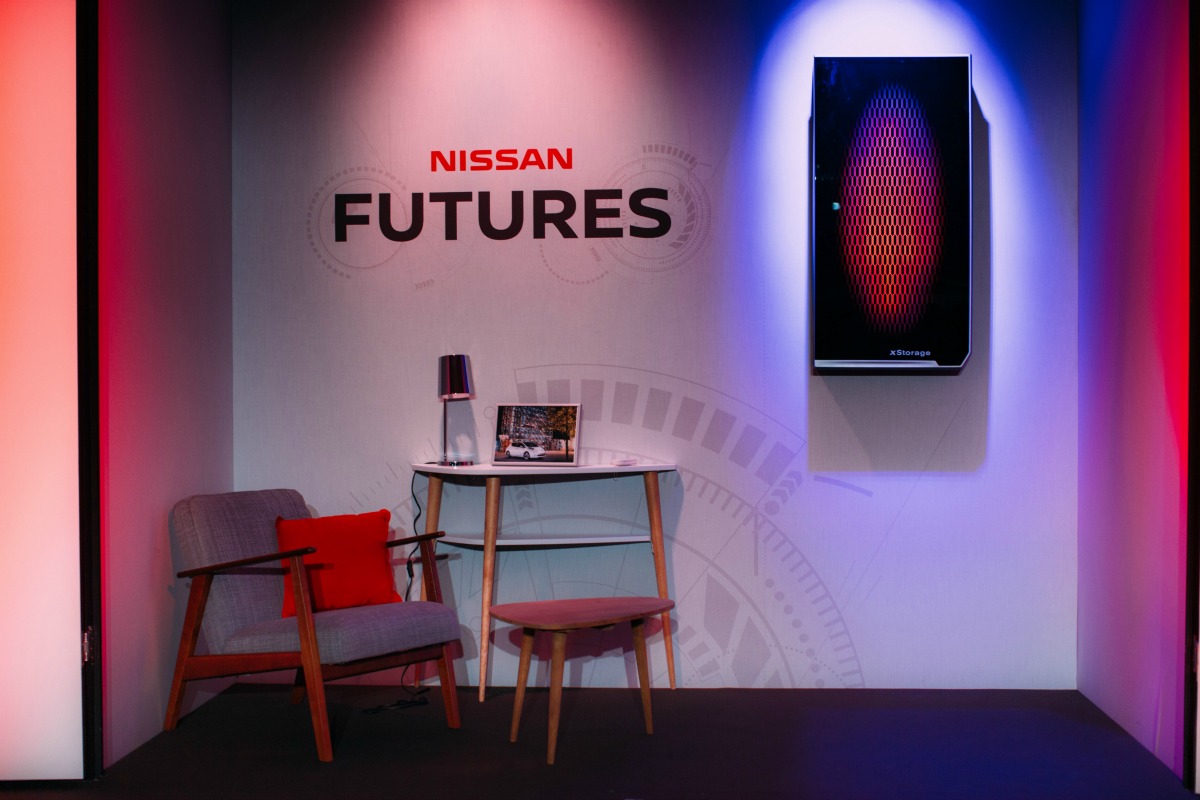 xStorage residential storage unit has been designed by Nissan to fit in the home environment
Electric vehicle pioneer Nissan and power management leader Eaton have launched a new residential energy storage unit – designed to be the most affordable in the market today. Available to buy from Q4 this year, the xStorage solution will give consumers the power to control how and when they use energy in their own homes.
The system can be connected to a residential power supply or renewable energy sources such as solar panels, and can save customers money on their bills by charging up when renewable energy is available or during the night when energy is cheaper, and then releasing it when demand and costs are high.
Consumers who have solar panels already can power their homes using clean energy stored in their xStorage system, and be rewarded financially for doing so by avoiding expensive daytime energy tariffs.
The xStorage system also acts like a private generator, the ultimate back up that ensures the lights never go out – handy at a time when energy grids are coming under enormous strain. And of course the sweet part is that customers can generate additional revenues by selling stored energy back to the grid when demand and costs are high.
A factory made integrated unit, the xStorage unit ensures safety and performance when storing and distributing clean power to consumers. It's not a simple plug and play system and needs to be set-up by a certified installer, but once installed its ready to go, giving consumers the ability to connect in and power up easily. Smartphone connectivity is also available to allow consumers to flick between energy sources instantly.
Paul Willcox, chairman, Nissan Europe said, "It is high time consumers were given the flexibility and power to control how and when they use energy in their own homes.
"The new xStorage solution combines Nissan's expertise in vehicle design and reliable battery technology with Eaton's leadership in power quality and electronics, resulting in a formidable second life battery solution.
"We want to make energy storage exciting and affordable to everyone, not least because it delivers real consumer benefits whilst ensuring smarter and more sustainable energy management for the grid," he said.
Beyond its tech spec, the system has been designed by Nissan with a sensitivity to ensure it fits well into the aesthetics of the home environment.
Providing a sustainable 'second life' for Nissan's electric vehicle (EV) batteries after their first life in cars is over, the new unit is powered by twelve Nissan EV battery modules.
Cyrille Brisson, vice president marketing, Eaton Electrical EMEA said, "The collaborative development between Eaton and Nissan enabled us to optimise development and production costs and deliver a well-integrated offer to consumers.
"Our system will be provided to end-users completely ready to use, with all required elements including cabling and installation by a certified professional, at a starting price of €4,000 for 4.2KWh nominal.
"Our policy is to avoid hidden extra costs and achieve a lower total cost of ownership than other major offers already announced. \
"Both companies have a well-established footprint in Europe, Africa and the Middle-East. "At Eaton, we have a network of over 1,000 distributors working with qualified installers in 77 countries. We ensure that consumers access, store and use clean power safely and efficiently in the comfort of their own home," he added.
The new xStorage system marks the start of a longer-term commitment by Nissan and Eaton to widen the portfolio of energy storage solutions available to both private and commercial customers. Nissan and Eaton are expecting to sell more than 100,000 xStorage units within the next five years.