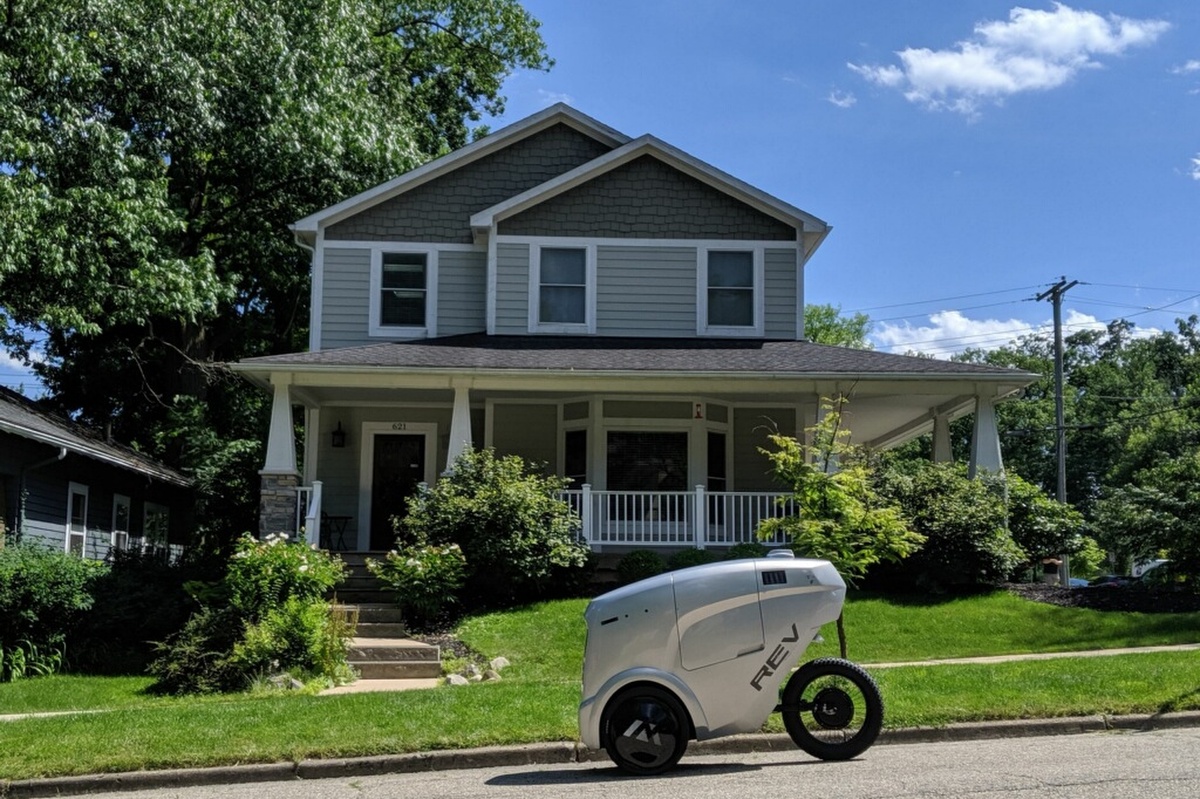 The Rev-1 autonomous delivery robot from Refraction AI in action
A low-cost, lightweight autonomous delivery robot that can operate in both the bike lane and on the roadway has been launched at the TechCrunch Mobility event.
Refraction AI, founded by University of Michigan professors Matthew Johnson-Roberson and Ram Vasudevan, has developed the Rev-1 solution for last-mile logistics. The company is backed by eLab Ventures and Trucks Venture Capital.
Additional safety features
The Rev-1 uses a system of 12 cameras as its primary sensor system, along with radar and ultrasound sensors for additional safety. Additionally, this system enables Refraction's platform to navigate in rain or snow, and is not dependent on traditional HD Lidar maps.
Approximately the size of an electric bicycle, Refraction's first self-driving delivery robot has three wheels and stands 5ft tall, 4.5ft long and 30in wide. It weighs approximately 100lbs and can reach a speed of up to 15mph. Its creators claim it has the shortest stopping distance of any autonomous vehicle on the road.
"Our vehicle's low curb weight at low speeds makes deployment safer than other autonomous vehicles. For example, we have a 5ft stopping distance, compared to the typical 45ft stopping distance that a full-sized vehicle at the same speed would need to avoid an accident," said Johnson-Roberson. "Finally, our design and technical choices, particularly relying on cameras over HD-LIDAR, allow us to operate a more economical platform that gives us a significant competitive advantage on cost efficiency."
"Companies are struggling to find consistent, reliable and economical ways to address that need"
The inside of the vehicle holds 16 cubic feet or approximately four or five grocery bags. When a delivery arrives at its destination, a text with a keypad code lets the recipient retrieve their goods. The company's first test application is with restaurant partners, and the company expects to expand across the gamut of last-mile delivery.

"Consumers today expect on-demand goods of every type, and timeliness of delivery is often the key to customer satisfaction. But companies are struggling to find consistent, reliable and economical ways to address that need," said Bob Stefanski, managing director of eLab Ventures.
"Refraction's use of sturdy, smaller-sized delivery robots in the bike lane allows for faster technology development and covers a larger service area than competitors operating on the sidewalk. Their vehicles are also light-weight enough to deploy more safely than a self-driving car or large robot. The market is huge, especially in densely populated areas."

You might also like: