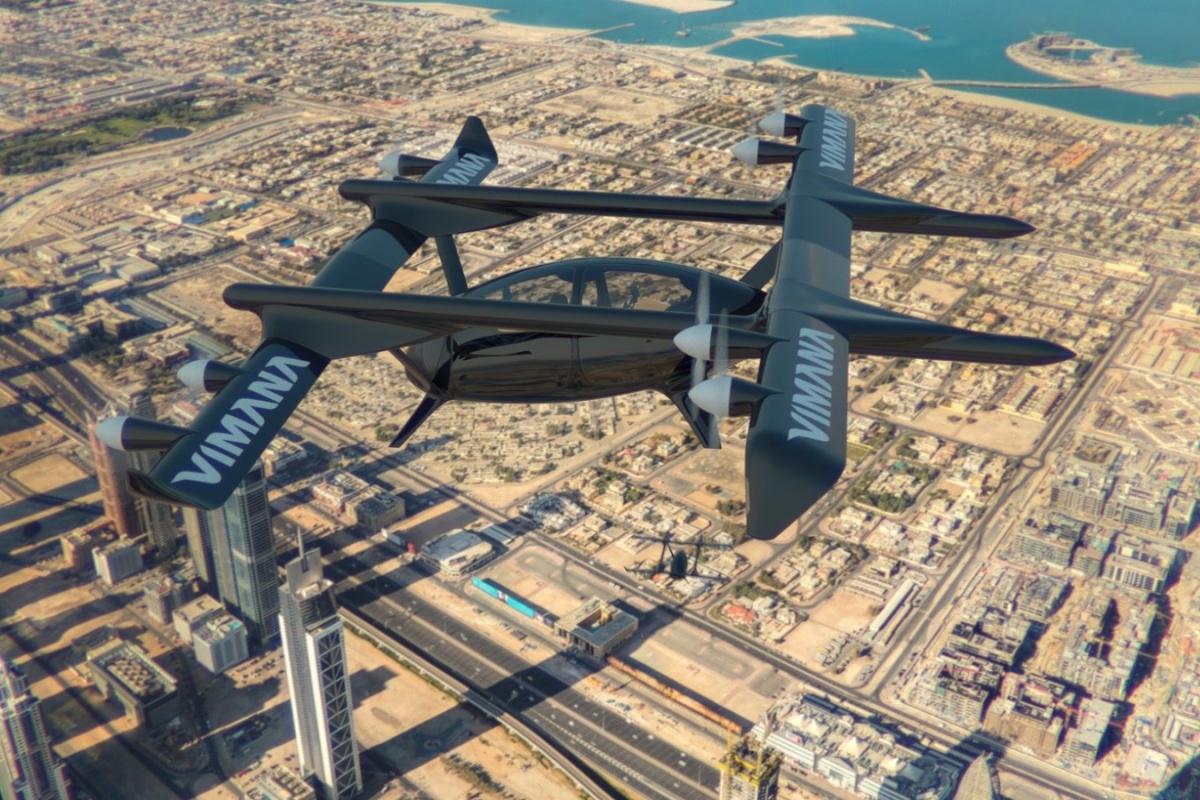 Vimana Global's autonomous aerial aircraft VTOL 4-seater model
Token-as-a-Service (TaaS), the first-ever tokenised closed-end fund dedicated to blockchain assets, has finalised its largest ever contribution into Vimana Global and the roll-out of a turnkey urban air mobility (UAM) solution.
The goal of Vimana Global's vertical take off and landing (VTOL) autonomous aerial vehicle (AAV) UAM-centric programme is to place smart cities in charge of their "blockchain airspace".
Vimana is undertaking a private pre-sale as part of an on-going token generating event (TGE). TaaS contributed the amount of 2071 ETH, equivalent to US $2m.
Vimana's blockchain network is literally lifted into the air by its fleet of VTOL AAVs and other vessels interoperable with its network. Based on a breakthrough patent-pending invention that allows it to combine capabilities of an airplane, helicopter and unmanned aerial vehicle (UAV) on a single platform, the company is using blockchain technology to both operate its aircraft and enable blockchain applications in the air.
"As more category-creating partners like TaaS join our TGE, blockchain airspace is becoming a reality," said Evgeny Borisov, co-founder and CEO Vimana Global. "It is extremely gratifying to find partners that share our vision of elevating blockchain to do everything from air traffic control to urban development."
Funded by serial angel investors from aerospace and blockchain industries, Vimana is on prototype 2.0 with its four-seater VTOL AAV model, which is destined to become the backbone of the first smart city blockchain airspace network that would host other AAVs, UAVs and airspace-specific blockchain applications.
"Vimana Global's patent-pending vertical to horizontal flight transition technology will finally make VTOLs mainstream, thus reshaping contemporary airspace industry," added Ruslan Gavriluyk, co-founder and president of TaaS.
"Furthermore, TaaS made this contribution to support the adoption of Vimana's VTOL AAVs to tip the scale of air tower to AI transition in air traffic control, thus enabling the blockchain airspace economy."
Vimana said it has several smart city strategic agreements executed and expects to announce its first smart city selection for the programme soon.
If you like this, you might be interested in reading the following:
Virgin takes stake in Hyperloop One
The service will be all-electric and aims to be a responsible and sustainable form of transport
Prepare for the next mobility revolution
eVTOLs in particular, have the potential to fundamentally change transportation as it currently stands
Flying taxi of the future?
Combination of energy efficiency and minimal ground infrastructure will enable flights with comparable pricing to car taxis over the same distance, Lilium predicts