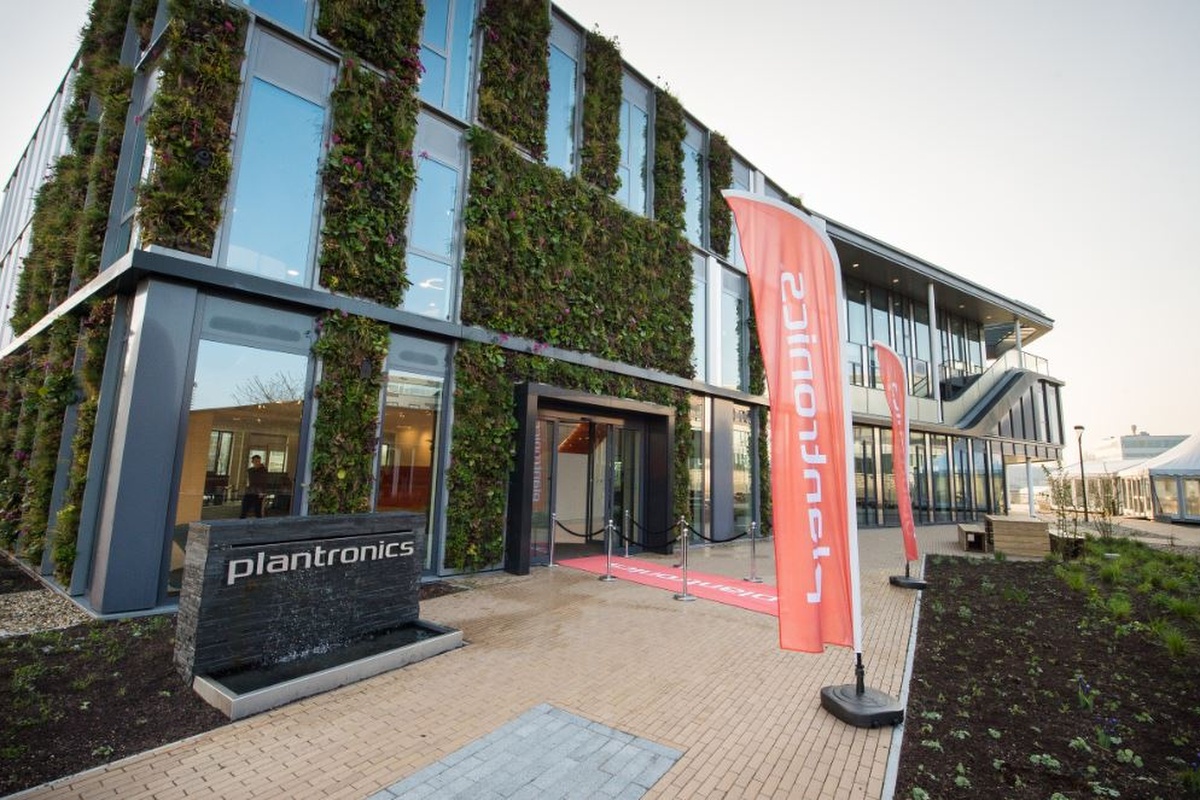 Plantronics building in Hoofddorp, Netherlands, is one of the featured case studies
Organisations are being urged to make green improvements to existing green workplaces to improve employees' wellbeing and to bring economic benefits.
The call comes in a new study, Doing Right by Planet and People: The Business Case for Health and Wellbeing in Green Building, which examines case studies of 11 facilities around the globe that have one or more green certifications including LEED, Green Star and BREEAM.
Published by the World Green Building Council, the report evaluates health and wellbeing features that were integrated into the facilities including enhanced fresh air ventilation, acoustic privacy, increase of daylight penetration and use of biophilic design elements such as green walls and extensive indoor plants.
The council's research found that employees prefer and work best in spaces with good air quality, ample natural light, and access to greenery and amenities.
After adding health and wellbeing features into green-certified buildings, companies found that: employee absenteeism was reduced; operating costs were minimised; and employees felt more productive and healthier.
"This report should send a clear signal to companies with employees as well as building owners and managers to make green building investments a priority. It's obvious that making energy efficiency improvements will reduce operating costs but arguably an even greater impact of green improvements are those felt by the people who spend their working lives in these spaces," said Terri Wills, CEO of the World Green Building Council.
"Greener workspaces are healthier, more enjoyable places to work, and this has a tangible impact on productivity, employee health and the business bottom line."
Key case study results in the report include:
The Akron Children's Hospital project by HKS in Ohio achieved over $900,000 in annual energy savings, and family satisfaction with the space increased by 67 per cent
Cundall's UK office's absenteeism dropped by more than four days per person per year, a 58 per cent reduction. Staff turnover reduced by 27 per cent. Taken together, these two outcomes provided a £200,000 saving per year
Sherwin-William's Centro-America headquarters in El Salvador saw a 68 per cent reduction in reported respiratory problems and a 64 per cent reduction in reported allergy problems. Additionally, since moving to the new building, absenteeism reduced by 44 per cent. Sherwin-Williams has calculated a total annual saving of $85,000 per year
Plantronics' office in the Netherlands saved the developer €624,000 in financing costs when the client elected to purchase the building. Increased employee productivity to Plantronics has been estimated at €2.1m per year
American Society of Interior Designers' new HQ in Washington DC saw an increase in employee productivity and reduction of absenteeism, which is expected to pay for its investment within the first five years
Henderson Land Development in Hong Konghas created a highly desirable mixed-use community and is realising 40 per cent higher property values compared to nearby equivalent properties.
The report was sponsored by the global filtration specialist, Mann+Hummel, design and manufacturing group, Saint-Gobain, real estate investment trust company, Landsec, and real estate developer, Delta Development Group.
"Here at Delta, we have first-hand experience of reaping the benefits of making green buildings," added Coert Zachariasse, CEO, Delta Development Group.
"By integrating health, wellbeing and smarter working we noticed a shift in the productivity and performance of our employees while simultaneously delivering a good return on investment. Building green simply makes business sense – socially, economically and environmentally."
The report can be downloaded here
If you like this, you might be interested in reading the following:
Learn from the earth's own stories
EarthTime uses experts to track and connect patterns between a range of topics including city growth and renewables
Framework guides cities towards a greener future
The Global Environment Facility and World Bank have launched the Urban Sustainability Framework to help cities seeking to enhance their sustainability
The world's most sustainable office
The building's distinctive bronze blades can open and close, allowing the building to operate in 'breathable' natural ventilation mode