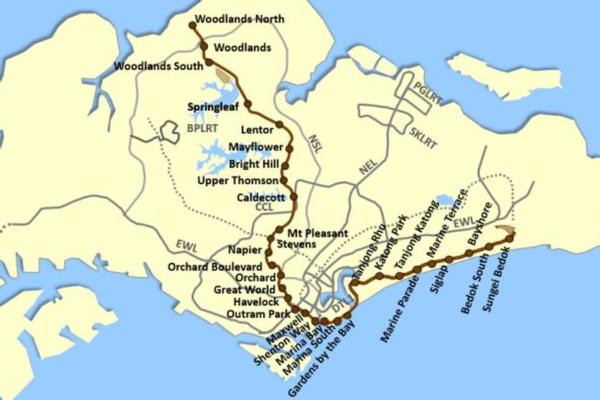 TEL will stop at 31 stations on an underground route covering 43km. Image courtesy: LTA
Thorn Lighting has been awarded the major lighting contract for Singapore's Thomson-East Coast Line (TEL). The 10-million-Euro project will see the solutions provider deliver a range of different products for the back-of-house areas.
This completely underground and driverless line will be Singapore's third longest mass rapid transit (MRT line). The new line will span 43km with 31 stations. When completed, TEL will connect commuters living in the eastern parts of Singapore who are not currently served by the rail network.
Thorn Lighting, part of the Zumtobel Group, focuses on digitally-integrated, sustainable solutions through the latest lighting controls technology. Based on the stringent criteria required by the client, over 100,000 Thorn LED luminaires will be installed in the TEL tunnels and maintenance areas, including AreaPak Pro, Chalice, CiviTEQ, Formula LED, GTLED, HiPak and PopPack LED.
"We look forward to delivering a world class project for the Land Transport Authority and actively contributing to Singapore's infrastructure projects," said Matthew Boucher, senior vice president sales, Zumtobel Group Asia Pacific.
Work is set to commence in October 2017 with the line due to open in stages from 2019. When fully operational it is initially expected to serve approximately 500,000 commuters daily, rising to one million commuters in the future.
If you like this, you might like to read the following:
SmartCitiesWorld Profile – Singapore (full report)
Welcome to SCW City Profiles, our new editorial channel which snapshots global cities and their particular evolution into smart living.
Nokia provides backbone for Malaysia's first MRT
The company has provided a mission-critical communications network to support railway operations on the country's first mass rapid transit line
Autonomous mobility-on-demand programme for Singapore
Delphi Automotive will supply a fleet of autonomous vehicles and conduct a trial of the service at Singapore's autonomous vehicle test-bed