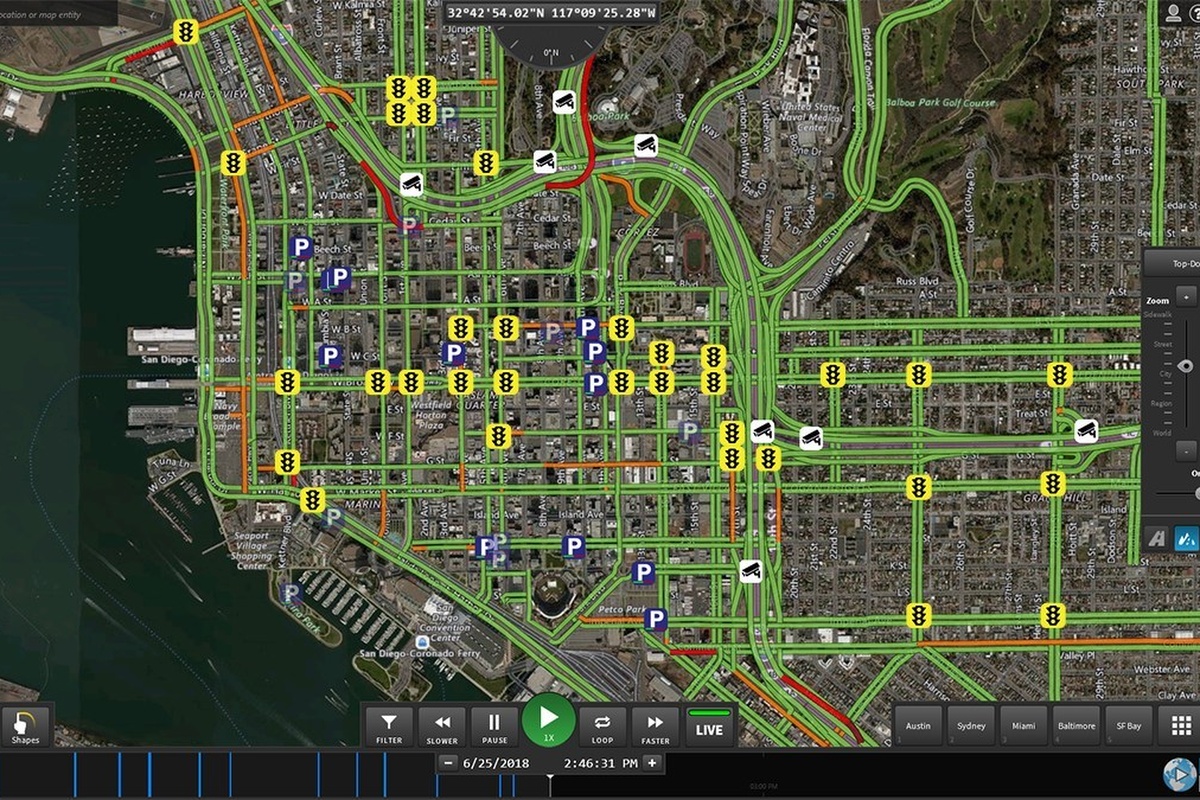 Smart parking and traffic signals and live traffic flow visualised on Live Earth
The Live Earth Internet of Things (IoT) visualisation platform has been approved as a solution partner by Cisco.
When used in conjunction with Cisco's Kinetic platform, Live Earth visualises data from within Cisco systems and provides real-time alerts and historical context to improve operational efficiencies and responsiveness in smart city, smart energy, logistics and other applications.
The cloud-based platform combines, correlates and visualises any real-time data stream on an interactive map. It was originally developed for the US military and special operations forces and was built from the ground up to support some of the most complex, real-time operations in the world.
In a smart city context, it aims to address what it calls the "the big data problem" of multiple, isolated systems that don't communicate. It claims to allow users to integrate all existing systems, sensors and devices "in minutes" with an easy-to-use configuration wizard. Live Earth then displays all the information on an interactive map with live monitoring and playback capabilities.
Users can add in other data sources like traffic, weather and parking information to provide access to a holistic information ecosystem which, it says, leads to faster response times and higher quality insights.
It has an interactive timeline that allows users to move in time and view information as it was three minutes ago, three days ago or three months ago. They can also create geofences and alerts for specific activities in that location. Assets can also be tracked and traced. To share findings, Live Earth lets users take a screenshot, record a video of the screen, and export an interactive scene, viewable by anyone with a web browser.
Cisco Kinetic for Cities platform collects, aggregates and normalises real-time data securely across city networks. The Cisco solution partner programme, part of the Cisco Partner Ecosystem, unites Cisco with third-party independent hardware and software vendors to deliver integrated solutions to joint customers.
As a solution partner, Live Earth offers a complementary product offering and has started to collaborate with Cisco to meet the needs of joint customers.
If you like this, you might be interested in reading the following:
Smart data search for smart cities
Data-Smart City Solutions is launching a searchable public database using cutting edge examples of public sector data usages
Teradata teams with Cisco to unlock IoT value
Solution aims to help cities become smarter and more connected by providing a powerful solution for integrated data exchange
Nearmap offers oblique perspective of the US
New service aims to help industries plan, design, estimate, communicate and execute their smart city plans