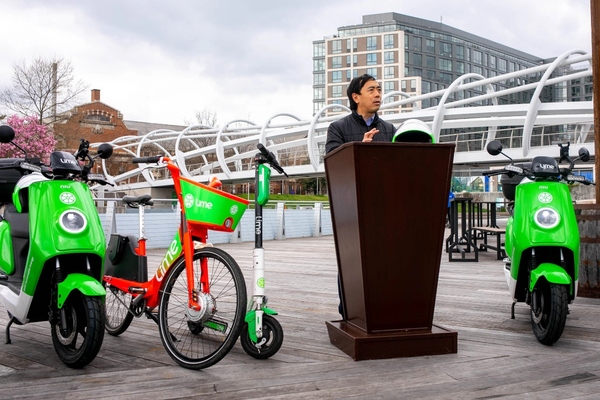 Lime CEO Wayne Ting announces the arrival of the e-mopeds in Washington
Washington DC is the first city in the world to introduce Lime e-mopeds with an initial deployment of 100 shared electric vehicles.
According to the micro-mobility provider, it also makes the city the first to offer all three Lime modes of transport. Over the next few weeks there will be a total of 600 e-mopeds rolled out in the district. With mopeds, bikes and scooters, DC riders can find a shared, electric Lime vehicle for any trip under five miles.
Transportation option
As cities begin to emerge from Covid-19, Lime said its ambition is to become the "go-to" transportation option for residents as they begin their ride to recovery.
With a suite of affordable, open-air and socially distanced car-free options, it claims it is committed to providing a full-fledged transportation service, capable of drastically reducing car trips under five miles and severely cutting down on car traffic.
"We're excited to help Washington DC get moving again with safe, sustainable, and socially-distanced transportation"
With the introduction of a new vehicle, Lime said it wishes to ensure that its riders are equipped with the knowledge to safely operate it. It reports a key differentiator for the e-mopeds is a component dedicated to a comprehensive approach to safety, which begins before a rider can even start a moped trip.
The component includes:
an AI-enabled live likeness test capable of determining whether the licence submitted is actually the rider shown
a mandatory helmet selfie check to confirm whether a rider is wearing a helmet before they start their ride as well as an in-trip look at their ride in progress
a series of sensors to identify if a rider has removed the helmet from the case for use – a first-of-its-kind technology for shared e-mopeds
a multi-chapter rider safety training (developed in consultation with Motorcycle Safety Foundation) and any accompanying test that must be completed before renters can begin their rides
step-by-step guide on how to park the moped at the end of their trip.
"This launch is a major step toward our goal of expanding access to affordable, carbon-free and shared transportation to more users around the world," said Wayne Ting, CEO of Lime.
"As the first city to have all three Lime vehicle types, we're excited to help Washington DC get moving again with safe, sustainable, and socially distanced transportation. DC residents can now use Lime to make any trip, at any time, to get anywhere in the city."
You might also like: