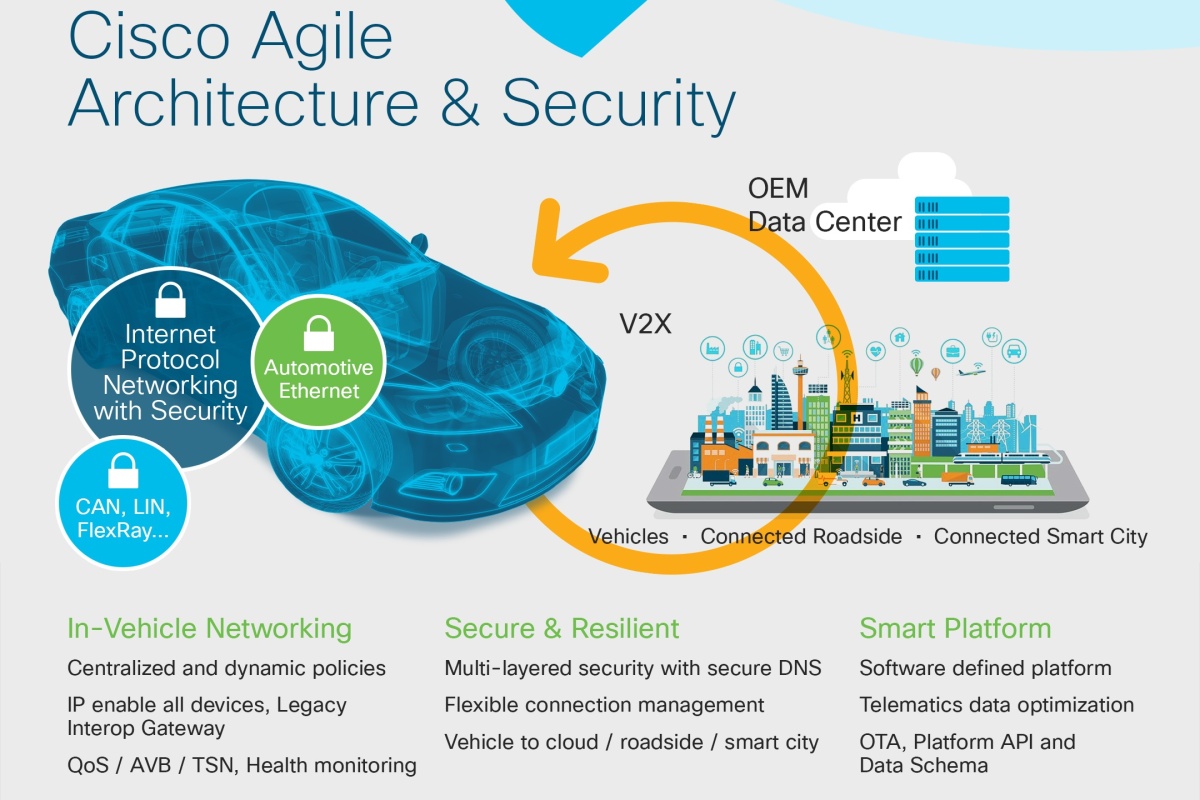 Cisco and Hyundai's new platform will drive innovation inside the car
Cisco and Hyundai Motor Company have announced the production of a next-generation, hyperconnected car. Hyundai will feature this new in-vehicle network in its premium 2019 vehicles.
In 2016, Cisco and Hyundai reported plans to develop a vehicle with a new approach to communication. The companies would create a flexible and more secure platform that would offer a path to innovate and build on smart-vehicle solutions. With a unique combination of networking and auto expertise, the two companies agreed they could work at a faster pace together to disrupt the auto industry.
The new platform will drive innovation inside the car. It's highly configurable and secure – and offers the flexibility to design and build new services. It will provide 'over-the-air updates' and accelerate the time it takes to bring new capabilities to market.
Cisco and Hyundai believe the use of a software defined vehicle (SDV) architecture and the in-vehicle network sets the stage for adaptive technologies. It offers integrated, multi-layer security, as well as full end-to-end networking, allowing for true sensor integration. It will also enable new, high-speed services through an integration layer between software and legacy hardware.
The development of first-generation solutions will enable 1Gbps Ethernet. This will significantly increase the in-vehicle bandwidth. The solutions will provide flexibility, lower costs, and improved security. By enabling IP and Ethernet services, legacy buses and devices will work together with the new Ethernet attached devices and services.
"Cisco is pleased to bring a standards-based approach in partnership with the automotive industry; one that will help accelerate innovation and increase the value to the consumer. By creating a flexible, scalable, and secure platform, we are allowing automotive companies to deliver better cars – faster," said Ruba Borno, vice president, growth initiatives and chief of staff to CEO, Cisco.
By moving to an open, highly secure platform, the companies hope to lay the groundwork for a number of other projects and are exploring integration into Hyundai data centres, giving access to real-time data, connecting cars to city infrastructure or the ability to 'communicate' with lights and parking meters.
If you like this, you might be interested in reading the following:
Connected vehicle pilot for Las Vegas
Siemens, Brandmotion and Commsignia are working with the US city to deliver a turnkey vehicle-to-infrastructure and vehicle-to-vehicle solution
smartcitiesworld.net/news/connected-vehicle-pilot-for-las-vegas-2452
NXP brings the vehicles of the future closer
The chipmaker is launching a new platform that addresses the challenges of future car development
smartcitiesworld.net/connectivity/connectivity/nxp-brings-the-vehicles-of-the-future-closer
TomTom accelerates the future of driving
The navigation technology company is launching a new map delivery service as well as a predictive driving concept for use in self-driving vehicles
smartcitiesworld.net/news/tomtom-accelerates-the-future-of-driving-2463