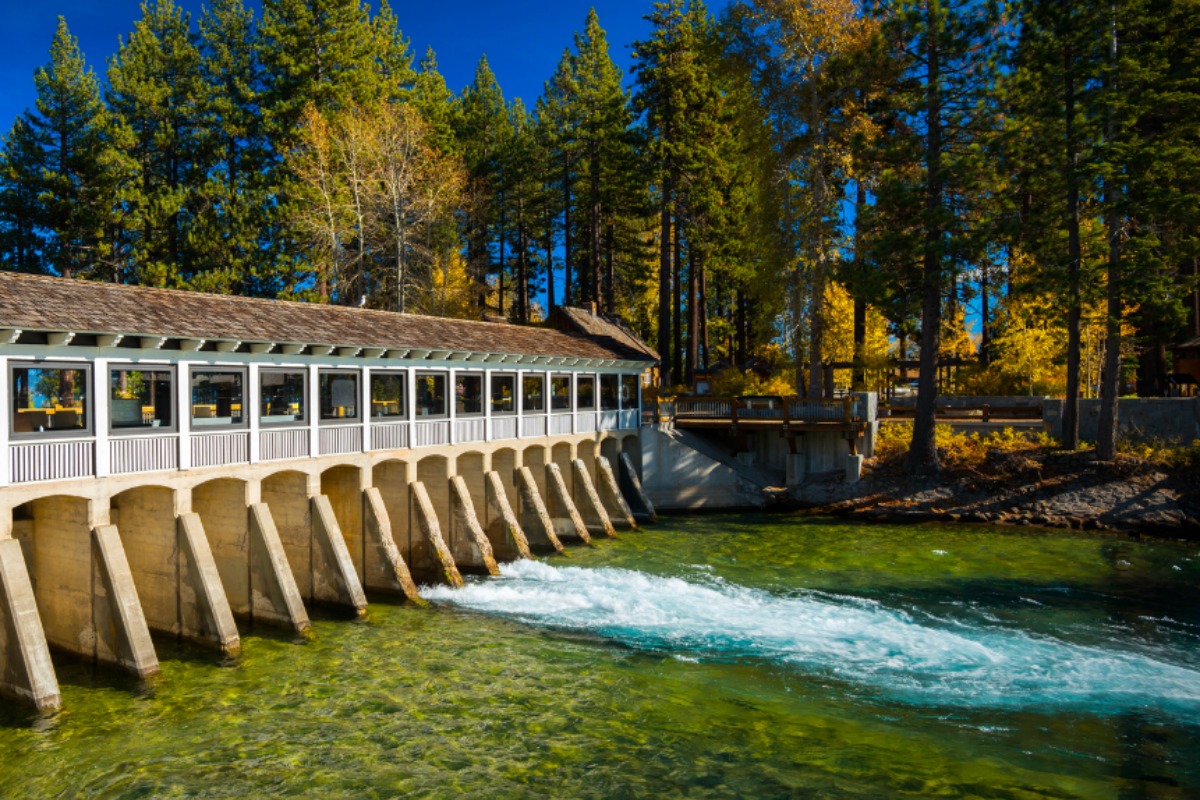 Lake Tahoe dam in Placer County
Nokia is to provide an advanced communications network to the Placer County Water Agency (PCWA) in Northern California to support its hydro-electric power generation and water distribution services. The agreement marks Nokia's first public customer agreement with a water utility.
PCWA is the primary water resource agency for Placer County, California, a 1500-square mile area between the Sacramento Valley and the Sierra Nevada mountains. PCWA is responsible for water resource planning and management, retail and wholesale supply of irrigation water and drinking water to more than 200,000 customers, and operates five hydro-electric plants producing roughly one million megawatt hours annually.
Under the agreement Nokia will replace PCWA's aging communications infrastructure with a modern Internet Protocol/Multi-protocol Label Switching (IP/MPLS) and packet microwave network that will support a range of critical utility applications, enabling them to more effectively utilise and manage their power generation, water resources and water supply.
Managed by Nokia's Network Services Platform (NSP), the network features Nokia's 7705 Service Aggregation Router (SAR) portfolio and 9500 Microwave Packet Radio (MPR) which are tailored to support critical applications essential for utility operations, addressing their stringent requirements for security, reliability and resiliency.
The high network flexibility allows PCWA to migrate existing supervisory control and data acquisition (SCADA) system traffic and support new bandwidth-intensive video traffic on the same network without compromising performance.
Nokia company SAC Wireless will be responsible for the overall construction and deployment of the network, including managing civil works such as pre-construction site verification, network design and engineering, installation and testing of towers, repeaters, shelters, back-up power systems and overall project management.
This agreement builds on the company's strong track-record providing mission-critical networks to power utilities, having served more than 200 such customers worldwide. It also highlights the progress of Nokia's strategy of expanding its customer base outside of the traditional telecommunications sphere, a key focus of the company.
"Nokia has invested heavily in recent years on addressing the unique requirements of utilities for modernising and converging their communications in order to enhance operational efficiency, reliability and safety," said Kamal Ballout, head of the global energy segment for Nokia. "We are thrilled that PCWA has put their trust in Nokia to play such an important role in meeting the needs of their customers."
If you like this, you might be interested in reading the following:
The path to smart cities documented
A new report from Nokia and Machina Research examines the strategies of 22 cities as they become smart, safe and sustainable
smartcitiesworld.net/news/news/the-path-to-smart-cities-documented-1093
Nokia's bid to lead in 5G, IoT and the Cloud
Mobile World Congress will see the company demonstrate its intention to lead in high performance networks as well as expand into new verticals
smartcitiesworld.net/connectivity/connectivity/nokias-bid-to-lead-in-5g-iot-and-the-cloud
Nokia secures LTE network deal in Shanghai
LTE 700 MHz contract is intended to make city services smarter in fast-growing district of China's largest city
smartcitiesworld.net/connectivity/connectivity/nokia-secures-lte-network-deal-in-shanghai