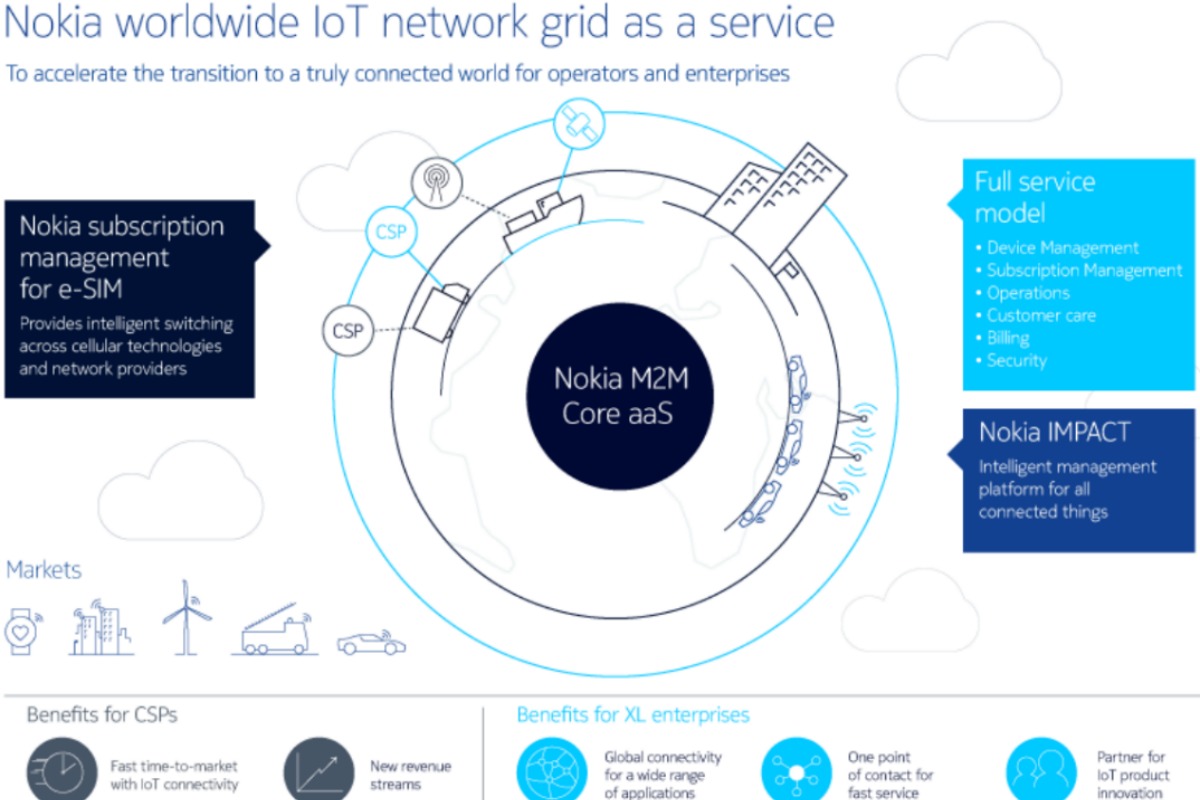 Infographic of the Nokia WING, which aims to be a one-stop-shop full-service model
Nokia has introduced what it describes as a worldwide IoT network grid (WING) as a service aimed at the transport, health, utilities and safety markets.
According to the technology giant, WING enables communication service providers and enterprises to take advantage of new business opportunities that will become available through a "multi-country federation" of IoT connectivity services.
Nokia WING will manage the IoT connectivity and services needs of a client's assets, such as connected cars or connected freight containers, as they move around the globe, reducing the complexity for enterprises which would otherwise be required to work with multiple technology providers.
The company plans to offer a full-service model including provisioning, operations, security, billing and dedicated enterprise customer services from key operations command centers. It will use its own IMPACT IoT platform for device management, subscription management and analytics.
Nokia IMPACT subscription management for eSIM will automatically configure connectivity to a communication service provider's network as the asset crosses geographical borders.
Customers are served on a multi-tenanted basis using a Nokia M2M core that includes the Nokia cloud packet core, which gives an enterprise customer access to its own discrete segment of the network core.
"IoT connectivity as a managed service is an answer for enterprises to the current IoT deployments that are hampered by the patchwork of business agreements to connect devices around the world," said Igor Leprince, head of global services at Nokia.
"Nokia WING will provide one global IoT grid. We cannot do this alone, and we are reaching out to communication service providers across the globe to collaborate with us so that we can extend the benefits of the connected world to more industries."
By leveraging their excess network capacity, communication service providers will be able to serve enterprises that require near global IoT connectivity, rapidly and with little effort, to realise new revenue streams, Nokia claims.
For service providers planning to launch new IoT businesses, Nokia said it can fast track time to market as WING also provides a full white label managed service model, allowing them to offer the service to their customers under their own brand.
"The complexity of IoT deployment, service development and business models makes it imperative for market participants to play to their strengths and build long-term, flexible partnerships. Nokia's managed IoT service offering fits well with this requirement," added Alexandra Rehak, head of Ovum's IoT practice.
"The new offering leverages Nokia's broad portfolio of technologies and strong expertise in network design and management, and should open up new business opportunities for operator customers and large enterprises alike."
If you like this, you might be interested in reading the following:
Upgrade to Nokia IMPACT solution
Its history in the device management space accounts for Nokia's management of over 1.5bn devices on the planet today
smartcitiesworld.net/news/news/upgrade-to-nokia-impact-solution--1342
Nokia extends AirScale product group
Tests of the AirScale RNC have been conducted with operators and it will be commercially available during the first quarter of 2017
smartcitiesworld.net/connectivity/connectivity/nokia-extends-airscale-product-group
The path to smart cities documented
The report details three different smart city approaches and highlights key developments in technology and business models
smartcitiesworld.net/news/news/the-path-to-smart-cities-documented-1093