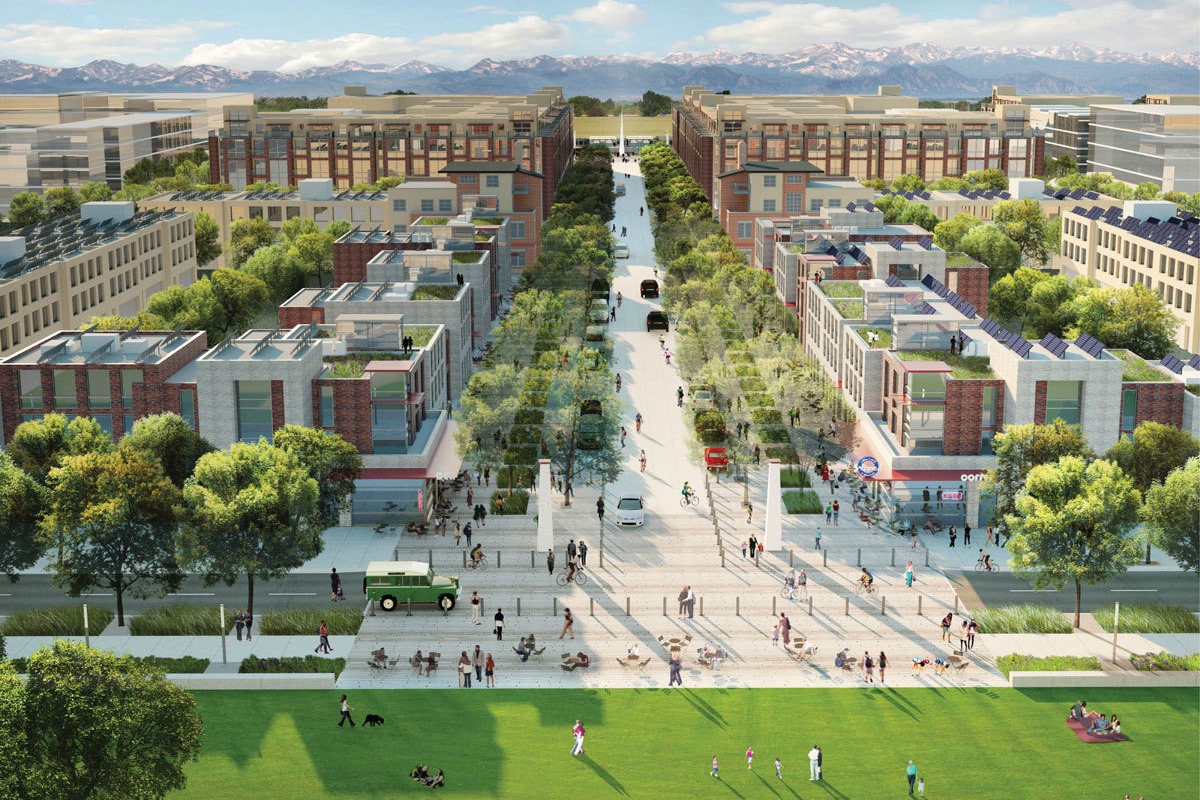 Peña Station NEXT is the location for Panasonic's smart city showcase
Panasonic has launched the Smart City Innovation Showcase at the sustainable Peña Station NEXT community in Denver Colorado to mark the company's 100th anniversary.
Located inside the electronics company's Technology and Operations Centre, the interactive 15,000-square-foot-facility features a 3D cityscape including a connected mobility district, commercial business district and sports and entertainment district designed to immerse visitors in a wide range of smart city solutions.
The showcase aims to help cities, utilities, real estate developers and other stakeholders to experience and engage in a real-world smart city environment to better understand how, why, and when they should deploy smart solutions in their communities.
"Smart city solutions can be difficult to justify and deploy because they typically involve multiple city departments and external stakeholders. We seek to simplify and accelerate the process for our customers, and our experience is that smart city success requires all stakeholders to be closely aligned, and complex, multi-stakeholder issues thoughtfully addressed," said Jarrett Wendt, executive vice president of Panasonic CityNOW.
"Becoming a smart city has little to do with technology, and almost everything to do with stakeholder alignment. We help cities and developers optimise quality of life for their residents, businesses and visitors – and technology is simply an important but small component of the process."
The Smart City Innovation Showcase includes a mix of Panasonic and industry-leading third party products and solutions, and is intended to provide a hands-on experience when discussing complex topics such as smart streetlights and connected vehicle platforms.
Cities and utilities, for example, are upgrading streetlights across the nation and adding wireless controls to save energy, reduce crime and improve light quality. This decision, however, has wide-ranging policy and system implications for city assets such as fibre networks and the public right-of-way, and across multiple city departments including public works, police, fire, and economic development.
The coming implementation of 5G technology, which involves the deployment of thousands of small cell sites across a city, will further amplify the importance of cities working together through these issues in advance.
Another example of smart city technology's positive impact is in transportation. Commuting isn't just slow and frustrating, it can also be dangerous. In a connected world, cars and highways can communicate to make roadways safer and less congested.
Connected mobility is the critical foundation for cities where travel will be increasingly electric, shared and autonomous. Panasonic's Connected Vehicle platform is unlocking life-saving vehicle-to-everything (V2X) technology. In partnership with the Colorado Department of Transportation, Panasonic is implementing the first statewide Connected Vehicle ecosystem that will generate enormous amounts of real-time contextual data to dramatically improve driver safety.
Showcase tours for cities, utilities, real estate developer and related smart city organisations are available by appointment only and not open to the general public.
If you like this, you might be interested in reading the following:
Panasonic and TransitScreen connect for smart cities
Companies form national alliance to bring connected technologies to growing cities around the US
Intelligent and integrated transport for Colorado
A joint programme between the western state's transportation department and Panasonic aims to improve safety and mobility
Solar-plus-storage project shares insights
Those behind a unique smart energy microgrid project in Peña Station NEXT in Denver want to share their knowledge and experience with others