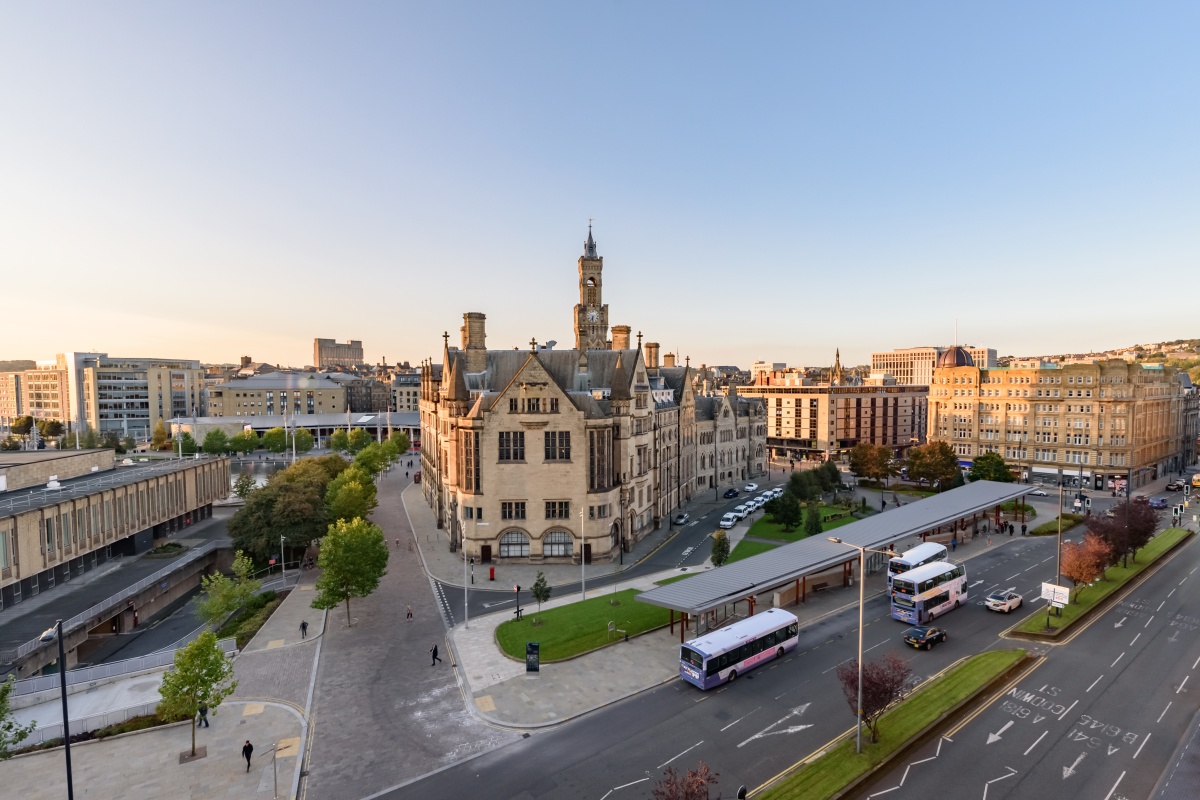 Bradford's network is being expanded outwards to cover the majority of the city
Wireless connectivity companies Connexin and Siklu are working together to deliver an advanced mmWave network for smart city and business broadband applications in the UK city of Bradford.
Connexin specialises in building and operating smart city and Internet of Things (IoT) infrastructure and has made a commercial investment in support of a high-bandwidth network infrastructure in the city, which is the fourth largest metropolitan district in England.
It will support future applications such as high-speed fibre wireless access (FWA), public safety, smart traffic management, smart waste, city-wide public wi-fi and more.
The key challenge is implementing a single, city-wide network that can provide enough capacity for all these services today as well as provide the ability to scale up in the future. While fibre is a core portion of the Bradford city-wide network, it doesn't have the ubiquitous coverage required so the two companies aim to address this with mmWave.
Connexin was looking for a wireless solution that would perform like fibre but without the upfront trenching costs and potential problematic timeline. It began using Siklu mmWave wireless fibre in Bradford to provide business broadband connectivity. Connexin and Siklu currently provide public wi-fi backhaul to thousands of businesses everyday.
Sixty EH-1200 series gigabit radios were deployed to serve as the backbone for the wireless network. Connexin engineered the mmWave links so that each exceeds 99.99 per cent reliability at distances of up to 3.2km. A minimum of 100 Mbps was needed, with the ability to scale up to a gigabit/ps connectivity.
"Connexin has already deployed Siklu products as mid-mile/backhaul links, therefore we were familiar with the technology. In Bradford, Siklu were able to offer low latency connectivity that could be easily scaled up to a high capacity network providing an efficient solution to alleviate last mile issues," explains William Kebbell Connexin's chief technical officer, who devised the solution.
The nature of mmWave networks claims to virtually eliminate interference concerns inherent in all 5GHz products. By using Siklu's mmWave wireless to complete the mid-mile distribution, it also eliminates the need to wait for permits to dig up roads and limits the disruption of new hardware during integration.
Connexin is currently at the build out stage of the network which is planned to cover the majority of Bradford within three to five months' time. It is also planning to deploy additional radios to replace many of the city's existing 5GHz backhaul links with Siklu's mmWave solutions.
Siklu's radios have helped the Bradford business centre to transform its network from one that was previously affected by congestion and interference to one that is fully functional regardless of wireless communications in the city centre area. Should Connexin seek to expand or strengthen the network further in the future, it can do so incrementally by adding additional Siklu radios.
If you like this, you might be interested in reading the following:
UK city realises its smart vision
The City of Lincoln Council has chosen Siklu's high-capacity wireless links for its smart city surveillance network
Connecting Cleveland
Siklu has provided a network of gigabit millimeter wave radios to help bridge the digital divide in the country
City of Arvada's high capacity boost
Millimeter wave radio provider Siklu gives the Colorado city's municipal facilities a productivity boost