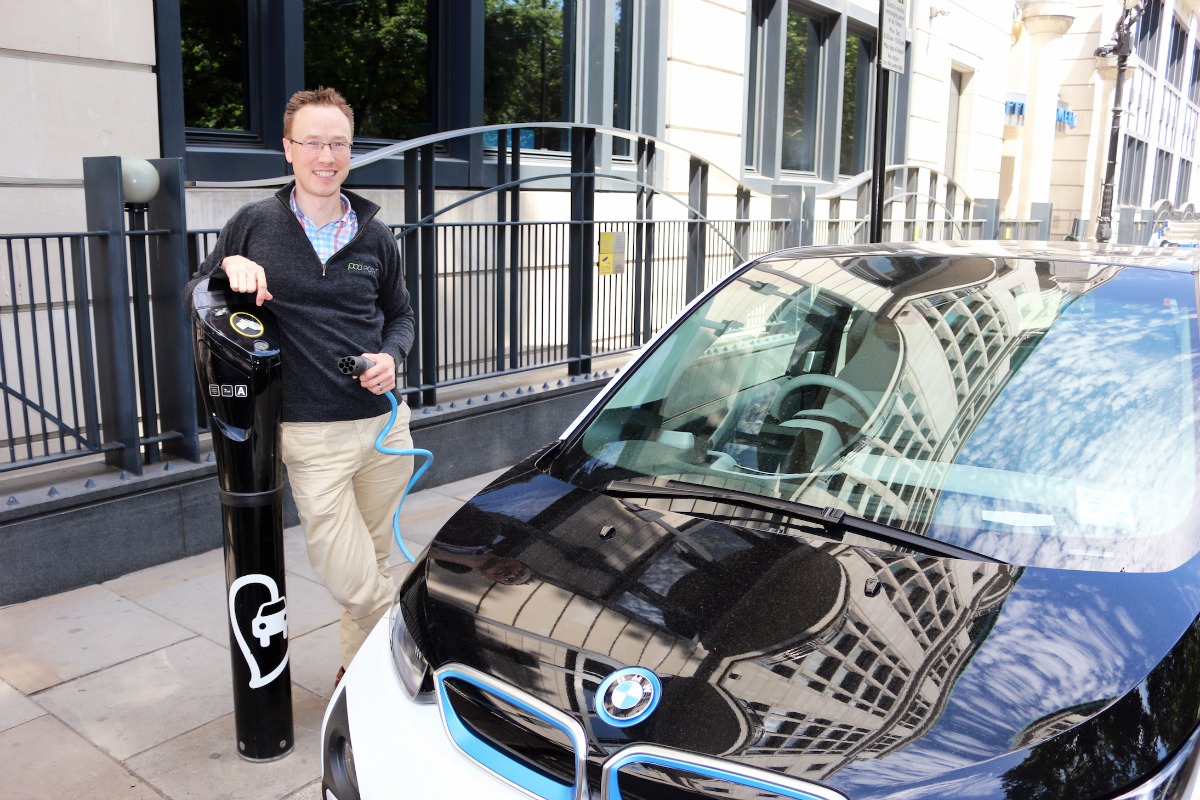 "The way people use cars is changing," says POD Point CEO, Erik Fairbairn
UK electric vehicle (EV) charging station company POD Point has embarked on a new £1.5m crowdfunding round to help fuel its expansion in both the UK and across Europe. The move is part of a larger £9m fundraising exercise led by venture capitalist firm Draper Esprit.
The funding round sees Draper investing £3m for new shares and £2m for secondaries alongside Barclays Capital which is providing £2m of venture debt with £550,000 additional equity investment secured from angel investors. In addition, POD Point has made £2m worth shares available to the public through equity crowdfunding platform Crowdcube.
The additional funds will be used to expand the vital charging infrastructure necessary for widespread adoption of electric vehicles in the UK and Europe. It will also see the creation of 50 new jobs in the UK. POD Point's target is to double turnover to £9m in the 2016-17 financial year and benchmark market growth thereafter.
Following recent partnerships with Barratt Homes, Holiday Extra and Hyundai, POD Point intends to have one of its stations installed everywhere people park for an hour or more by 2020.
"This is a significant milestone for a sector that has been gathering momentum for some time," said Erik Fairbairn, CEO, POD Point. "The way people use cars is changing and how they are powered is at the epicentre of that. Travel shouldn't damage the earth, which is why we are building the most advanced intelligent charging network in the UK, the POD Point Open Charge Network."
Globally, the electric vehicle market is going from strength to strength, driven by advances in technology, infrastructure developments and cost efficiencies, POD Point reports. In the UK, more than 38,000 plug-in vehicles were registered in 2016, compared to just 1,052 over the same time period in 2011, a five-year growth rate of almost 3,500 per cent.
"POD Point is leading the charge in the EV infrastructure market in the UK and Europe," said Simon Cook, CEO of Draper Esprit. "We not only think that the EV market will develop at pace over the next decade, but that POD point is set to play a significant role in enabling adoption. We are proud to be backing a company who are committed to creating cleaner cities and mitigating climate change."
Since it began in 2009, POD Point said it has manufactured and sold more than 27,000 electric vehicle charge points, and developed one of the UK's largest public charging networks, connecting EV drivers with hundreds of charging bays nationwide at locations such as Sainsbury's and Southern Rail.
The company also installs products for customers of Renault Norway among many other brands and Lloyds Banking Group, Britvic and O2 Telefónica number among their workplace customers.
If you enjoyed this, you might be interested in reading the following:
Volkswagen invests in charging tech firm Hubject
EnBW and Hubject hook up to enable 'spontaneous' charging of vehicles
Cross-company direct payment solution allows drivers to charge vehicles without a contract giving them maximum independence
smartcitiesworld.net/news/news/enbw-and-hubject-hook-up-to-enable-spontaneous-charging-of-vehicles-1031
When will battery life stop becoming a barrier for EV ownership? asks Erik Fairbairn, CEO, POD Point
Current lithium-ion batteries have made huge advances but, looking further ahead, the batteries of the tomorrow will go even further with metal-air batteries offering around ten times the range of current devices
smartcitiesworld.net/opinions/when-will-battery-life-stop-becoming-a-barrier-for-ev-ownership-asks-erik-fairbairn-ceo-pod-point
Petrol stations overtaken by public charge points by 2020
100 years of combustion engine powered cars drawing to a close
smartcitiesworld.net/news/news/petrol-stations-overtaken-by-public-charge-points-by-2020-795